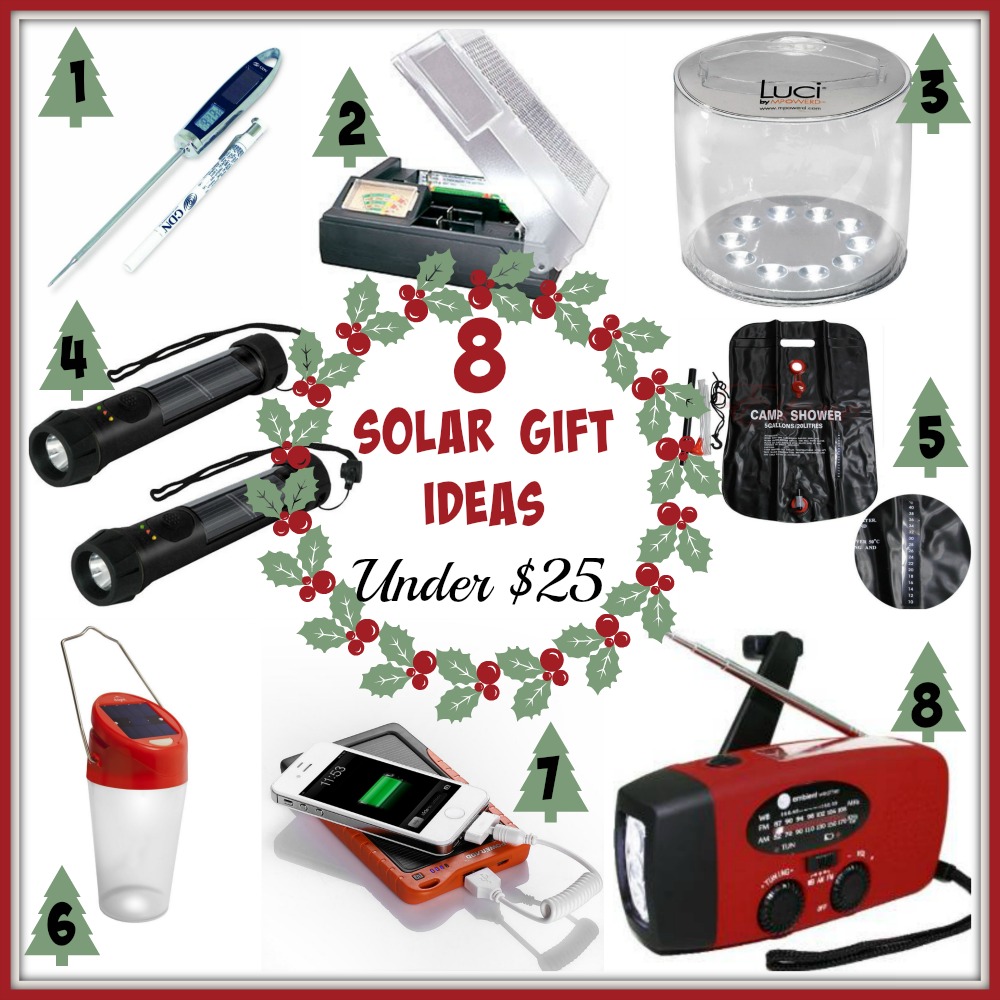 With the gift giving season nearly upon us, here are 8 solar gift ideas under $25 that your solar friends will enjoy.
8 Solar Gift Ideas Under $25
Solar Thermometer
   This thermometer is uses the power of indirect light to keep charged in the kitchen. With a wide temperature range from -49° to 392º , it can be used on the stovetop, in the oven, and on the grill.
Solar 11-in-1 Battery Charger  This solar charger will keep 11 sizes of NiCad and NIMH batteries charged. Charge it in the sun and it will keep your other batteries charged as well.
Solar Inflatable Lanterns  take up very little space, but inflate to full size when needed.  Pack one in your carry bag so you have it when you need it.
Solar Flashlights
  Flashlights are always handy to have around, but it seems the batteries are always dead. Try a solar flashlight instead.
Solar Shower
Have you ever been out camping and needed a nice hot shower?  There are a lot of very innovative solar showers to choose from.  Choose either three, five, or ten gallon bags, and let solar energy to heat up your bath water.
Solar Lanterns
offer a great choice in solar lighting, from soft ambient lighting to full powered camping lights.
Solar cell phone charger
Need a portable battery back up for your cell phone and electronics? Look no further. Here is a solar battery to keep you charged when you need it.
Hand crank emergency radios
  with a solar charger are perfect to keep in your home, in your car, for camping, and in your emergency supplies.
Need a few more great ideas? Take a look at 8 Solar Gifts Under $100
Disclosure: I have had no contact with any of these companies or these products. I was not paid or compensated to include the products in this post. I make no claims regarding the quality of these products. They are simply products that I found interesting.