Welcome to Sunshine On My Shoulder (SOMS), a guide to solar cooking and outdoor kitchen.  There is more to outdoor cooking than just grilled burgers and dogs. With an outdoor kitchen consisting of 2 grills, 3 smokers, an assortment of deep fryers and Dutch Ovens, and a yard full of solar cookers, we can cook just about anything.
While Dutch Ovens have been around for centuries, solar cooking is a relatively new way to cook. Solar cooking is any method of cooking that uses the free energy that comes from the sun as the primary fuel source. In the summer of 2008, when I began solar cooking, there was very little information about solar cooking on the internet. There were a couple of commercial sites that sold solar ovens, and a few sites that focused on the science behind it. And although there were a few basic recipes on those sites, there was not much information to help a beginner get started.  And there were no sites that focused on the food.
And come on! Be honest! It is all about the FOOD!
I don't have to understand the science behind solar cooking, but I do have to love the food. Otherwise, what is the point?
Adventure In Solar Cooking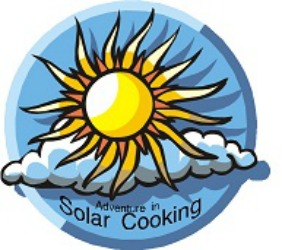 After my first attempts at solar cooking, I was so excited with the results and the future possibilities, I found that I wanted to share my new adventure with others. So "Adventure In Solar Cooking" was born. This logo can still be seen floating around the internet.
Sunshine On My Shoulder
In 2014, taking inspiration from food bloggers, I rebranded to "Sunshine On My Shoulder".  With a new look and feel, I expanded SOMS to include other types of outdoor cooking.
Today on Sunshine On My Shoulder, a reader will find:
One of the largest online libraries of solar cooking recipes with over 200 recipes;
Recipes using Dutch Ovens, smokers, grills, and other cooking equipment;
Reviews of some of the more popular solar cookers on the market today – and a few reviews of other less well known, but equally remarkable solar cookers;
Helpful articles with tips and techniques on how to use solar cookers, Dutch Ovens, smokers, and other cooking equipment;
Monthly newsletter spotlighting seasonal recipes, tips, and reviews;
New post once a week.
I give public demonstrations. I have been interviewed on radio, TV, on podcasts, and on Mutual of Omaha's Aha! Moment. I am a member of Solar Cookers International Network.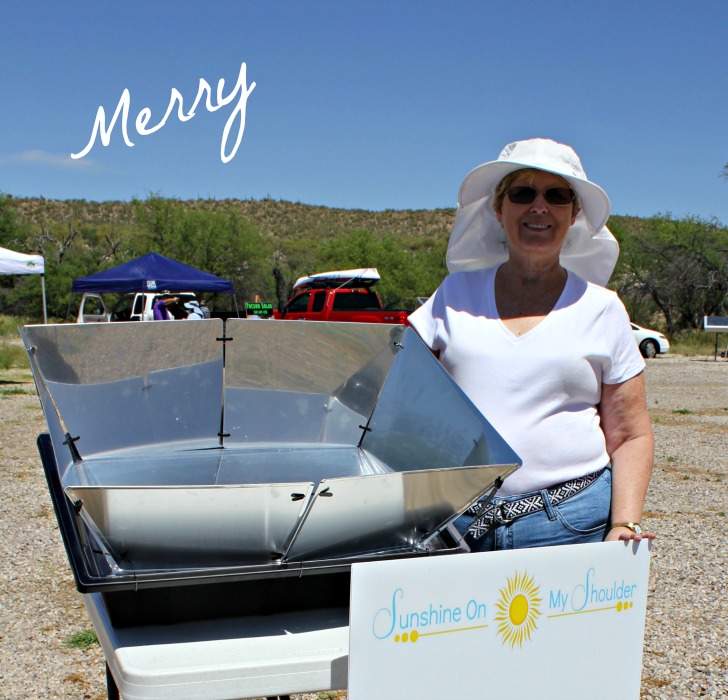 If you want to learn more about outdoor cooking, you are definitely in the right place.
I would love to know that you stopped by, so please leave me a note in the comment boxes below.  Tell me about your outdoor cooking experiences. Share or suggest a recipe. Or just say hello.
I can also be found on Facebook, Twitter, and Instagram under sunonshoulder . My Pinterest board is Sunshine On My Shoulder.  Or you can contact me by email at sunshineonmyshoulder@cox.net.
Read About Me if you would like to know more about my personal story.
Merry