Apple Pie Muffins Recipe is a very simple recipe that is perfect for solar oven cooking. It only requires 2 ingredients – 3 if you include the pecans – and it cooks fast.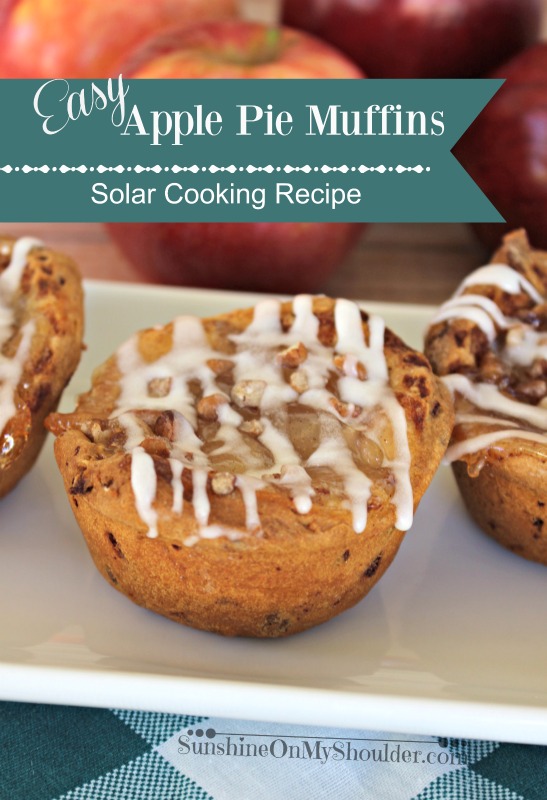 I am always on the lookout for really easy recipes to cook in my solar oven.  I want easy. I want fast cooking. But most of all, I want delicious. This recipe meets all three requirements. Apple pie is a classic flavor that is popular with almost everyone any time of the year. Add a scoop of vanilla ice cream  on top of some Apple Pie Muffins and you will think you are eating the real thing.  Furthermore, because the ingredients are easy to pack and take, Apple Pie Muffins is  a great choice to fix if you are camping or boating or tailgating or taking your solar oven any of a thousand other places.
Apple Pie Muffins
Apple Pie Muffins only uses 2 ingredients – 3 if you like nuts – a can of refrigerated cinnamon rolls, and a can of apple pie filling. This would also be delicious with cherry or blueberry pie filling. I added chopped pecans, but you could use walnuts, almonds, or any other chopped nuts if you wanted. Roll or press each cinnamon roll into a circle. Press the circle into a greased muffin cup. Then fill it with the apple pie filling. Place it uncovered into a hot solar oven and bake until the cinnamon roll is done, about an hour in a 300°F (149°C) – 350°F (177°C) oven. 

My Apple Pie Muffins baked for an hour at  350°F (177°C). The actual time it takes to bake will vary, depending on the weather, the type of oven being used, and how hot the oven gets. It will take longer to cook in a panel cooker that does not get as hot.
How Long Does It Take To Cook in a Solar Oven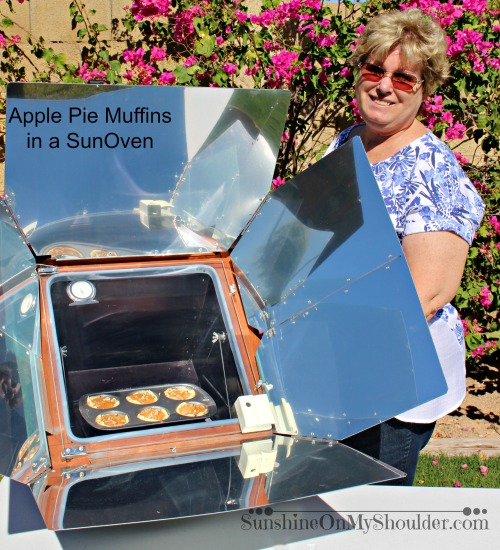 Easy Apple Pie Muffins Recipe for Solar Oven Cooking
Apple Pie Muffins are easy to make, bake quickly, and are delicious. This is the perfect recipe to make when camping, boating, tailgating, or taking your solar oven out anywhere.
Ingredients
2 cans (16-18 oz ) refrigerated cinnamon rolls
1 can apple pie filling
⅛ chopped pecans or other nuts (opt)
Instructions
Pre-heat the solar oven while preparing the ingredients.
Grease a muffin tin with spray oil.
Roll or press out each cinnamon roll into a 4 inch circle.
Press the circle into a muffin tin.
Fill the roll with apple pie filling. Chop the apple into smaller pieces if necessary. Use the remainder of the muffins in a second muffin tin if desired.
Sprinkle the top with chopped nuts.
Place uncovered into the hot solar oven,
Bake for 1 hour or more until the cinnamon roll is baked and brown.
Remove from the solar oven. While the muffin is hot, cover with the white icing from the cinnamon roll can. Enjoy.
Notes
Bake in a regular oven for for 15 - 18 minutes at 350°F