Baked pumpkin, cooked in a solar oven, can be mashed and used in any recipe that calls for cooked pumpkin.

It's that time of year when the weather turns cooler and we turn our thoughts to pumpkins, pumpkin pies, pumpkin soup, and pumpkin bread.  Those delicious orange globes are not just for making jack-o-lanterns.  With a solar oven, it is easy to turn those big beauty's into a fresh homemade puree to use in all those wonderful goodies.  So why buy  a can of pumpkin mash when it is so easy to make your own baked pumpkin mash? And you don't even need a fancy store bought solar oven to work the magic.  Several years ago, I showed how to bake pumpkin in a very inexpensive solar oven, but you could substitute a solar device made out of a windshield screen and get the same results.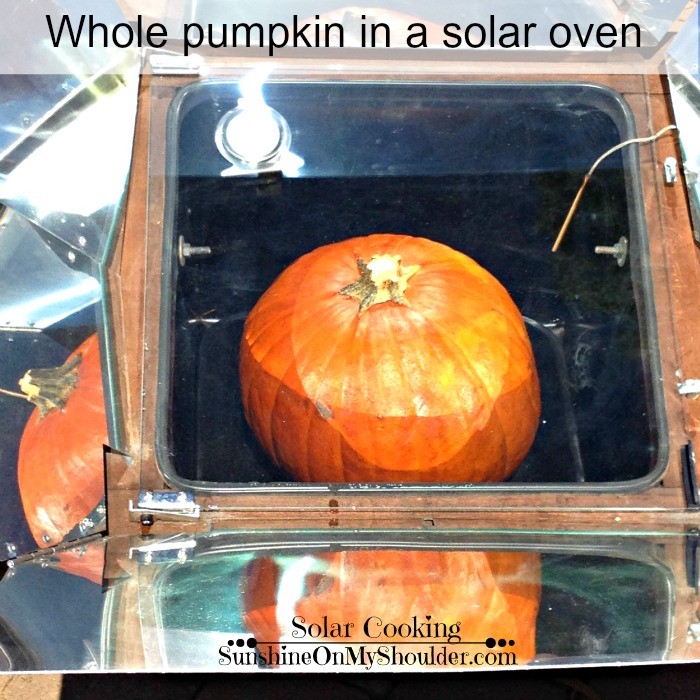 BAKED PUMPKIN
Baking a pumpkin in the solar oven is the easiest way to bake a pumpkin or other large squash. And it doesn't heat up the kitchen.  I like to use a small pumpkin usually sold to make jack-o-lanterns, but a cooking pumpkin could certainly be used as well.

This time, I used a Global Sun Oven
.  In order to fit the pumpkin into the Sun Oven,   use a small, soccer ball sized,  pumpkin.  Wash, but do not cut, the pumpkin. Leave it whole and place it in a dark, solar safe, pan.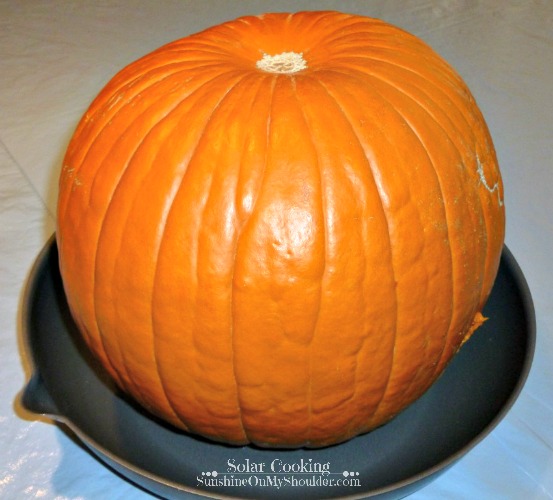 It takes a full day (5 – 8 hours) of sun to bake a pumpkin, so start early.  Remember to keep the oven turned toward the sun.  If you find, at the end of the day, that your pumpkin is not fully cooked – hazy or cloudy day rolled in, or you got busy and forgot to keep it angled to the sun — just refrigerate the pumpkin overnight and put back out the following day.

After cooking, the peel will usually peel right off, but if not, it is very easily sliced off with a knife.  Then cut the top off and scope out the seeds.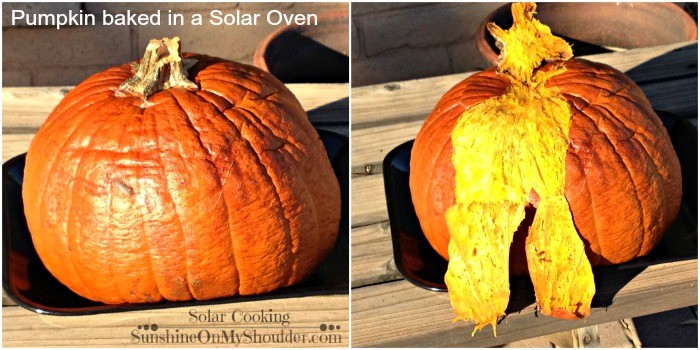 Cut the soft pumpkin meat into chunks.  Any juice in the pan can be added to the pumpkin chunks.  Then use a mixer, stick mixer, or blender to mash the chunks into a thick smooth mash.  Peeling and mashing takes less than 30 minutes.

 The mashed pulp can be used in any standard recipe calling for canned pumpkin in equal proportions. (1 cup pulp = 1 cup canned).  However, I generally increase the spices called for in the recipe by 1/4  to 1/2 tsp ( if the recipe calls for 1 tsp spice, use 1.25 tsp or 1.5 tsp) depending on your taste.  This compensates for spices added to canned pumpkin by the manufacturer.
By baking and mashing your own pumpkin puree, you know there are no additives, just pure pumpkin.  Perfect for any recipe. And it freezes well too.

Want to keep following along? Sign up for my newsletter or follow me on Facebook, Pinterest, Twitter, or Instagram. Thanks for solar cooking with Sunshine On My Shoulder.