Banana Oat Bars can be baked in a solar oven or a kitchen oven. They are easy to make with ingredients you probably have in your kitchen already and can easily be made allergy friendly. They will be your new favorite snack.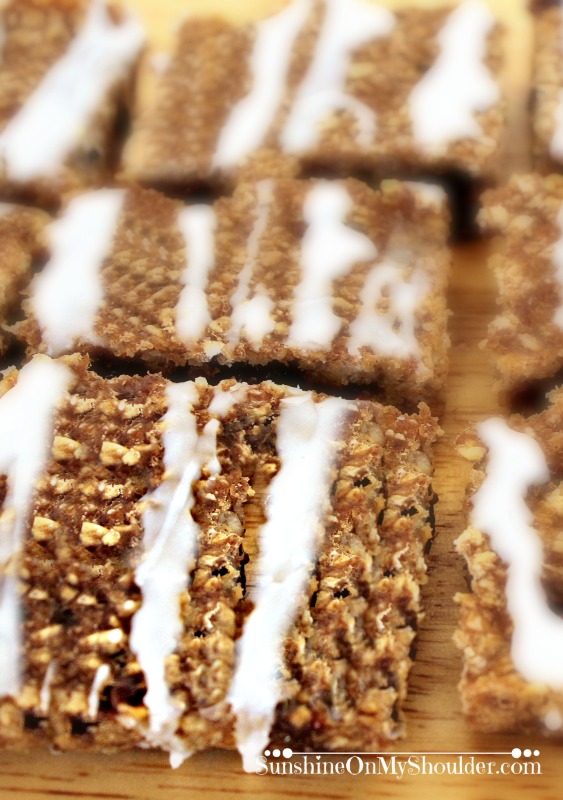 Banana Oat Bars feature the classic combination of – well – banana and oats. In fact, Banana Oat Muffins, Banana Oat Bread, and, of course, Banana Oat Cookies are all favorites at my house and maybe yours too.
Allergy Cautionary Note
Surprisingly, Banana Oat Bars are allergy friendly. Although the recipe for Banana Oat Bars does not contain gluten, dairy, eggs, dyes, or added sugar, you must still be aware of your own sensitivity.  Here are a few things to consider.
First, while it is true that bananas do not contain gluten, they do contain lectin, a protein that is similar to gluten. Consequently, lectin can cause issues with some people with Celiac Disease or severe gluten intolerance.
Second, oats are gluten free. However, oats may be contaminated during processing in facilities that also process wheat. Therefore, gluten free brands of oats should be used.
Next, applesauce is also gluten free. Plus it is extremely easy to make in a solar oven, if you prefer to make your own.
And finally, although almond milk does not contain gluten products, some brands do not guarantee the product is gluten free. Please feel free to use the necessary ingredients to make your Banana Oat Bars meet the requirements of your allergy diet.
Easy Applesauce made in the Solar Oven
Solavore Sport Solar Oven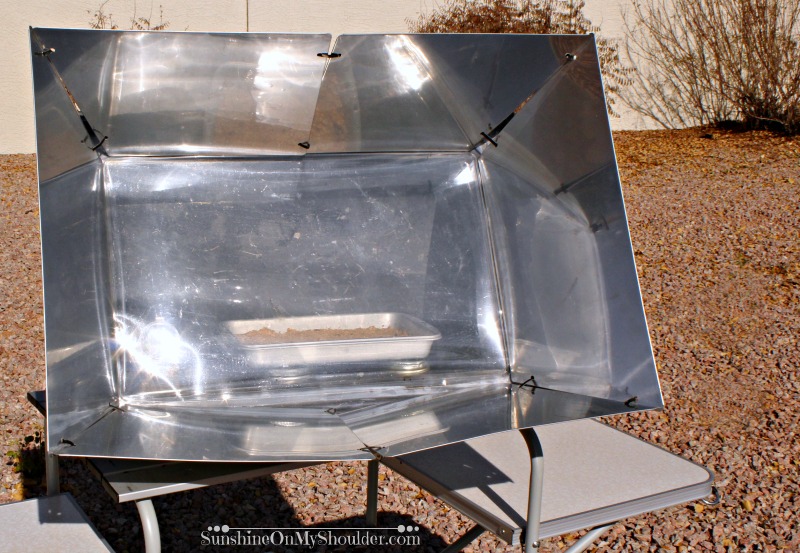 If you are looking for an easy dessert bar to bake in the solar oven, look no further than these Easy Banana Oat Bars. They are naturally sweet and do not need any extra sugar. I baked my bars in a Solavore Sport Solar Oven. It was a cool, slightly hazy day of 69° F (21° C) and the oven, even with the reflectors, the oven only reached 275°F (135°C). Nonetheless, the bars cooked in just 1 hour.
The cooking temperature of the solar oven depends on the type of oven being used, the weather, and how focused the oven is to the sun. As a result, the time it takes to bake in a solar oven will vary.
How Long Does it Take to Cook in a Solar Oven
Banana Oat Bars
Easy Banana Oat Bars Solar Cooking Dessert Recipe
Easy Banana Oat Bars are naturally sweet from the bananas and the applesauce. No additional sugar is needed. Plus the recipe can be made with all allergy friendly ingredients. Bake them in the kitchen or in the solar oven.
Ingredients
3 ripe bananas, mashed
4 oz unsweetened applesauce
2 cups quick oats
¼ cup unsweetened almond milk (or milk)
½ cups raisins (opt)
1 tsp vanilla
1 tsp cinnamon
FOR GLAZE (OPT):
1 cup powdered sugar
2 TBSP almond milk (or milk)
Instructions
Put the solar oven out to pre-heat while preparing the ingredients.
In a mixing bowl, mash the ripe bananas until smooth.
Add the applesauce, almond milk, cinnamon, and vanilla. Mix until smooth.
Add the oats. Mix.
Add the raisins. Mix.
Spray a small, dark, solar cooking pan about 11x7x1.5, with cooking spray. Be sure that the pan will fit into the solar oven..
Spread the mix into the pan.
Place into the hot solar oven.
Bake uncovered for about an hour until the bars are set and golden brown. The bars should be pulling away from the sides of the pan.
Remove from oven.
Cool and add a sugar glaze if desired
GLAZE TOPPING:
Put 1 cup of powdered sugar into a small mixing bowl. Add 2 TBSP of milk or almond milk.
Stir to mix. Add to top of bars.
Notes
The bars are already sweet so the glaze is optional.

These bars can be baked at 350F(177C) for 15 - 20 minutes in a regular kitchen oven.

Generally speaking, the time it takes to bake in a solar oven depends on how hot the oven gets. Ultimately, the cooking temperature depends on the type of oven being used, the weather, and how focused the oven is to the sun.
Thanks for solar cooking with Sunshine On My Shoulder. Please leave me a comment below.