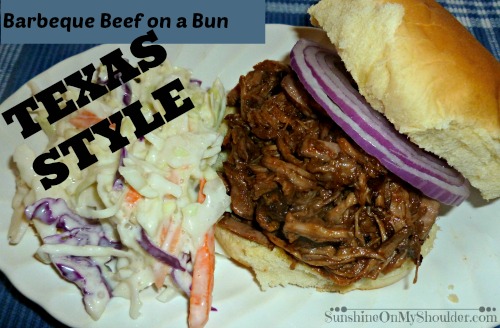 I grew up in Texas.  One of my favorite meals was, and still is, Barbeque Beef on a Bun.  My mother made delicious barbeque beef, and I learned at her elbow. But now, I make the same delicious barbeque beef in my solar oven instead of in the kitchen.  And it is really, really easy!! This is a solar cooking recipe.

Barbeque Beef
Start with a  beef roast.  I use sirloin or chuck roast, about 1 1/2  – 2 pounds.  Cut the beef into small cubes, about 2″ x 2 ".  The smaller the cube, the less time it will take to cook, but don't obsess over the size, just cut into chunks.  Place into the pot.  Depending on how much beef you have, add about 3/4 – 1 cup of your favorite bbq sauce and about 1/4 – 1/2 cup of water.  Stir to coat the beef with the bbq sauce.  Place the covered pot into the hot solar oven. (Remember to always pre-heat your solar oven.)  After about 2 hours, check on the beef to see if you need more bbq sauce or water.  After about 3  – 3 1/2 hours, the beef should be very tender.  With either 2 forks, or with a potato masher, pull the beef in to shreds.  Place the shredded beef, back into the solar oven. Add more bbq if necessary, and let the beef simmer in the sauce for another hour or longer.  The beef is already done, but the longer it simmers, the better flavor will be infused through out the meat.  When done, the meat should be slightly juicy, but not swimming in juice.
Actual Cooking time will vary depending on the type of solar cooker, the weather, and the amount of food being cooked. For best results, and the shortest cooking time, keep the oven pointed directly into the sun. For more information, see How Long Does It Take to cook in a Solar Oven.
Serve the barbeque beef on a bun, with a slice of red onion and a side of coleslaw.  Ohh, Texas heaven!
So Easy!
So Good!
So Solar!