BLT Grilled Cheese Sandwich is a classic taste of America –  all grown up.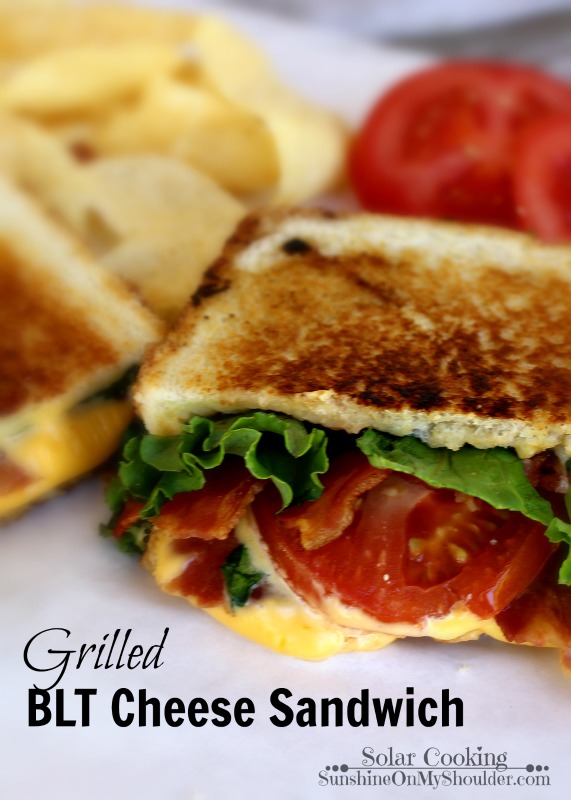 Most of us grew up eating grilled cheese sandwiches made with American cheese on white or wheat bread and grilled in a dab of butter. Paired with a bowl of tomato soup, it was a perfect lunch – and sometimes dinner – on a cold day at our house.  I passed my love of grilled cheese sandwiches down to my kids, and they passed it down to theirs. What's not to love? Hot, gooey melted cheese on toasted buttery bread. Like I said — it is an All American classic.
But pairing it up with another All American classic sandwich – the BLT (bacon, lettuce, tomato) – takes the basic grilled cheese sandwich to a whole new grown up level. Enter the BLT Grilled Cheese Sandwich. Of course, you can grill it on your kitchen stove, but this is a perfect sandwich to cook out on a parabolic solar cooker. It is quick, it is easy, it is delicious – and you probably already have every thing you need to fix this for lunch.

I used a Solsource Solar Grill. It is a parabolic type of solar cooker and uses only the free energy from the sun as a fuel source. With a parabolic solar cooker, the rays of the sun are focused into the heat ring and can reach temperatures of 550° F (288° C) or more.  Here is my review of the Solsource Solar Grill.
BLT Grilled Cheese Sandwich
This recipe calls for cooked bacon. Bacon can be fried on the Solsource prior to assembling the sandwich or it can be cooked in your kitchen and ready for use.

BLT Grilled Cheese Sandwich | Solar Cooking
BLT Grilled Cheese Sandwich is a classic All-American taste all grown up with bacon, tomato, and lettuce. Grill it in the kitchen or outside on a parabolic solar grill.
Ingredients
2 -3 slices of bacon, pre-cooked and crispy
2 TBSP butter
2 slices of firm white or wheat bread
2 -3 slices of American cheese
2 slices of tomato
1 leaf of lettuce
Instructions
Pre-cook the bacon until crisp. This can be done on the solar grill or in the kitchen.
Butter the outside of the bread.
Assemble the sandwich by layering the cheese, bacon, tomato, and lettuce on one piece of bread.
Top with the other piece of bread.
Heat a skillet on the solar grill. Place the sandwich on the hot grill. Grill the first side until it is toasted to a medium brown, about 2 - 3 minutes.
Turn the sandwich over. Grill for 2-3 minutes until the second side is toasted and the cheese is melted.
Notes
The actual time to cook will depend on how hot the skillet gets.
Did you make this recipe? Leave me a message and tell me how it turned out.
Here are other recipes for cooking on a parabolic solar cooker that you will like.
Grilled Chicken Sausage and Peppers and Onions
Solar Cooking!
So Easy!  So Good!  So solar!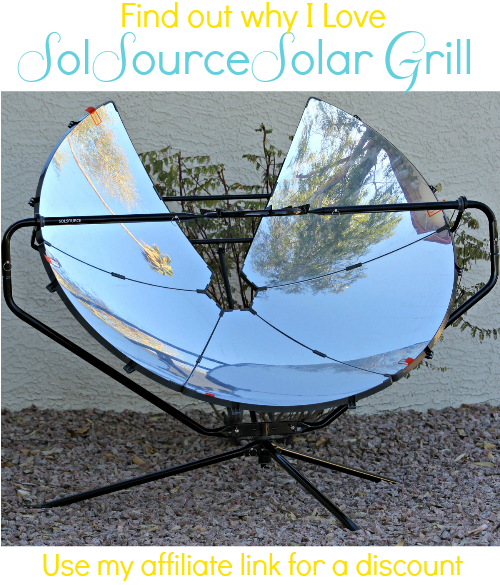 For a 10% discount and free shipping, click on photo
Use discount code SolsourceExperience-8