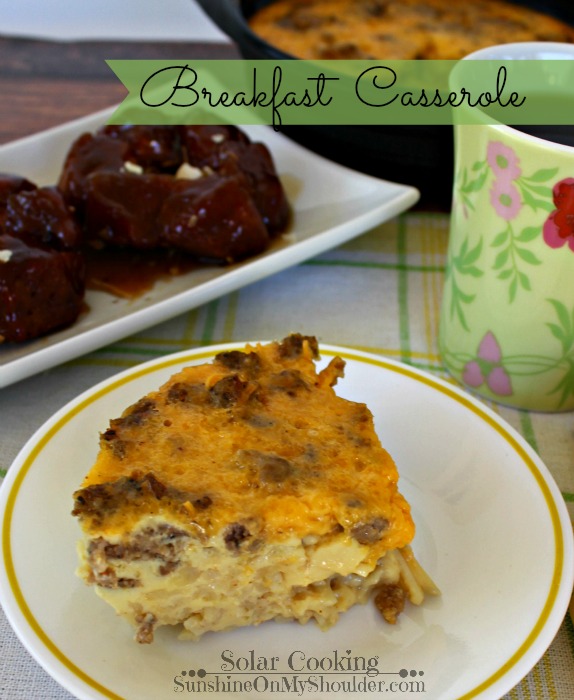 Here is an easy Breakfast Casserole for solar cooking.  This recipe is an old standby that is often served out on the patio to entertain guests, or at a ladies' brunch, or at church breakfasts, or by mother's just wanting an easy meal on a busy morning. It is often baked overnight in a slow cooker or made the night before and popped in the oven in the morning.  It is also a very easy dish to cook in a solar oven. But since this is a solar cooking recipe, and solar cooking depends on sunshine, I should remind you that this dish will not be on your early morning menu. Better think brunch. Nonetheless, it is well worth the wait. Full of eggs, hash browns, sausage, and cheese, Breakfast Casserole is certain to be on your next brunch table.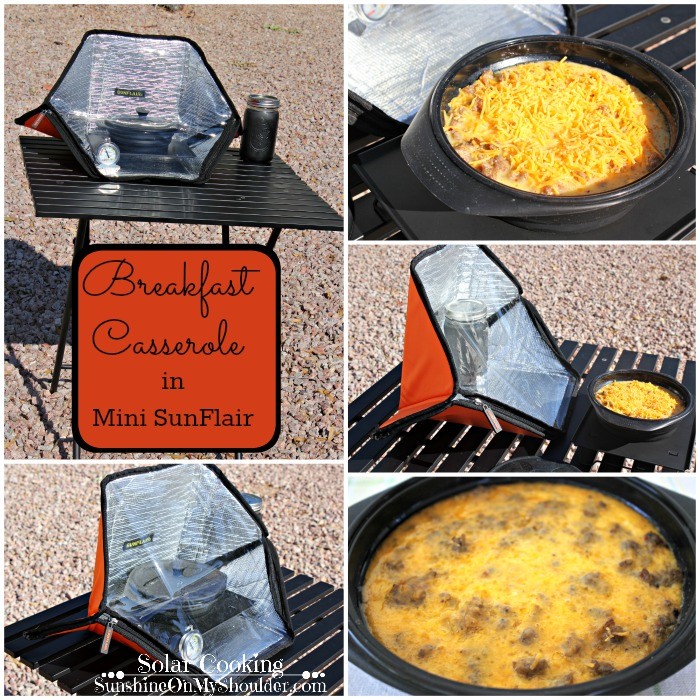 I baked my breakfast casserole in the Mini SunFlair solar oven. See that cute little silicon pot? It comes with the solar oven. Want to know more about the SunFlair? Check out my review for the Mini SunFlair and the original SunFlair.
Are you wondering about that black Mason jar in the picture? I always set my oven out to pre-heat while I am preparing my recipe. On this day, I decided to heat up some water in the oven while it was pre-heating.  In the 15 – 20 minutes it was heating, the water heated up from cold tap water to a medium lukewarm.  While not exactly hot enough for coffee, it would have been in another half hour.
Want to keep following along? Why not sign up for my newsletter? Or follow on Facebook,  Twitter, Instagram, or Pinterest?
Breakfast Casserole
Breakfast Casserole |Solar Cooking
Ingredients
½ bag frozen hash brown potatoes (about 2 cups)
6 eggs
½ cup milk
½ TBSP ground mustard
¼ tsp (or more) ground chipotle chili powder
½ pound breakfast sausage, browned
1 cup cheddar cheese, shredded
Instructions
Put the solar oven out to preheat while preparing the recipe.
Spray a dark, solar safe pot with cooking spray.
Layer the bottom of the pan with hash brown potatoes.
Add a layer of cooked crumbled sausage.
Add a layer of half of the cheese.
Crack the 6 eggs into a bowl. Add the milk, ground mustard, and chipotle chili powders and beat with a whisk until blended. Pour the egg mixture over the top.
Top with the other half of cheese.
Cover the pot and place into the solar oven. Bake for about an 1 - 1½ hours until the eggs are set.
Notes
The exact time to cook will depend on the type of solar oven, the weather, and how hot your oven gets. I cooked this recipe in a Mini Solar Flair, on a nice day of 82°, but the cooker never got above 225°, so it took my dish almost 2.5 hours to cook. However, I have made similar dishes in other ovens that only took 1 hour because the oven got hotter.