Here is how to make a Caramel Apple Dump Cake in the solar oven. This is a no fuss recipe that can be put together very quickly at a campsite or tailgate party and baked in a solar oven right on the spot.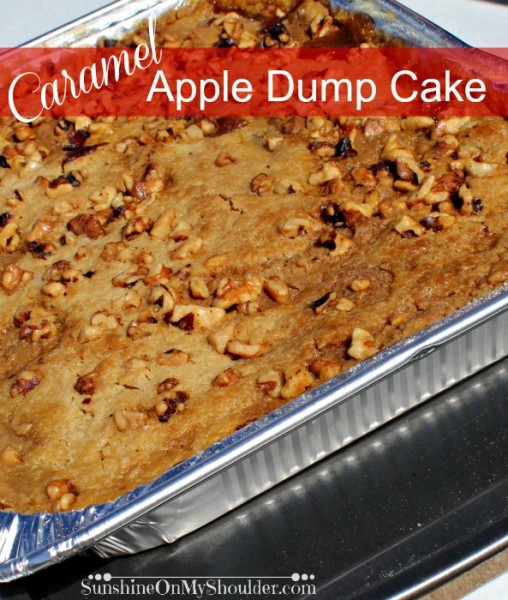 I made this recipe at the 33rd Annual Solar Potluck in Tucson AZ in April 2015.  People could smell this cake baking and would come over just to take a peek at the cake in the oven. I actually made 2 of these cakes. And there was not a single bite left over to take home.
Caramel Apple Dump Cake
Caramel Apple Dump Cake
Caramel Apple Dump Cake tastes like apple pie and it is easy to make in a solar oven at a camp site or tailgate party.
Ingredients
2 cans apple pie filling
1 box yellow cake mix
2 sticks of butter, melted
½ jar of caramel sauce (like ice cream topping)
1 cup chopped nuts (walnuts, pecans, etc)
Instructions
Dump the apple pie filling into a 9 x 13 inch pan. Add the caramel sauce and stir to mix. Spread it evenly in the pan.
Sprinkle the dry cake mix evenly over the top. Carefully spread it evenly over the top with a knife or spoon if needed.
Pour the melted butter over the top of the dry cake mix.
Sprinkle the nuts evenly over the top.
Place the pan into a hot solar oven. Do not cover. Bake about 1½ - 2 hours until the cake is browned on top and bubbly around the edges.
Serve with ice cream or whipped topping if desired.
Notes
Always pre-heat the solar oven.

The amount of time to bake the cake will depend on the type of solar oven, the temperature in the solar oven, and how focused to the sun you keep the oven.

For a regular oven, bake at 350 degrees for 45-50 minutes.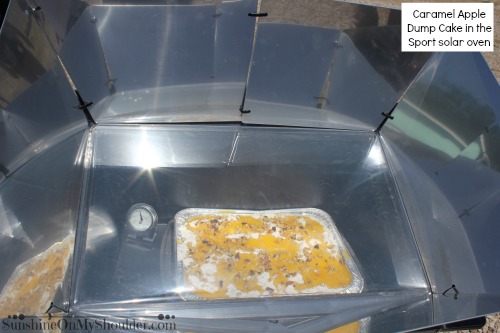 Try my dump cake and tell me how you liked it.