Cheesy Garlic Bread baked in a solar oven is a perfect accompaniment to almost every meal.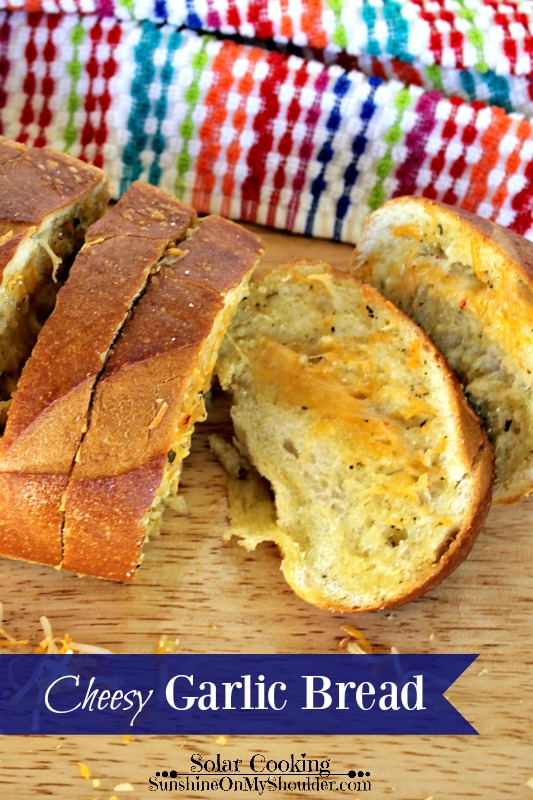 Every great meal deserves great bread to go with it. Cheesy Garlic Bread is a classic that has been around a long time. People typically prepare the bread, then slide it into a hot oven. I did the same thing, only I slid it in to a hot solar oven.
I started with a regular loaf of French bread that I picked up at the supermarket. To prepare, I cut the loaf in to 1.5″ slices, but I did not cut all the way through the bottom crust. Then, I spread butter between each slice. And finally, I stuffed shredded cheese in between the slices.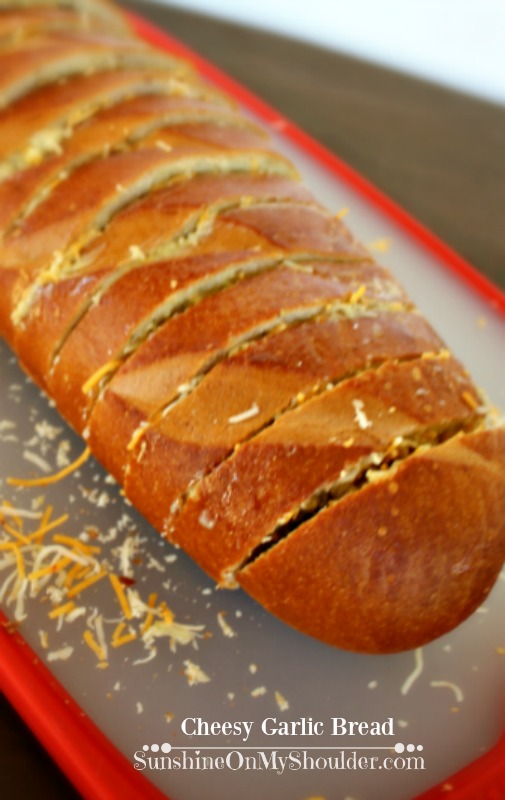 In the past, I wrapped the Cheesy Garlic Bread in foil and baked it in my kitchen oven.  But because food does not dry out in a solar oven, I did not wrap it in foil, I simply placed the bread on a rack.  I baked the Cheesy Garlic Bread for 1 hour at 250 ° F in the Solavore Sport Solar Oven to get it really hot – hot enough to warm the bread and melt the butter and the cheese. The time it takes to cook in a solar oven depends on several variables including the type of oven, the weather, and how focused the cooker is to the sun. To learn more, read How Long Does It Take to Cook in a Solar Oven?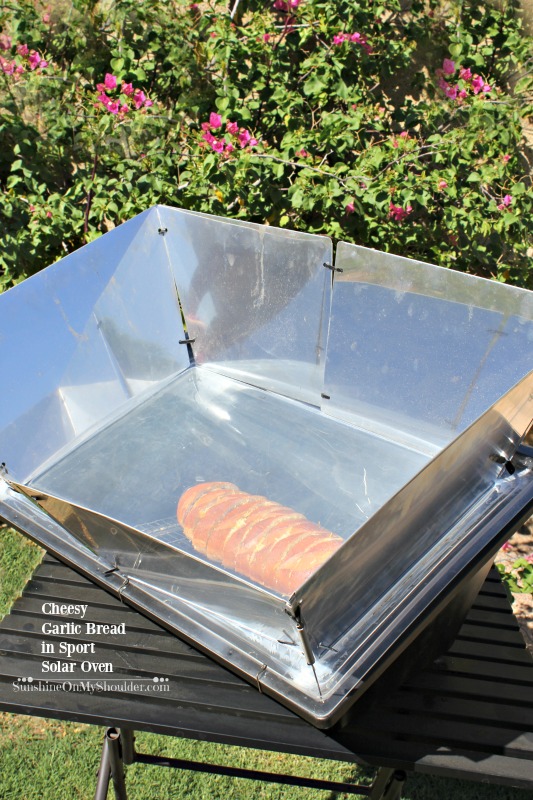 Cheesy Garlic Bread Baked in a Solar Oven
Cheesy Garlic Bread in a Solar Oven | Solar Cooking Recipe
Cheesy Garlic Bread baked in a solar oven is the perfect accompaniment to almost any meal. It can also be baked in a kitchen oven.
Ingredients
1 18" loaf French bread
1 cup soft butter or margarine
2 TBSP powdered garlic spread seasoning
4 oz shredded Cheddar and Monterrey Jack cheese blend
Instructions
Pre-heat the solar oven while preparing the bread.
Use a serrated knife to slice the bread into 1.5" thick slices, but do not cut through the bottom crust.
In a small bowl, mix the soft butter and powdered garlic spread seasoning. Mix well to blend.
Spread butter on each slice of bread.
Insert a small amount of the cheese between each slice of bread.
Place on a rack to allow air to flow underneath the bread.
Place in the hot solar oven.
Bake for 1 to 1.5 hours until the bread is hot and the cheese is melted.
Remove from oven and serve hot.
Notes
To bake in a kitchen oven, wrap the bread in foil and bake for 7 or 8 minutes at 400°F.

Note: If you do not have powdered garlic spread seasoning, substitute 3 cloves of garlic, minced; ¼ tsp dried oregano leaves; ¼ tsp dried basil leaves; and ¼ tsp black pepper. Add the seasonings to the soft butter and mix well to blend.
Thanks for solar cooking with Sunshine On My Shoulder. If you liked this recipe, please join my newsletter to receive news on other great recipes.