Cheesy Potato Casserole is a solar cooking recipe.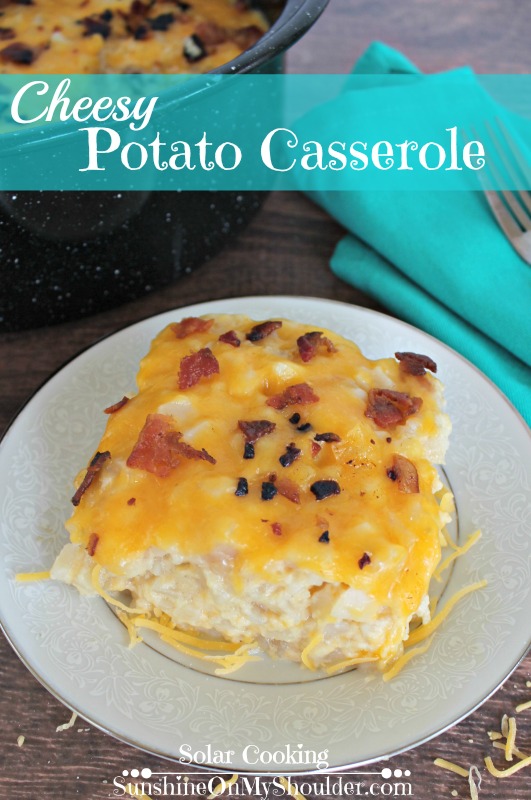 Cheesy Potato Casserole tastes like a loaded baked potato. It is a classic side dish that goes with almost everything. Whether you make it in the solar oven or in the kitchen, it is quick and easy to make.
I decided that I needed to learn to use some of my food storage and I thought that this would be a great way to get started. So instead of using fresh potatoes, I started with dehydrated potato dices.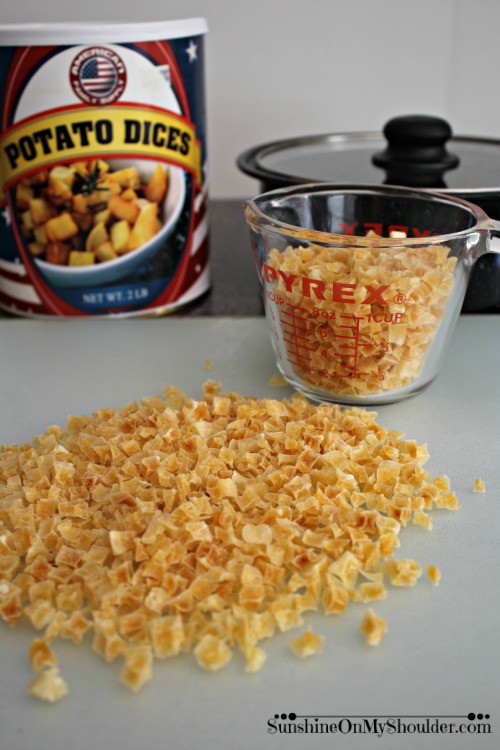 I placed two cups of dehydrated potato dices into a solar oven safe, granite ware pot. Although I could have covered them with hot water and left them to sit on the counter, instead I covered the potatoes with three cups of cool water, covered the pot, and placed into a hot solar oven to rehydrate. Because they would continue to rehydrate while cooking the casserole, I didn't want to overly rehydrate the potatoes. After about an hour, the potatoes were plump and firm.
Rehydrating the potatoes used almost all of the water, and I drained off the little bit that was left. The two cups of dehydrated dices made 4 cups rehydrated potatoes, just enough for my recipe. I combined the remaining ingredients in the pot and put it out in the Sport solar oven.
The day started off great, sunny with a few high clouds. But after two hours, I looked out and discovered that the clouds had rolled in and the sun was gone. A quick look at my casserole told me that it wasn't quite done, but there was no more sun that day.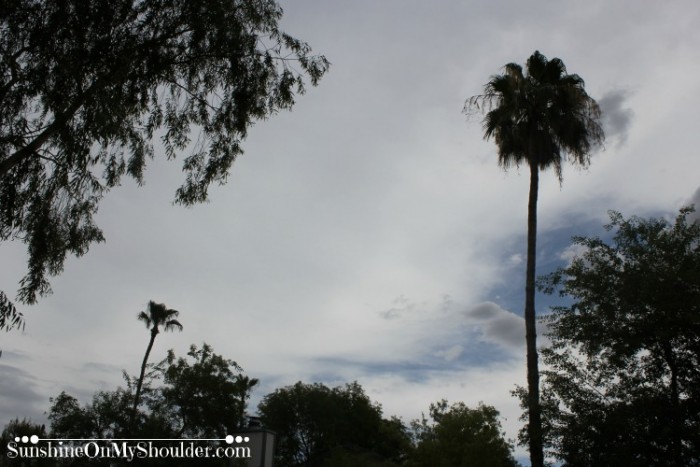 It was only 2 0'clock  so I brought the Cheesy Potato Casserole inside and placed it into the Wonder Oven to finish cooking. A Wonder Oven is a well insulated thermal cooker. Mine is stuffed with little foam pellets and it is like a giant pillow with a giant pillow on top. I set my pot into the Wonder Oven and put the top on.
Two hours later, the Wonder Oven had held the heat so well, that the Cheesy Potato Casserole had finished cooking. So I added the remaining cheese and bacon to the top and put it all back in the Wonder Oven to melt the cheese.  At dinner time, the pot was still so hot that I needed potholders to handle it. For more information on my Wonder Oven, CLICK HERE.
Have you used dehydrated potato dices? What did you make and how did it turn out?

Cheesy Potato Casserole
Cheesy Potato Casserole is a solar cooking recipe. It uses dehydrated potato dices from your food storage or supermarket. It is loaded with cheese, bacon, and sour cream and will make you think you are eating a loaded baked potato.
Ingredients
2 cups dehydrated potato dices
3 cups water
12 oz can of evaporated milk
½ cup of greek yogurt or sour cream
1 tsp salt
½ tsp pepper
2½ cups shredded Cheddar or Mexiblend cheese
6 slices of bacon (cooked until crispy and crumbled)
green onions, sliced
Instructions
Pre-heat the solar oven while preparing the ingredients.
Place the dry, dehydrated potato dices into a dark, solar oven safe pot. Add the 3 cups of water. Place the pot into the solar oven and let the potatoes rehydrate for about an hour. The potatoes should still be slightly firm and not mushy and over rehydrated, because they will continue to rehydrate while cooking.
Remove from the solar oven and drain off any remaining water. There should be about 4 cups of potatoes.
Add the evaporated milk, Greek yogurt, salt, and pepper. Add 2 cups of the cheese, reserving the other ½ cup for later. Add 4 slices of bacon. Stir to mix well.
Place in the hot solar oven for approximately 1½ - 2 hours.
When baked to your liking, top with the remaining cheese, bacon, and the green onions. Place back into the oven to let the cheese melt, about 15 - 30 minutes depending on how hot the oven is.
Actual Cooking time will vary depending on the type of solar cooker, the weather, and the amount of food being cooked. For best results, and the shortest cooking time, keep the oven pointed directly into the sun.
Notes
Fresh potatoes can also be used. Boil 4 - 8 small to medium potatoes in water until firm but tender, about 15 - 20 minutes. Let cool, then peel and dice enough for 4 cups. Proceed with solar oven directions.

To bake in a kitchen oven, pour the potato mixture into a greased 3 qt casserole dish and bake at 350 degrees for 20 - 25 minutes. Proceed to top with cheese and bacon and onions as above.