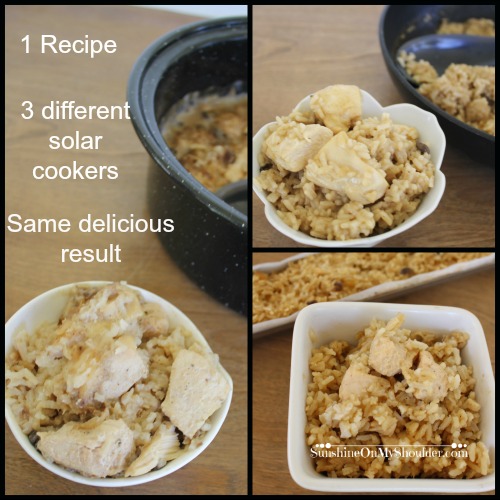 Basic Chicken Rice Recipe for Solar Cooker | 3 Different Cookers
Chicken Rice Casserole is an easy dinner. Whether it is cooked in a solar oven, or cooked in the kitchen, it is sure to please everyone.
Ingredients
2 whole boneless chicken breasts, cut into 1 inch cubes
1 can cream of mushroom soup
1 envelope dry onion soup mix
¼ tsp paprika (opt)
¼ tsp black pepper (opt)
1 4 oz can of mushrooms, drained (opt)
1 cup uncooked rice (see variations)
water (see variations)
Instructions
Cut the chicken breasts into small one inch cubes.
In a bowl, add the cream of mushroom soup, paprika, pepper, and the dry onion soup mix. Mix well.
Add rice and water according to the variation below.
Mix well and add the chicken.
Pour the mixture in a dark pot suitable for solar cooking. Cover with a tight fitting lid.
Notes
For Box Oven
Preheat the oven while preparing the ingredients.
Place the covered pot with the mixture into the hot oven.
Bake for about 1½ hours until chicken is cooked and rice is done.

For Parabolic Cooker:
Makes two half recipes-
Substitute 2 cups instant rice for the long grain rice
Use two cups water
2-3 TBL oil, olive oil, or butter
Combine the mushroom soup and the onion soup mix, paprika, and pepper.
Unless your skillet is very large, set aside half of the ingredients and cook half at a time.
Focus the cooker to the sun. Set a skillet on the cooking platform. Pre-heat the skillet.
Add the oil to the skillet and heat,
Add the cubed chicken to the hot skillet. Quickly saute the chicken until nearly done.
Remove excess oil if necessary.
Add the soup mixture to the skillet.
Add the water to the skillet.
Add the rice to the skillet.
Stir and mix well.
Cover the skillet with a tight lid and allow to simmer.
Stir as necessary.
Remove from the cooker when the water is absorbed and the rice and the chicken are done.
Total time depends on the cooker and the weather, but allow about 20 - 25 minutes to cook.


For Glass Tube Cooker:
DO NOT PRE-HEAT THE GLASS TUBE COOKER!
Makes 2 half recipes. (Half of the recipe fills one tray in the GO Sun Sport,)
Substitute 2 cups of instant rice for the long grain rice.
Use 1.5 cups water.
Prepare the mushroom soup, onion soup mix, paprika, and pepper.
Split into two bowls.
In each bowl, add half of the chicken and half the rice and half the water. This should be slightly soupy, but not runny.
Line the tray with parchment paper, if desired.
Add the mixture to the tray.
Place the tube cooker in the sun. Immediately add the tray.
Time to cook will depend on the weather and how big or small the chicken was cubed.
Allow about 35 - 45 minutes to cook.