Forth of July!! A true American holiday.  It makes us think of hot dogs on the grill, followed by ice cold watermelon, and an evening of fireworks. Just because we are cooking with solar doesn't mean we can't have a hot dog on the 4th of July. In fact, making hotdogs in the solar oven is easy and fast and lets us join in all of the other fun too.  So get out your solar oven and throw in a few hot dogs.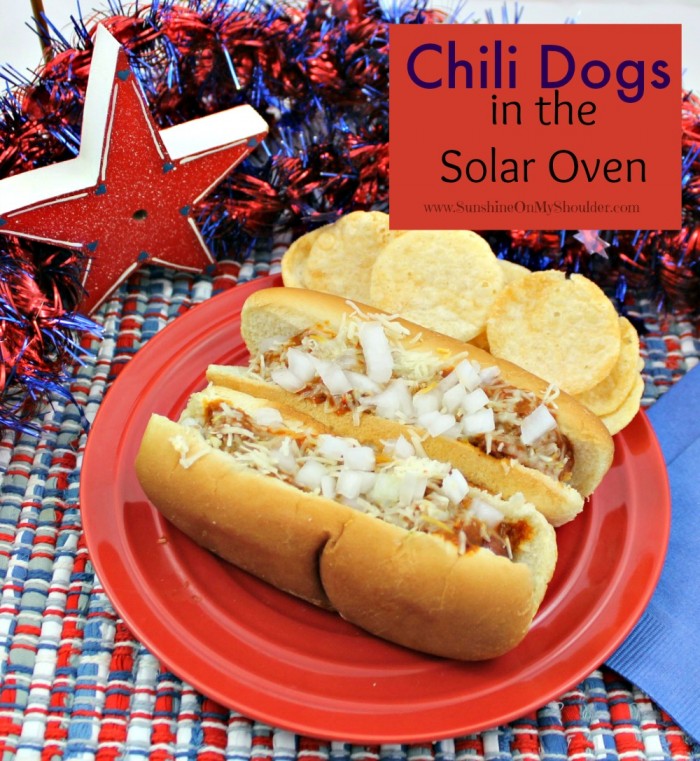 Chili Dogs  a solar cooking recipe
You already know the ingredient list:
a package of hot dogs, or polish sausage, or brats;
a package of buns;
a can of chili;
shredded cheese;
chopped onions;
and any other toppings that you like such as ketchup, mustard, and relish.
I put the hot dogs on a raised grill rack into a hot, pre-heated Sport solar oven. If you don't have a raised grill pan, you can wrap the hot dogs in aluminum foil, shiny side in, or just place them in a covered pot to steam.  I also put in an open can of store bought chili. Again, you can put the chili in a covered pot to heat.  The oven temperature was at 250º and the outside temperature was a moderate 93º when I started cooking. An hour later, the day's temperature had risen to 99º, the oven was at 300º, and both the chili and the hot dogs were steaming hot.  I might add that I put the hot dog buns into the oven and let them steam for about 20 minutes, so they were warm and soft.
You already know how to fix up a chili dog the way you like it. I added chili, cheese, and chopped onion to mine.  With just a few chips on the side.
This is a quick and fast dish. Easy to make if you are camping or boating and need a quick lunch, this is a Heat 'N Eat recipe. Easy for children to help prepare, so this is part of my Kids in the (Solar) Kitchen series.
So easy. So good. So solar.
Try this easy recipe too: Frito Chili Pie