Chocolate Zucchini Bread has long been a favorite of mine. Rich and chocolaty and moist, my girls would often come home from school to find freshly baked, hot loaves of Chocolate Zucchini Bread, ready and waiting for them. I got the recipe from my sister over 30 years ago. She got the recipe from her boyfriend's mother.  P.S. You can't really taste the zucchini.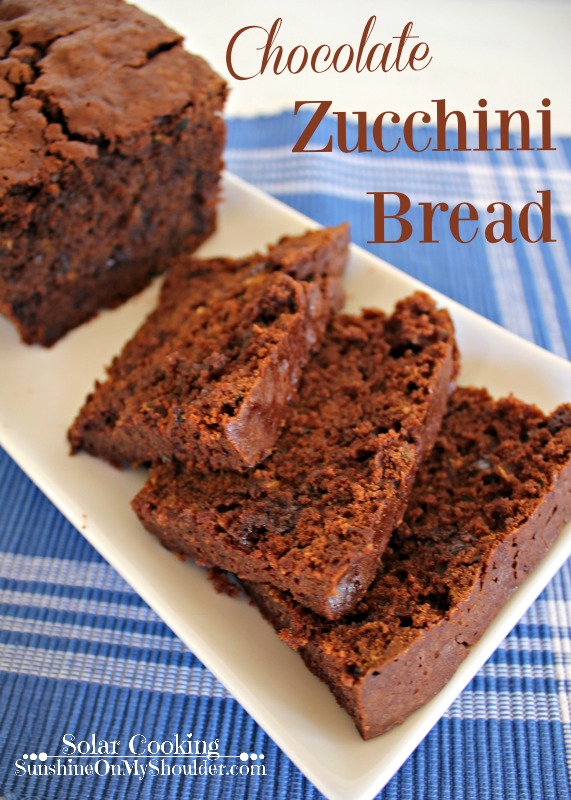 Quick breads are very easy to make and bake very well in a solar oven.   Chocolate Zucchini Bread has a moist texture and a rich chocolaty flavor.  I baked my bread in two bread pans in the All American Sun Oven, for two hours at 325 °F on a clear, hot sunny day.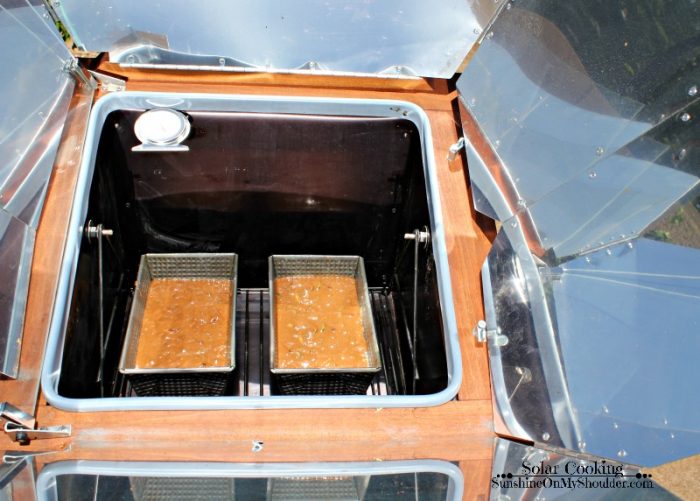 Chocolate Zucchini Bread
Chocolate Zucchini Bread
Chocolate Zucchini is rich, moist, and chocolaty.
Ingredients
½ cup margarine or butter
½ cup oil
1¾ cups sugar
2 eggs
½ cup buttermilk
1 tsp vanilla
1½ cups flour
4 TBS cocoa
½ tsp baking powder
1 tsp baking soda
2 cups zucchini, shredded
1 cup chocolate chips
Instructions
Pre-heat the solar oven while preparing ingredients.
In a large bowl, mix the margarine, oil, sugar, buttermilk, and vanilla.
Add the eggs and beat until blended.
In a separate bowl, combine the dry ingredients, flour, cocoa, baking powder, and baking soda.
Mix the dry ingredients to blend well then slowly add to the wet ingredients. Blend well.
Slowly fold in the shredded zucchini and the chocolate chips.
Pour into greased solar oven safe bread pans or other pans of you choice.
Pace into a hot solar oven.
Bake about 2 hours.
Notes
The time it takes to bake in a solar oven depends on how hot the solar oven gets which varies according to the type of solar cooker being used, the weather conditions, and how focused you keep the solar oven.

My bread baked for 2 hours on a clear, hot sunny day at a oven temperature of 325 degrees F.
Solar Cooking!
So easy!
So good!
So solar!
Thanks for solar cooking with Sunshine On My Shoulder.