Cinnamon Apple Cider is a favorite drink during cold weather. Traditionally, I always made it in a Crockpot, but now I make it in a solar oven.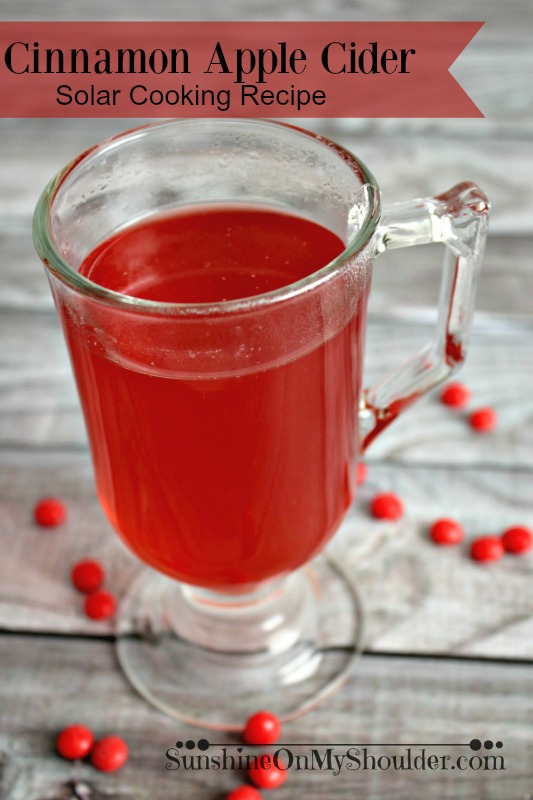 Hot beverages on a cold day are comforting to both body and spirit. That warm goodness just fills the soul and brings sunshine to a cold day.  I grew up drinking Cinnamon Apple Cider on cold days. My mother would simmer it on the stove and serve in a carafe for winter parties. I made mine in a slow cooker for many many years.
Just because it is cold outside, doesn't mean that the sun isn't shining. And if the sun is shining, you can cook in a solar oven.  For smaller, less insulated solar ovens, it might be a good idea to wrap an extra layer of insulation, such as a small blanket, around the oven to keep it from losing heat through the walls. Keeping the solar oven in a protected place away from the wind will also help the solar oven to maintain and keep the heat necessary for cooking.
For more on solar cooking in the cold, see Solar Cooking In An Emergency.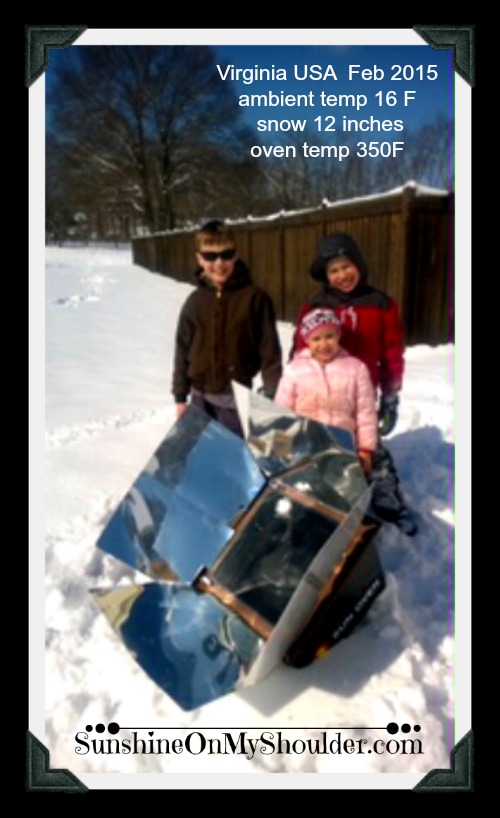 Cinnamon Apple Cider
Cinnamon Apple Cider for Solar Cooking
Cinnamon Apple Cider made in a solar oven is a great drink to keep you warm when camping or tailgating or make in a slow cooker for winter parties.
Ingredients
½ gallon Apple cider or apple juice
1 cup Red Hot cinnamon candies
Instructions
Pre-heat the solar oven while preparing the ingredients.
Place the apple cider in a solar appropriate jar or pot.
Add ½ to 1 cup of cinnamon candies to a half gallon of cider or juice.
Place cover on the pot.
Place in the hot solar oven.
Heat until the candies are melted.
Stir about half way through.
Continue to heat until the candies are completely melted.
Serve warm.
Notes
Adding more candies will make the juice redder, but will also make it sweeter.

The time it takes to completely heat the cider will depend on the type of oven you are using, and how focused the oven is to the sun. Small quantities of juice will heat faster than a large pot, so use smaller jars of juice for quicker results.
For another great beverage recipe, see
How To Make a Cup of Hot Tea in a Solar Oven
.
Please leave me a note below if you have made a beverage in your solar oven. And please join me on my Facebook page.