Cinnamon apples have always been a classic accompaniment to pork.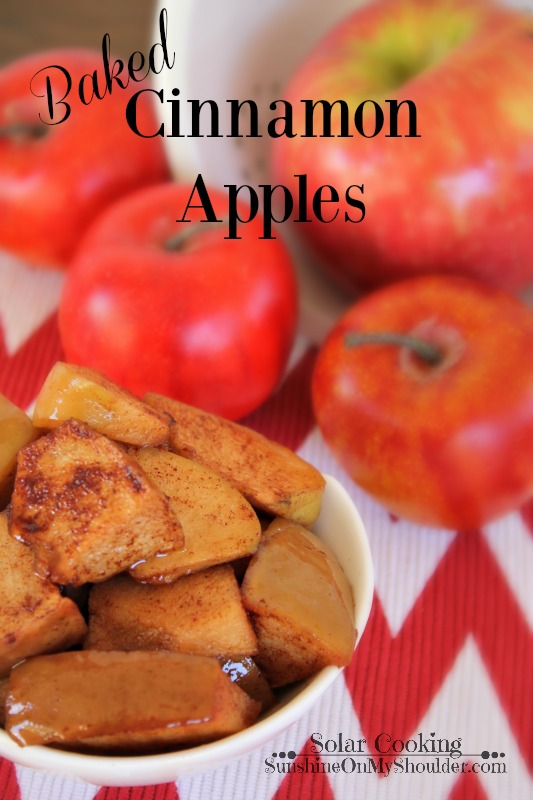 I can't even remember the last time I made pork – pork chops, pork tenderloin, pork roast – without cooking apples to go with it. So when I decided to make a pork tenderloin in my solar oven, I naturally wanted to bake some apples to go with it. And of course, there was no doubt at all, that those apples would be baked in a solar oven.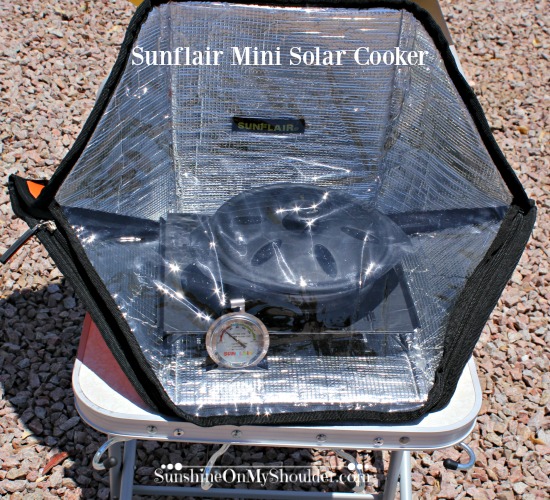 Because I only need to cook for me and Mr. B, I found that the Sunflair Mini solar oven was the perfect size for my apples.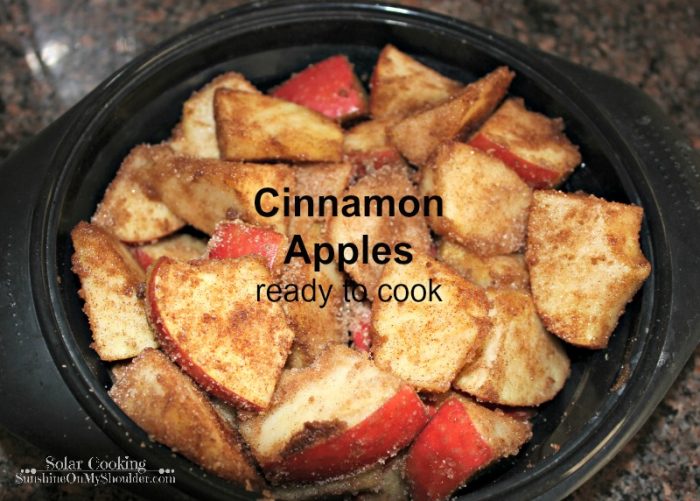 Foods cook quicker when chopped into smaller pieces, and that is definitely true of solar cooking.  So I chopped my apples into large pieces, added the sugar and cinnamon and butter, gave it a quick stir, and placed it into the pre-heated Sunflair to cook. The time it takes to cook in a solar oven varies with the type of oven you are using, the weather, and how dedicated you are to keeping the cooker focus into the sun.  The cooker reached a high temperature of 200°F.  The cinnamon apples cooked about 2 .5 hours until they were soft, with just a little firmness, and not mushy.
Cinnamon apples
Cinnamon Apples |Solar Cooking recipe
Cinnamon apples is a solar cooking recipe for a classic baked apple.
Ingredients
2 medium apples, cored and chopped
⅓ - ½ cup sugar, depending on sweetness of the apples
½ tsp cinnamon
2 TB butter
1 TB four
2 oz water
Instructions
Pre-heat the solar oven while preparing the ingredients.
Wash, core, and chop the apple into large pieces.
Place into a medium size mixing bowl.
Add the sugar, cinnamon, and flour. Mix to coat all of the apples.
Pour the apples into a dark, solar safe pot.
Add the butter and water.
Cover the pot and place into the hot solar oven,
Bake for 2 - 2.5 hours until soft but not mushy.
Notes
The time it takes to cook in a solar oven varies depending on the type of cooker you are using, the weather, and how focused the oven is to the sun.

My apples baked at a temperature of 200 F for about 2.5 hours on a clear bright day.
I served this with a
pork tenderloin
, baked in the
All Season Solar Cooker
. An awesome meal without heating up the kitchen.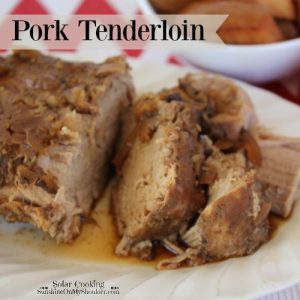 Solar Cooking!
So Easy!
So Good!
So Solar!
Thanks for cooking with Sunshine On My Shoulder.