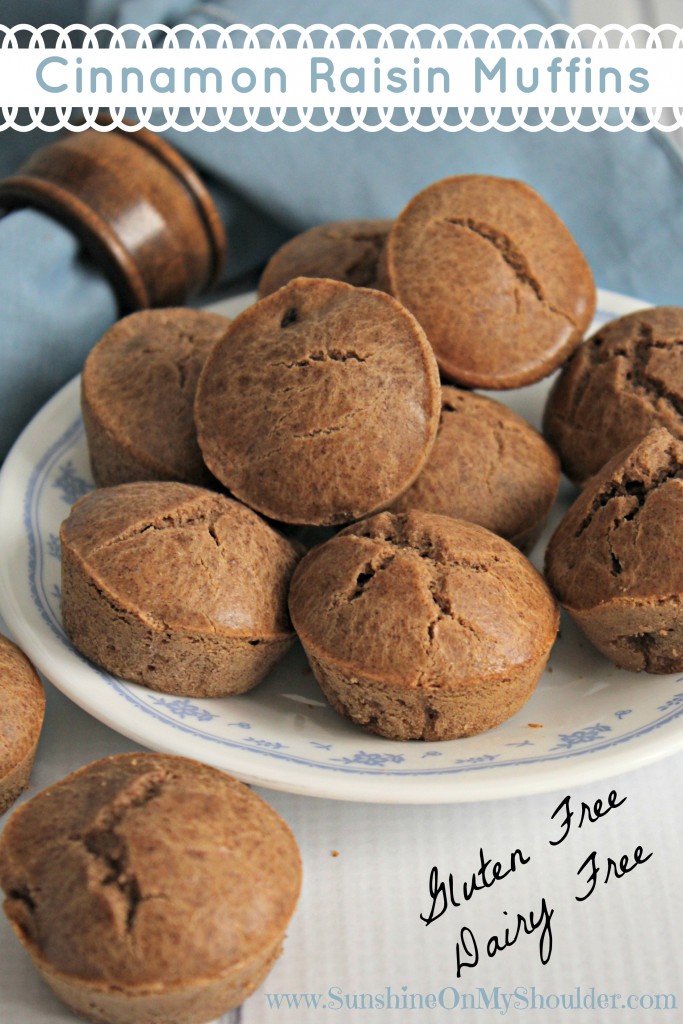 My husband is on a  gluten free diet so I have been looking for easy gluten free recipes. Cinnamon Raisin Muffins are gluten free and dairy free, and are not too sweet.  So they make a perfect snack.  I prefer to bake mini muffins so they will cook faster in the solar oven.
Cinnamon Raisin Muffins
Gluten Free Cinnamon Raisin Mini Muffins
Ingredients
2 cups gluten free flour (Bob's Red Mill Gluten Free All Purpose Baking Flour)
2 TBSP Cinnamon
½ tsp Baking Soda
5 eggs
3 TBSP honey or Organic Blue Agave Nectar
2 TBSP unsweetened applesauce
½ cup coconut oil, (in liquid form)
½ cup raisins
1 tsp vanilla
Instructions
Preheat the solar oven while preparing the recipe.
In a large mixing bowl, combine the eggs, honey, applesauce, melted coconut oil, and vanilla.
In another large bowl, combine the flour, cinnamon, and baking soda and mix thoroughly to evenly distribute the ingredients.
In a small bowl, place the raisins. Add about a TBSP of the flour mixture to coat the raisins.
Slowly add the dry ingredients, except the raisins, to the wet ingredients. Mix until well combined. Slowly add the raisins and gently stir to mix.
Spray a mini muffin pan with a gluten free cooking spray. Place about a tablespoon of batter into each cup. Bake uncovered in a hot solar oven about 20 - 30 minutes.
Notes
Amount of time to cook will vary depending on the type of solar oven, the weather, and the outside air temperature.
My solar oven was at 350 degrees and my muffins took 20 minutes to bake.

Bake in a regular kitchen oven at 350 degrees for 20 -22 minutes.
Here are other quick breads you can make in your solar oven: