Disclaimer: I was provided a Mini Copenhagen Solar Cooker for review, however, all opinions are my own.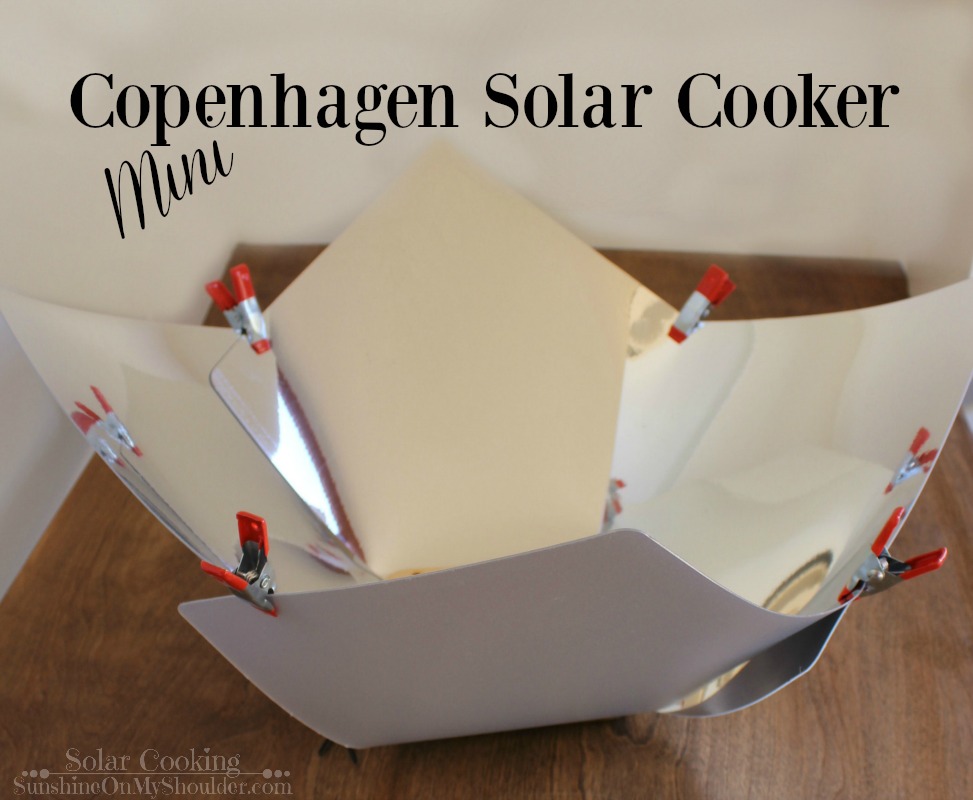 Copenhagen Solar Cooker
The Copenhagen Solar Cooker is a panel solar cooker with a parabolic shape.  Solar cookers use only sunshine from the sun as the energy to heat and cook the food. No other  fuel is used. The Copenhagen was developed by Sharon Clausson, in San Diego, California, USA.  The Copenhagen Solar Cooker is lightweight, compact, and folds easily for storage. It is made of reflective panels that are pulled up int a parabolic shape.

The cooker comes unassembled.  To assemble, lay the panels out flat between the two bottom pieces and lace the lashing through the holes. Now just pull up the panels and clip them together with the included clips. That's it! You're finished!! The panels on the Copenhagen Solar Cooker can be adjusted to capture the best sun.
The model that I have is a small mini size version of the original full size Copenhagen Solar Cooker.  The base is 5″ square and the panels are 9.5″ x 9.5″.  The full size cooker has panels that measure 15″ x 15″. The interior of the full size cooker can accommodate a full size granite ware pan. As with all panel cookers, you will need to use some type of heat trap when using the Copenhagen. A cooking bag is perfect.
Because this cooker folds down to such a small size, it is perfect for camping, traveling, school projects, emergencies, and even for daily cooking.  And because of the low cost, it is a perfect first cooker for those who just want to try it out or for school projects that need to keep to a budget.
Continue here to see the Copenhagen Solar Cooker in action.
Thank you for solar cooking with me. If you have used this solar cooker, please let us know how you liked it.