Here are some DIY solar cookers that are easy to make and easy on the budget.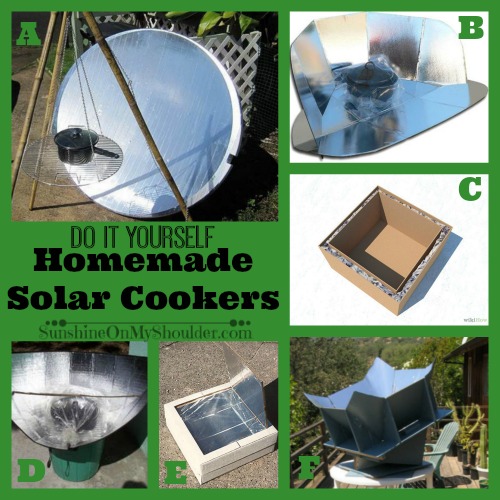 There are many benefits to solar cooking. Reducing electric bills; assurance that we can feed our family if the grid goes down; protecting the environment;  and living a green and sustainable lifestyle are a few of those benefits . Third world countries benefit with better health, better economies, and better enviroments.  But while humanitarians ship boatloads of commercial equipment around the world to poorer countries, here at home, many of our own citizens struggle to cope with rising fuel bills and will never be the beneficiary of such benevolence. And in fact, the need is so great, that even in those poorer countries, humanitarians cannot provide a solar cooker for all of the needy population.
Solar cookers do not need to be commercially made to work. Commercial cookers are pricey. A little too pricey for many people. But a good solar cooker can easily be made at home out of ordinary materials that are often already available. Using recycled materials to build a solar oven is a bonus benefit to making your own cooker.
A search of the web brings up hundreds of sites to build your own DIY solar cookers. Here are a few of my favorites.
DIY Solar Cookers
Box Ovens
How to Make and Use a Solar Oven at WikiHow (picture C)
How to Build a Solar Cooker by Solar Cooker at CantinaWest
Minimum Solar Box Cooker at Solar Cookers International Network (picture E)
Collapsible Solar Box Cooker at Solar Cookers International Network
Making a Solar Oven by Bill Becker (picture F)
Weekend Project: How to Build Your Own Cheap, Simple Solar Oven at Chelsea Green Publishing
The "Easy Lid" Cooker at Solarcooking.org
Panel Cookers
Windshield Shade Solar Funnel Cooker at SolarCooking.org (picture D)
CooKit at Solar Cookers International Network (picture B)
How To Build a Solar Panel Cooker at WikiHow
The Copenhagen "Purple Fig"  Solar Cooker by S Clausson at Instruciables.com
Suntastic Panel Cooker at SunnyCooker
Simple Solar Cooker for less than $5 by Solar Cooker at CantinaWest
Parabolic Cookers
DIY Parabolic Dish Solar Cooker  at The Good Survivalist
Create a Parabolic Cooker at Alternative Energy Geek (picture A)
Making a Parabolic Reflector out of a Flat Sheet at Solarcooking.org
Here are some solar oven projects for kids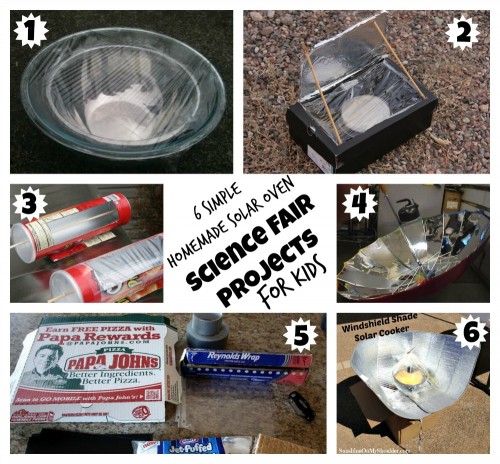 If you make some DIY solar cookers, send me a picture.