You can make easy applesauce from the solar oven.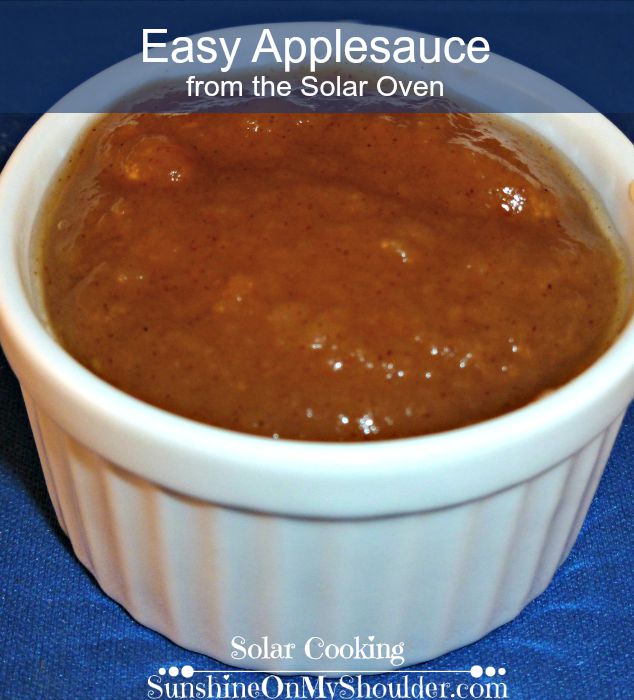 Mr. B walked in on Friday night with a 35 pound box of Gala apples and a 23 pound box of peaches that he bought from a friend's church fundraiser.  The apples looked beautiful and the peaches smelled like — well — peaches.  It was heavenly.  And both peaches and apples tasted incredible.  They were fresh from the orchard, firm, and sweet.  So we were busy this weekend putting up as much of that fruit as we could.  Some went into the dehydrator.  Some went into the freezer.  And some went into the Sun Oven  to make homemade applesauce.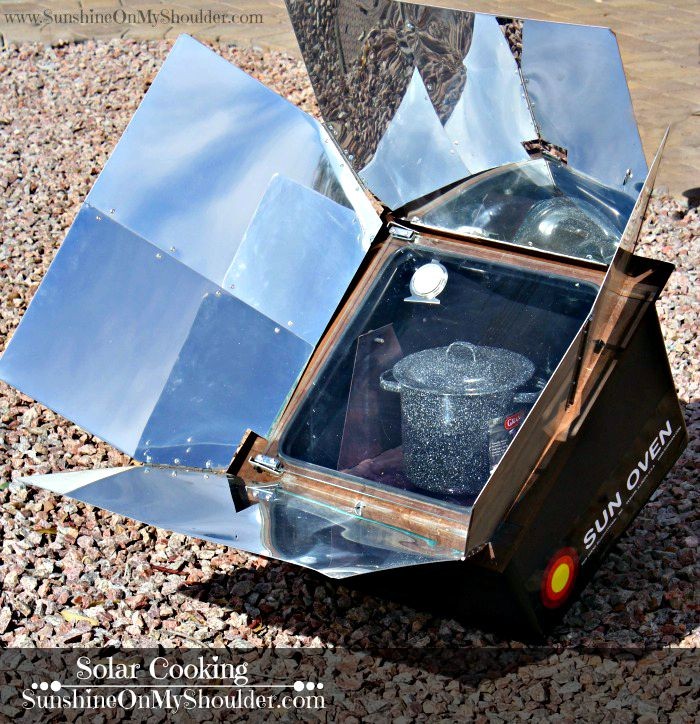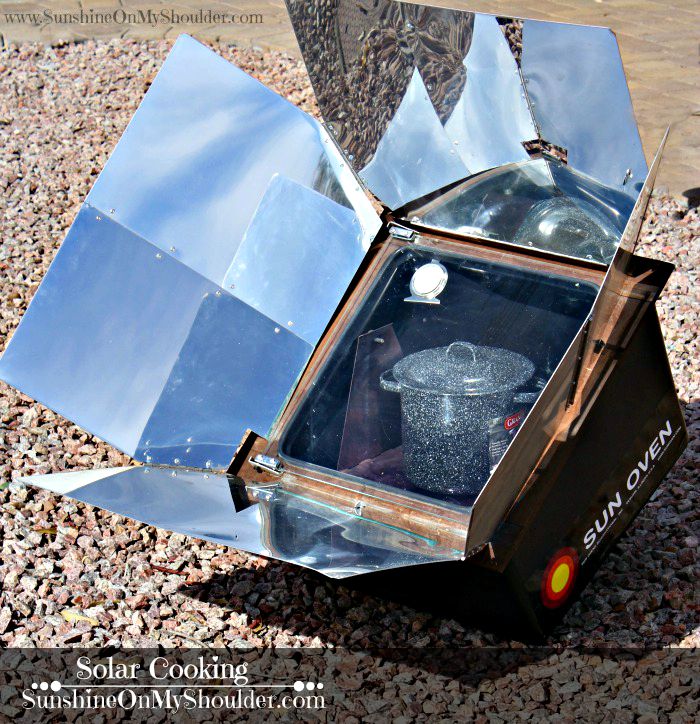 Easy Applesauce
For applesauce, use a good cooking apple like Gala.
3-4 pounds of peeled, cored, and cut apples (We used our apple peeler which peels, cores, and slices the apple into rings.)

3 -4 Tbsp lemon juice

1/2 – 1 cup apple juice (or water)

(I use frozen apple juice concentrate)

Pre-heat the solar oven while you prepare the apples. Wash, peel, core, and slice the apples. Put the apples into a dark solar safe pot and add the lemon juice and apple juice. Cover and put into the solar oven and cook covered for about 2 – 2 1/2 hours.  The actual time required to cook will depend on the type of cooker you are using, how much sunshine you are getting, and how hot the cooker gets.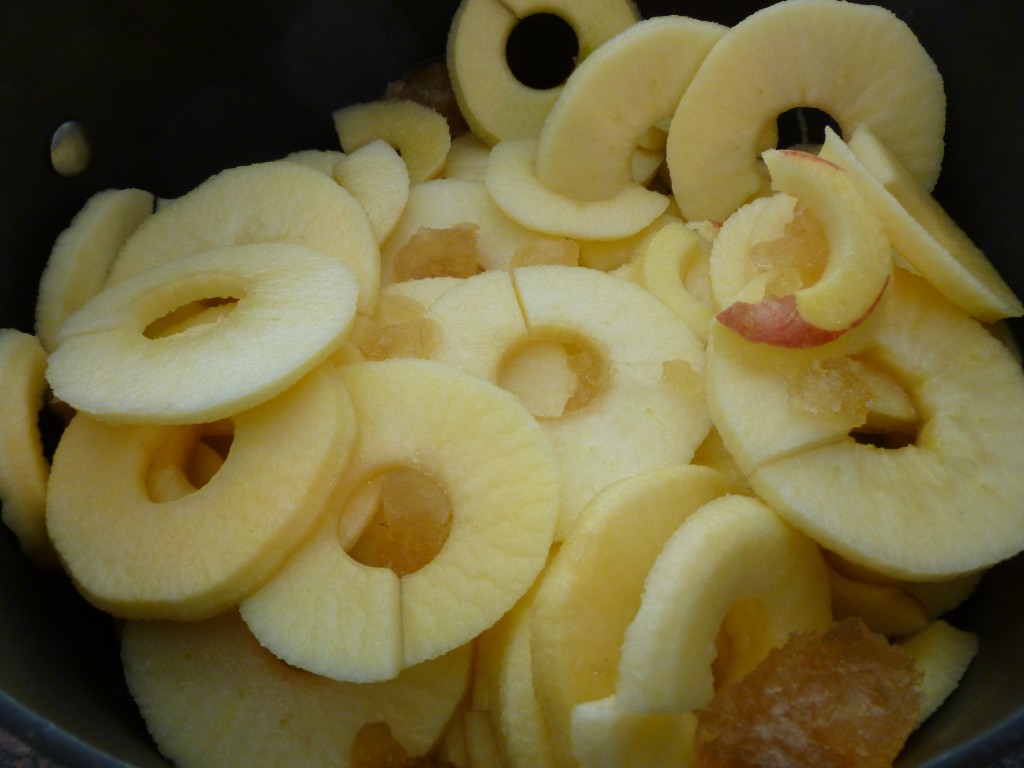 When the apples are soft, remove them from the solar oven and use a potato masher or electric  stick mixer to mash the cooked apples.  Leave as many or as few lumps as you like.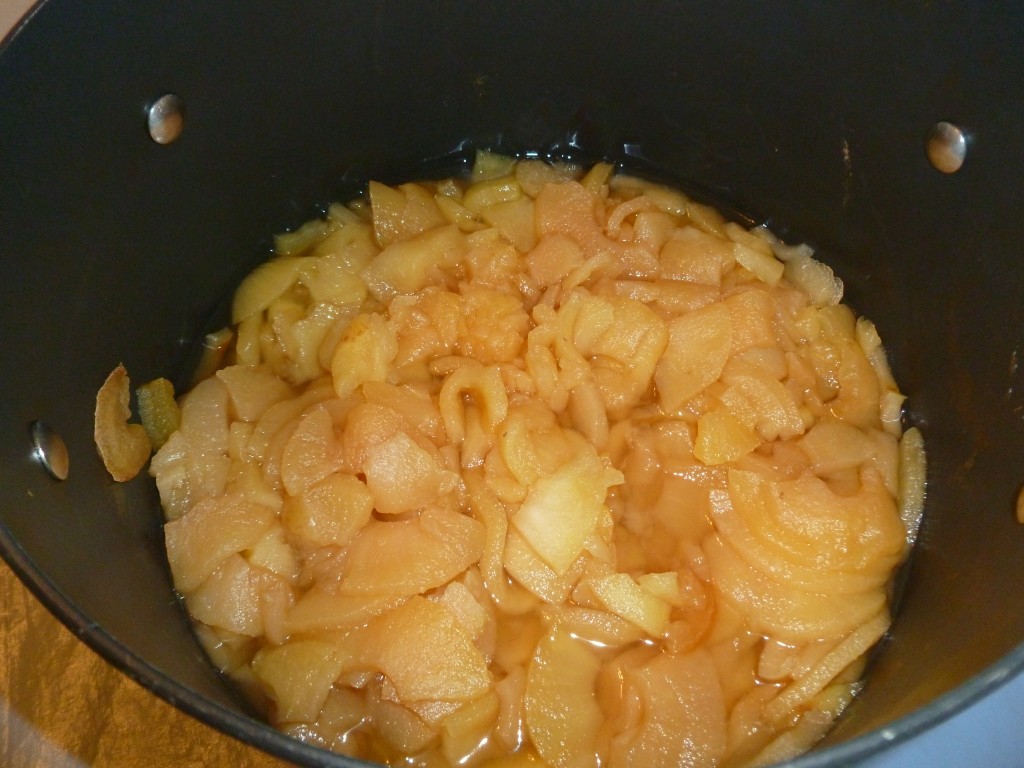 Now it's time to sweeten and season the applesauce. Add:
 1/2 cup honey (or 1/2 cup white sugar or 1/4 cup white and 1/4 cup brown sugar)

2 tsps cinnamon
The amount of honey (sugar) and cinnamon is approximate.  The amount will depend on how sweet the apples are and how sweet you like your applesauce.  Add the amounts slowly and taste until you reach the sweetness that you like.
Stir the honey and cinnamon into the cooked apples.  Return the pot to the solar oven. Vent the lid of the solar oven so that the steam can escape and the apples cook down.  Cook, uncovered, for about an hour to cook the apples to the desired consistency.
 Store the applesauce in the refrigerator. It also freezes very well.

Click here for more recipes using apples such as  Apple Butter   and Caramel Apple Dump Cake