I love making monkey bread. It is so very easy. And you can make it sweet like a sticky bun or savory to go with a meal. Easy Monkey Bread is a solar cooking recipe.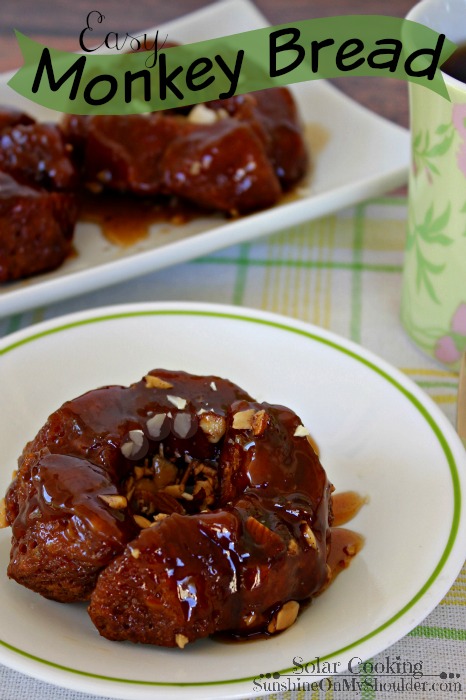 By starting with biscuits, (and I use the cheap ones), it is quick to put together for a family breakfast but also elegant enough to serve to guests for a lovely brunch out on the patio. And if you make it in a solar oven, you won't even be heating up the kitchen.  I baked my monkey bread in a Solavore Sport Solar Oven.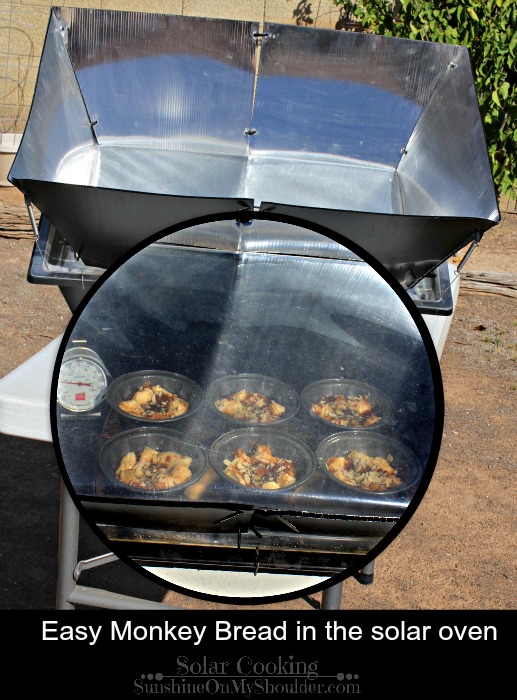 The time needed to bake in a solar oven depends on how hot the oven gets and that depends on the kind of oven you have, the weather, and how diligent you are keeping the oven focused into the sun.  My bread baked for 1 1/2 hours at 250°- 300°. I used individual pans, but you could also use a bundt pan. Cutting the biscuits into small pieces helps them to cook quicker.
Easy Monkey Bread
Easy Monkey Bread
Ingredients
1 sm tube of biscuits (10 - 12 small biscuits)
3 TBSP margarine or butter, melted
½ cup pancake syrup
⅓ cup packed brown sugar
½ tsp cinnamon
¼ cup chopped nuts (pecans, walnuts, almonds, opt)
Instructions
Put the solar oven out to heat while you prepare the ingredients.
Spray 6 individual size pans with cooking spray. Divide the chopped nuts between all of the pans.
Cut each biscuit into quarters. Slightly flatten each piece. Use 6 pieces to line the inside of the individual pan. If there are a few pieces left over, just add those to any pan that looks skimpy.
In a small bowl, combine the brown sugar and cinnamon and then spread evenly between the pans.
In a small cup, combine the syrup and melted butter and pour equally over the pans.
Add any remaining nuts.
Place the pans into the hot solar oven and bake uncovered for about 1.5 hours.
The amount of time to bake will depend on the type of solar oven, and how hot the oven gets. My oven reached a high temperature of only 225°, so my bread took 1 hour and 45 minutes to bake. However, I left it in a little long so it was definitely done sooner.
Notes
Cutting the biscuits into a smaller size allows them to cook faster.

To cook in a small bundt pan, place the biscuits evenly around the ring and cook as above.
Want to keep following along? Sign up for my newsletter, or follow me on
Facebook
,
Twitter
,
Instagram
, or
Pinterest
.