Easy Peanut Butter Cookies is a solar cooking recipe.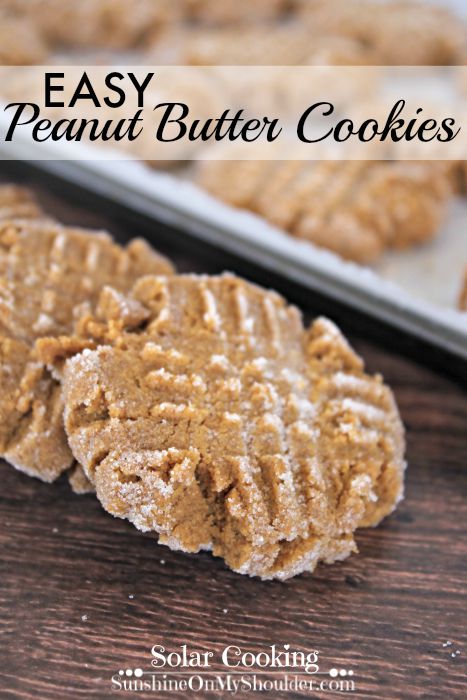 Love easy peanut butter cookies? I do. Cookies baking outside in your solar oven will draw all of your neighborhood friends over for a bite so you need to make a really big batch. These cookies were baked in the All American Sun Oven solar cooker.
This solar cooking recipe makes light, crunchy, crumbly cookies. But it is also very easy to adapt to make a gluten free, egg free, (and already dairy free) cookie. Leaving out the flour altogether, makes the Flourless Peanut Butter Cookie, which is also so delicious you might eat the whole batch by yourself. Adding the flour (or gluten free flour) gives them a lighter, crunchier texture that you will love.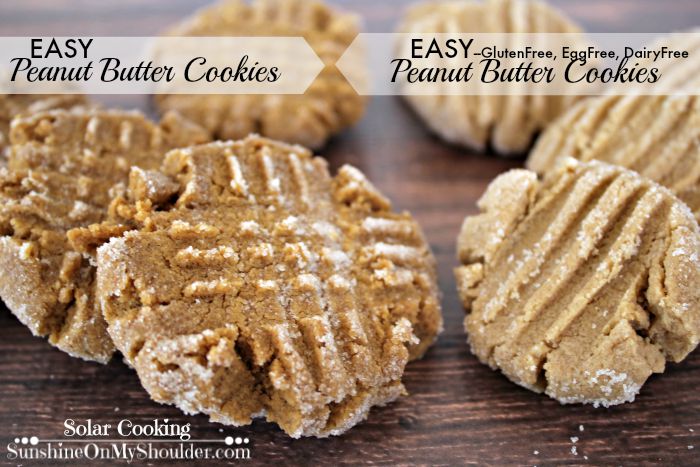 Can you tell the difference between the classic and the gluten free easy peanut butter cookies. I used a straight stripe on the gluten free cookie and a cross-hatch on the classic. Other than being a little browner (from leaving on in the solar oven a little bit longer), you cannot tell the difference between the two versions.  Have a cookie and then check out some of my other gluten free recipes like Chocolate Zucchini Brownies and Cinnamon Raisin Muffins.
Easy Peanut Butter Cookies
Easy peanut butter cookies have only 4 ingredients and are perfect for the solar oven. A few adjustments make a gluten free,dairy free, egg free version that is just as delicious as the original recipe.
Ingredients
1 cup peanut butter (creamy or crunchy)
1 cup sugar (plus extra to roll the cookie ball in if desired)
1 egg
¼ cup all purpose flour
Instructions
Pre-heat the solar oven while preparing the cookies.
Line cookie sheets with parchment paper.
In a mixing bowl, cream together the peanut butter, sugar, egg, and flour until crumbly.
Form the dough into a ball. Dip in extra sugar if desired. Place on the cookie sheet.
Using a fork, flatten the ball and form the stripe or cross hatch pattern on top.
Place uncovered into the hot solar oven. Bake in the solar oven about 1 hour, until browned.
Remove from oven. Let cool one minute, then transfer the cookies to a wire rack to finish cooling.
Notes
My cookies baked about an hour at 300 degrees on a hot and sunny day. Actual cooking time will vary depending on the type of solar cooker, the weather, and the amount of food being cooked. For best results, and the shortest cooking time, keep the oven pointed directly into the sun.

To make the gluten free, dairy free, egg free version of this recipe, I substituted an egg replacer for the egg, and Cup 4 Cup gluten free flour for the regular flour. The cookies baked about an hour in the solar oven. The cookies tasted almost identical to the original recipe.

To bake in a regular oven, follow the same directions and bake at 350 degrees for 6 minutes.