Eggplant Pizza for Solar Cooking is a great recipe.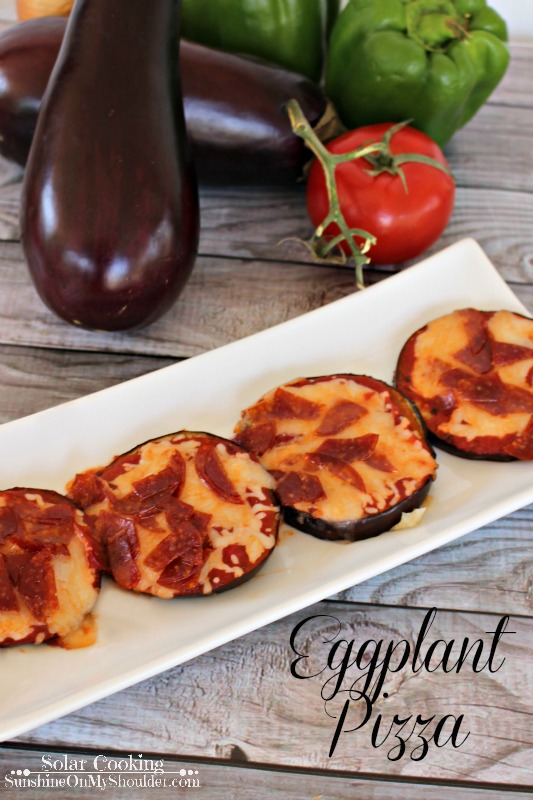 Whether you want to take advantage of all of the fresh vegetables from the garden — or in my case — the supermarket, or whether you are trying to maintain that youthful shape by watching your carbs, an Eggplant Pizza is just the ticket. Gives you that burst of pizza flavor that you may be craving without all of the dough. Plus it just tastes fresh and good.
I had some eggplant left in my refrigerator after making Eggplant and Pasta, and I also had all of the pizza makings, so it was a fairly easy decision to throw together an Eggplant Pizza.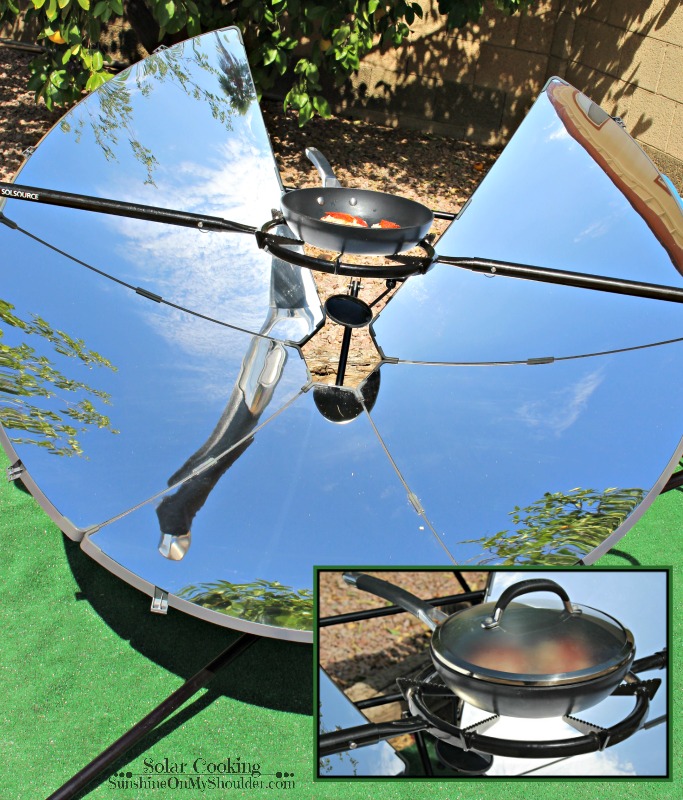 Since Eggplant Pizza for Solar Cooking needs a high temperature, I used the Solsource Solar Stove. The Solsource is a parabolic solar cooker that reaches very high temperatures, much like a kitchen stove top.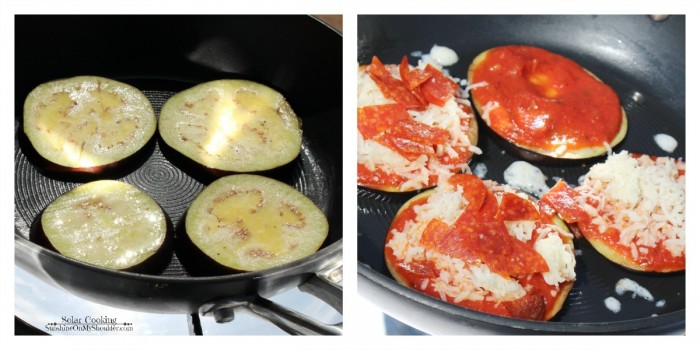 This is such an easy recipe that you don't even need a recipe.  Slice the eggplant into slices about 1/2″ thick. Brush with olive oil and place into a sizzling hot pan.  Let the eggplant saute on one side until golden. Then flip oven to let the other side saute.  After flipping, just spoon some pizza sauce onto each slice. Top with chopped pepperoni or other topping of your choice; and, don't forget the mozzarella cheese.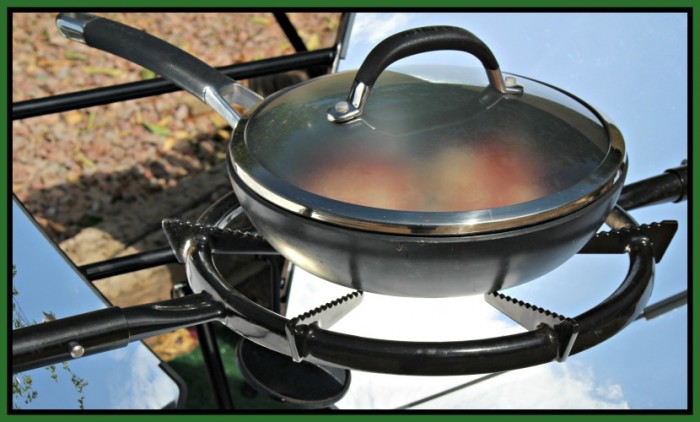 Place a lid on top of the pan to hold in the heat to melt the cheese. It won't take long. And then you will be enjoying a garden fresh treat.
Eggplant Pizza for Solar Cooking
Eggplant Pizza for Solar Cooking
Eggplant pizza cooked on a solar cooker is a fresh, nutritious, and delicious way to get that pizza flavor you love.
Ingredients
1 eggplant, sliced
olive oil
pizza sauce
mozzarella cheese, grated
Topping of your choice such as pepperoni, chopped
Instructions
Wash and slice the eggplant into slices about ½ to 1 inch thick.
Brush one side of the eggplant with olive oil.
Place a pan suited to high temperatures on a parabolic solar cooker to heat.
When the pan is heated, place the eggplant into the hot pan, oiled side down.
Brush the top side of the eggplant with olive oil.
When the bottom of the eggplant is golden brown, flip the eggplant over.
Spoon several TBSP of pizza sauce on the top of the eggplant.
Top with your favorite pizza toppings, such as chopped pepperoni.
Top with mozzarella cheese to your liking.
Cover the pan to hold in the heat to help melt the cheese.
When the cheese is melted, remove from the pan.
Serve hot.
Notes
Eggplant pizza can also be made on your kitchen stovetop.
Solar Cooking!

So Easy!

So Good!

So Solar!