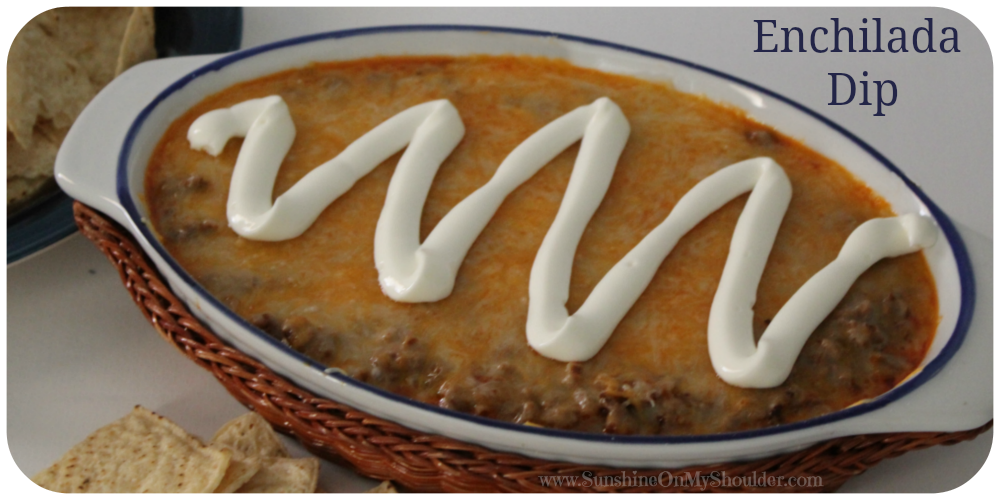 With everyone coming over to my house to watch Super Bowl, I want to have a mix of easy party food on the table.  We certainly love the flavors of the southwest including nachos, tacos, and enchiladas, so I have combined those flavors to make a hearty dip that goes beyond the traditional cheese dip.  Enchilada Dip can be made with ground beef or ground turkey. It could even be made with leftover beef or chicken.

Enchilada Dip
Ingredients
1 pound ground beef
½ onion, chopped
1 8oz can of enchilada sauce
2 cups grated Mexi-blend cheese, (or a combination of cheddar and Monterrey Jack cheese)
sour cream
tortilla chips
Instructions
Pre-heat the solar oven while you prepare the ingredients.
Brown the ground beef on the stove top or in the solar oven and drain off the grease. Add the onion and cook until the onion is tender.
In a large bowl, combine the cooked beef and the enchilada sauce. Stir to mix well. Pour the mixture into a solar safe cookware dish or pot. Cover with the cheese.
Place into the hot solar oven. Let bake until the meat is hot and the cheese is melted.
Top with sour cream if desired and serve hot with tortilla chips.
Notes
The amount of time necessary to cook will depend on the type of solar oven, the weather, and the amount of food being cooked.
Click here to learn how to
brown ground beef in a solar oven
.