Hamburger sliders cooked on a parabolic solar grill are so awesome that everyone will be begging for more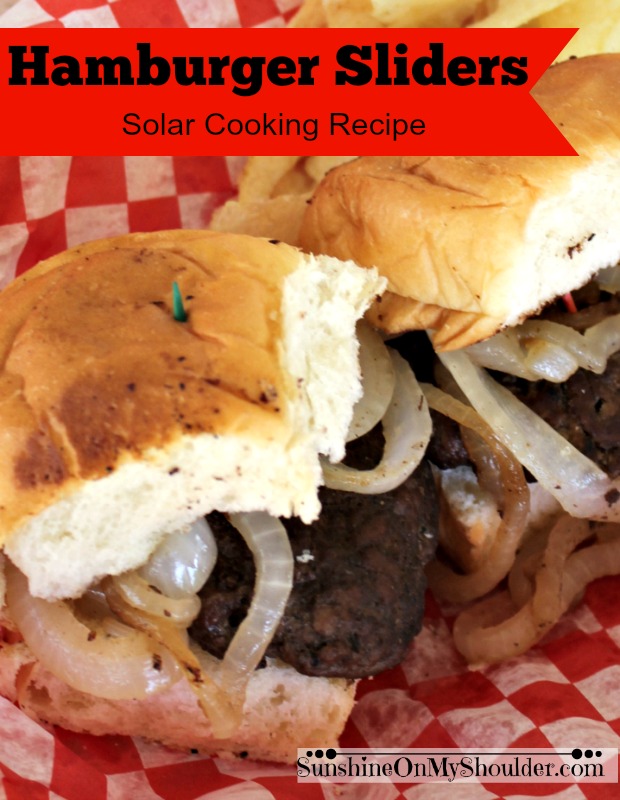 Just think about it. Sunday afternoon. The family is all home. You want to cook something easy. Everyone wants something different. But when you decide on making Hamburger Sliders, the vote is unanimous. So what are Hamburger Sliders? They are just little hamburgers that are easy to hold and fast to eat. Generally most people will eat two or three or four. But for small children, the size is absolutely perfectly awesome.
I cooked my hamburger sliders on a Sun Chef Cooker, a parabolic solar grill. For more information about the Sun Chef Solar Cooker, please read my review. The grill gets hot enough to fry foods, boil water, and – well- grill. So I pulled out a pound of ground beef, sliced up an onion, and we were set. Since this was spur of the moment, I used Hawaiian Rolls for buns because that is what I had in the kitchen. But you can use any small roll that you like.  Oh, and as Mr. B. pointed out to me, I forgot the cheese. That didn't keep him from eating his share.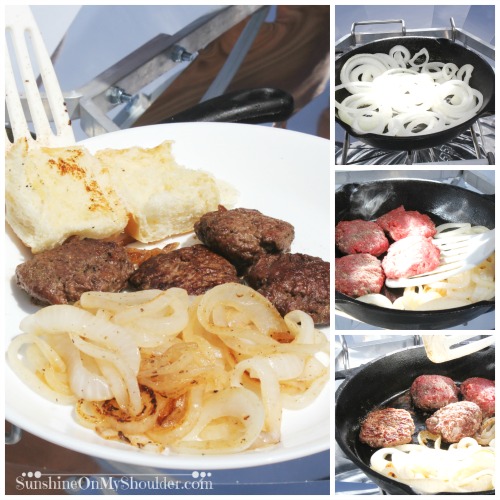 Hamburger Sliders
Hamburger Sliders with Grilled Onions
Hamburger sliders cooked on a parabolic solar grill are so delicious and awesome everyone will be asking for more.
Ingredients
1 pound ground beef
salt/ pepper/ other seasonings
2 slices of cheese
sliced onions if desired
1 TBSP oil or butter
Instructions
Prepare the ingredients:
Chill or slightly freeze the ground beef. Slice into 8 pieces. Form the beef into a small round patty.
Slice the onion into thin slices.
Cut or break each cheese slice into 4 pieces.
Cook the Sliders:
Focus the grill into the sun.
Place a heavy skillet onto the grill plate to begin heating.
Add a tablespoon of oil or butter to the pan. Allow to heat and grease the pan.
Add the sliced onions. Heat and stir the onions until they become tender and translucent.
If there is room in the pan, move the onions to the side to keep warm. Otherwise, remove the onions from the pan.
Add the sliders to the hot pan. Season with salt, pepper, or other seasonings as desired.
Brown the sliders on one side for 3 - 4 minutes. Turn the sliders over and brown for another 2 - 4 minutes until the sliders are as done as you like them.
Remove from the skillet.
If desired, place the rolls in the pan to heat for 1-2 minutes, turning half way through.
Place the slider on the bottom of the roll, add a section of cheese and some grilled onions. Place the top roll on the top.
Enjoy!
Notes
The time to cook is very similar to the time it takes to cook on your stovetop or on a barbecue grill.
So gather the family and grill some hamburger sliders for dinner.  Add some cheese. Add some grilled onions. Add any other toppings that you like. After all, it's your slider and your dinner. Make it your favorite way. But using a parabolic solar grill adds a layer of fun that you won't get with your stovetop.
Leave me a message if you cooked your hamburger sliders on your solar grill. I'd love to hear from you.