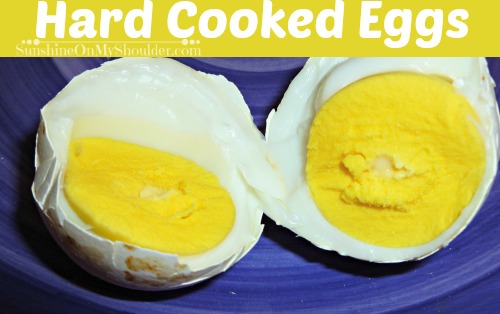 Hard Baked Eggs in the Solar Oven.
Sometimes I get so involved in thinking up something new for the solar oven, that I forget that cooking isn't always about making something grand.  Oftentimes, I forget that simple things can be made in the solar oven as well.  Such as hard boiled or rather baked eggs.  Hard boiled eggs become part of many other dishes – tuna & potato salads, deviled eggs, chef salads, etc.  Recently on a message board that I belong to, Velda, one of the members was describing how easy it is to bake whole eggs in the solar oven.  This really intrigued me.  So I set out to see for myself.  And the results were marvelous.  No boiling water to watch. No cracked eggs with whites bulging out in the water.  Easy to peel eggs. Here is how I make hard baked eggs in the solar oven.

I started with six raw eggs, placed in my pan, which I covered while cooking.  I placed them into a cold solar oven, because I didn't want the oven heat to bust my eggs.  I took the first egg out at 30 minutes.  It was still quite runny in the middle — not cooked.  I took the second egg out after 1 hour.  (I had intended to take it out after 45 minutes, but the time got away from me.)  After 1 hour the egg was cooked perfectly, so I brought in the other four eggs.  These eggs were extremely hot — way too hot to touch.  It is interesting that they turned a spotted brown.  Good thing Velda  mentioned that they would.  After the eggs cooled, they were easy to peel and  I made tuna salad for lunch.
Thanks for the tip Velda.