Cranberry Sauce is a traditional favorite on many holiday tables. Free up your kitchen by cooking the Cranberry Sauce in the solar oven. This is a solar cooking recipe.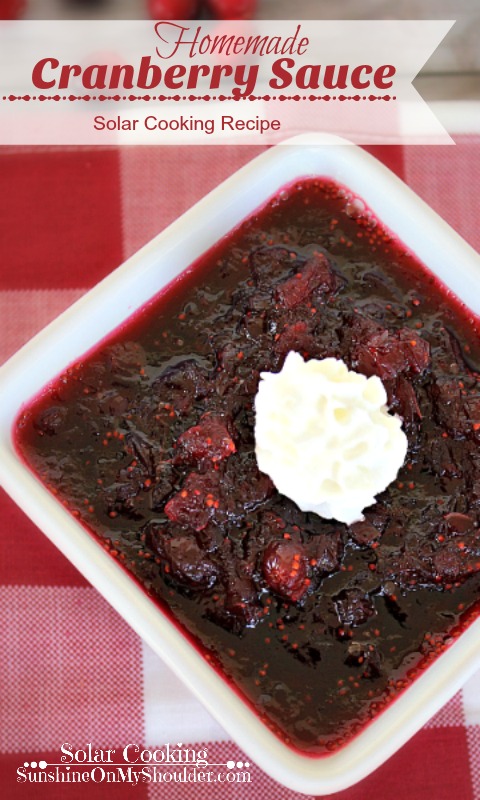 As far back as I can remember, there has always been cranberry sauce on the table at every holiday meal. Why? I don't know! It just was. One of the first kitchen duties assigned to me as a young girl was to open the can of cranberry sauce, slide it gently out of the can so it didn't get messed up, and onto the special little glass holiday plate reserved for it. Nothing else was ever served on that dish. Finally, I was to slice it very evenly so that everyone could have a slice. This was the easy part because the cranberry sauce had ridges from the can that served as a guide. I was already grown and married before I even realized that cranberry sauce didn't have to come from a can, that in fact, cranberry sauce could be made at home.
So here is my recipe for cranberry sauce. Although I really can't take credit for the recipe since I got it off of the package of cranberries all those many years ago, I can take the credit for adapting it to cook in the solar oven.
I like my cranberry sauce chunky, but not with big chunks. Although cranberries are usually cooked whole, when cooking them in the solar oven, I like to partially chop them for a couple of reasons. First, in general food cooks better and faster in a solar oven when it is in cut into smaller pieces.  Second, the cranberries won't break down as much in a solar cooker because you won't be stirring them as much.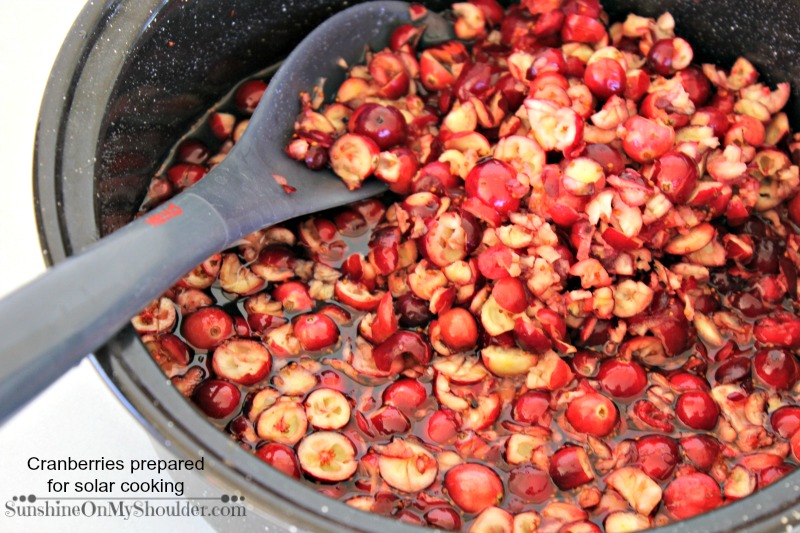 Since water doesn't evaporate as much in a solar oven, I reduced the water. I cooked my cranberries in the All Season Solar Cooker for about 2 hours at a temperature of 250°F (121°C).  When I took the cranberries out of the solar oven, the juice still seemed a little liquidy, but as it cooled, it firmed up to a nice firm gel.
The time necessary to cook in a solar oven varies depending on the type of cooker being used, the weather, and how focused the oven is to the sun. Read more at How Long Does It Take to Cook In a Solar Oven.
Homemade Cranberry Sauce
How to Make Homemade Cranberry Sauce in a Solar Oven
Homemade Cranberry Sauce, a traditional holiday side dish, is very simple to make in a solar cooker.
Ingredients
3 cups chopped cranberries
1½ cups sugar
1 cup hot water
Whipped cream, opt
Instructions
Pre-heat the solar cooker while preparing the ingredients.
Chop the cranberries into large chunks so they will cook faster.
In a solar safe pot, add the sugar and hot water. Stir to dissolve the sugar.
Add the cranberries and stir to mix well.
Cover the pot and place in the hot solar cooker.
Cook for about 2 hours or until the cranberries have cooked and softened.
Remove from the solar oven. Pour into a bowl to cool and then refrigerate until the sauce is firm.
Garnish with whipped cream if desired
Notes
The time it takes to cook in a solar oven depends on the type of oven you are using, the weather, and how focused the oven is to the sun.

My Cranberry Sauce cooked for 2 hours at 250°F (121°C) in an All Season Solar Cooker.
If you liked this recipe, please leave a comment below.  For more great recipes, sign up for my monthly newsletter and follow me on Facebook, Instagram, Twitter, and Pinterest.  Thanks for solar cooking with Sunshine On My Shoulder.