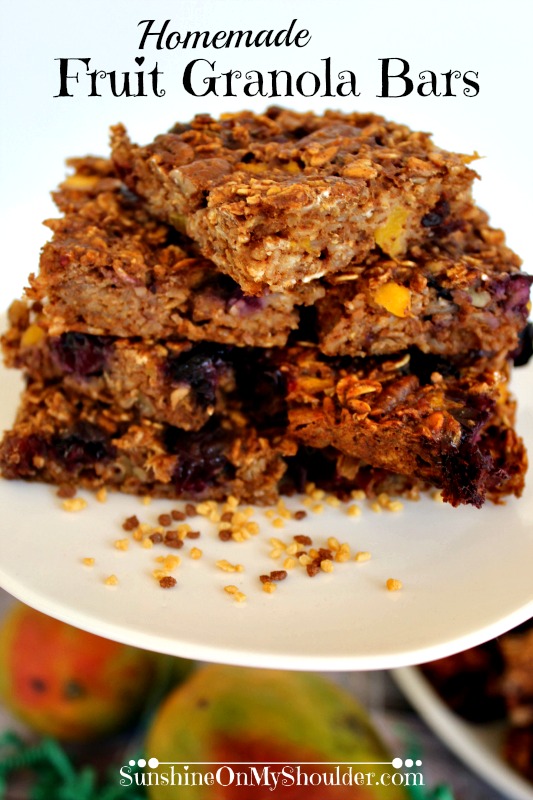 Today we made homemade fruit granola bars.  We had intended to bake it out in the solar oven, but as luck would have it, just as we got ready to put this out, the clouds started rolling in and the sun was totally gone. Skies were gray and it looked like rain. So we decided to bake it on the barbeque grill instead. Using indirect heat in your grill makes a nice outside oven.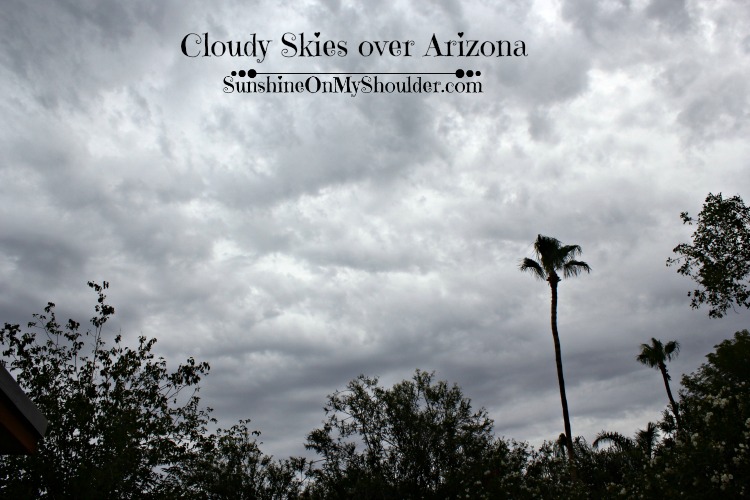 Mr. B heated the grill up to 375° prior to putting in the homemade fruit granola bar. He used a digital barbeque grill thermometer to test the temperature. And it was holding the heat well, until we opened it to turn the pan. Then the temperature dropped, and it never quite recovered. It took 50 minutes for the bars to fully cook to our liking.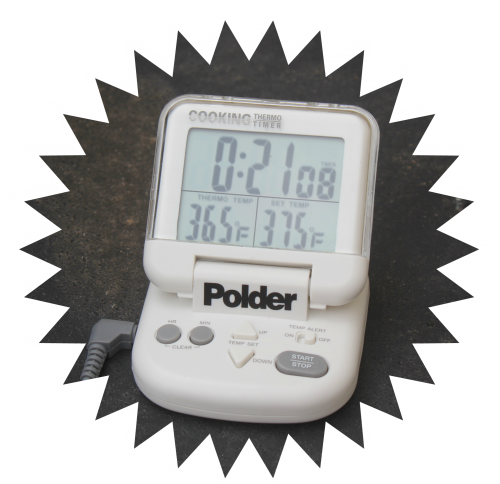 Homemade Fruit Granola Bars
Homemade Fruit Granola Bar
Ingredients
2 cups 6 grain mix (or oats)
¾ cup vanilla protein powder
1½ cup soy or almond milk
½ cup cranraisins (or raisins)
1 cup fresh or frozen blueberries, thawed
¾ cup fresh or frozen mango (or peach), thawed and cut into small pieces
1 sm over-ripe banana, mashed
¾ cup walnuts, chopped
2 TBSP agave syrup (or honey)
3 tsp ground cinnamon
1 tsp ground cloves
1½ tsp vanilla extract
Instructions
Combine the oats, protein powder, and milk into a large mixing bowl. Mix with a fork until well blended and batter is moist.
Add in the agave syrup, cinnamon, cloves, vanilla, and mashed banana. And stir to blend.
Add in the cran-raisins and walnuts. Mix until evenly distributed.
Finally, add in the blue berries and mango and gently stir to fold into the batter.
Lightly oil a 9x13 jelly roll pan. Transfer the batter to the pan and spread until even. Bake in a pre-heated oven at 375 degrees for 25 minutes
Notes
I baked this on the barbeque grill at temperatures that fluctuated between 310 - 380 degrees for 50 minutes, until it was golden brown and crispy.

Break left over bars into bite size pieces and use to top cereal, yogurt, or frozen yogurt.
Nutrition Information
Serving size:
1
Calories:
92
Fat:
3 g
Saturated fat:
0 g
Unsaturated fat:
1g
Trans fat:
0 g
Carbohydrates:
13 g
Sugar:
5 g
Fiber:
2 g
Protein:
3 g
Cholesterol:
1 mg

Here is how to bake on the barbeque grill:
Follow the recipe directions to mix.
Pre-heat the barbeque grill to the desired temperature. Then turn off one side of the grill, leaving only 1 burner going. (If you only have 1 burner, turn it to low.)
Place the homemade fruit granola bar onto the side of the grill that is now turned off. Let it bake for about 15 – 20 minutes. Then turn the pan so that all sides cook evenly. Finish baking until browned.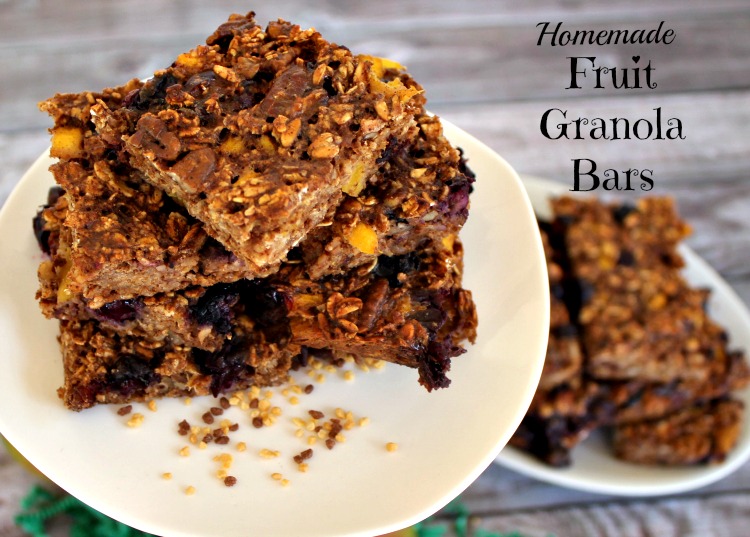 These Fruit Granola Bars are moist and soft, like a soft oatmeal cookie. Have you ever tried baking something on the grill instead of in the house? How did it turn out? For another look at using a bbq grill, take a peek at my tutorial on How To Grill A Pizza.