Homestyle Potato Salad has been a family favorite since I was a child.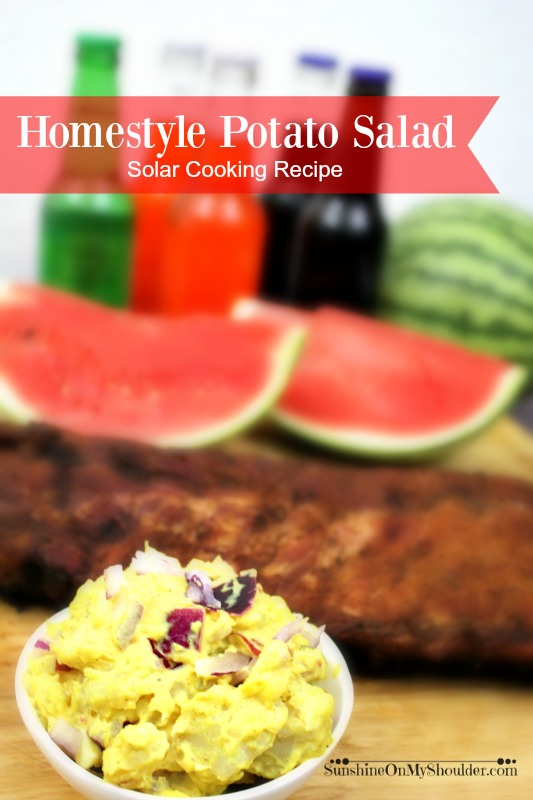 I got the recipe for Homestyle Potato Salad from my mother when I was just a girl. Since it is a side dish that goes with almost everything, it was served frequently during the summer for every picnic, potluck, or just for Sunday dinner. Having company? Just add a few more potatoes! The recipe is easy to adjust up or down. It is a classic recipe that has stood the test of time.
One day Mr. B was smoking ribs in the smoker so I decided to make potato salad to go with the ribs.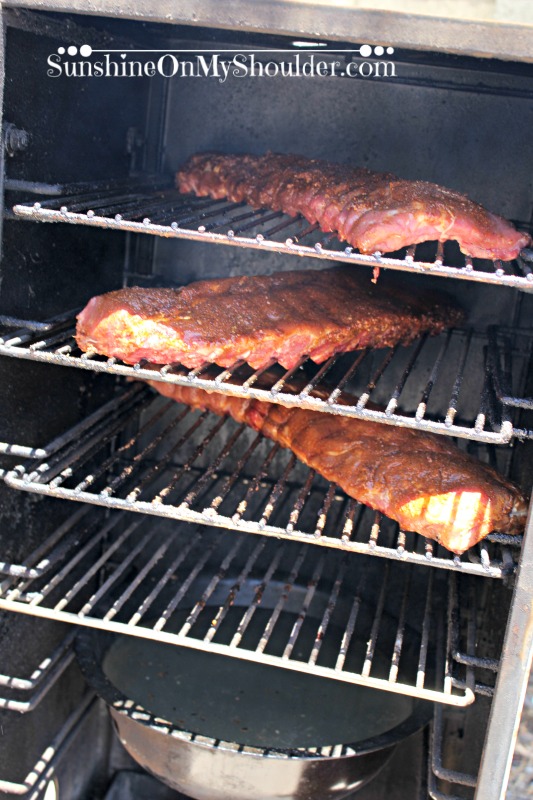 Want to know how to use a smoker?  You can find directions here. How to Use an Outdoor Smoker
Want to know about how to smoke ribs? You can find directions here. How to make Barbeque Ribs in a Smoker
Making Homestyle Potato Salad is simple. It begins with a few potatoes being tossed into a pot and boiling them until soft. Once the potatoes have cooled enough, they are peeled, and chopped.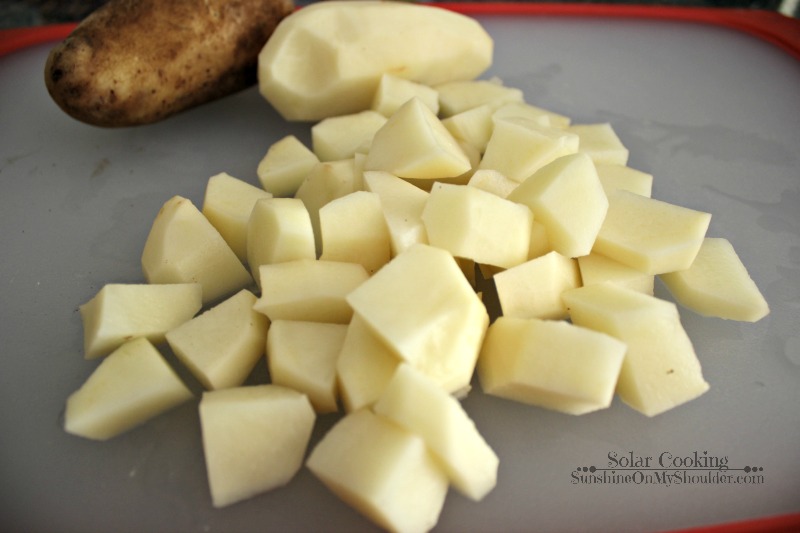 Instead of boiling my potatoes on the stovetop, I boiled them in the solar oven. Usually, when I cook potatoes in the solar oven, I simply place them in the oven and bake. I could have cooked my potatoes this way, but I wanted the texture that comes from boiling. Because food cooks faster in a solar oven when cut into pieces, I went ahead and and peeled and chopped my potatoes.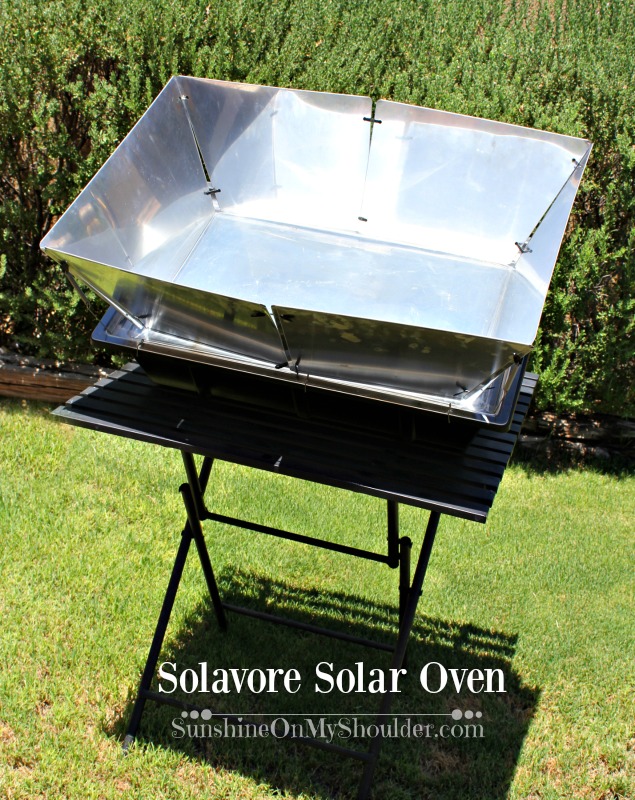 I put the potatoes into a black pot suitable for solar cooking. I just barely covered them with water, then covered the pot with a lid. The potatoes cooked in a Solavore Solar Oven. The Solavore is large enough to hold two pots. So, I hard cooked the eggs at the same time that I boiled the potatoes.
For more information on the Solavore, read my review here. Solavore Sport Solar Oven
Want to know more about hard cooking eggs in a solar oven? Find the directions here. Hard Cooked Eggs in a Solar Oven
Add a few extra goodies like boiled egg, onion, and pickle. Then cover with a smooth tangy dressing.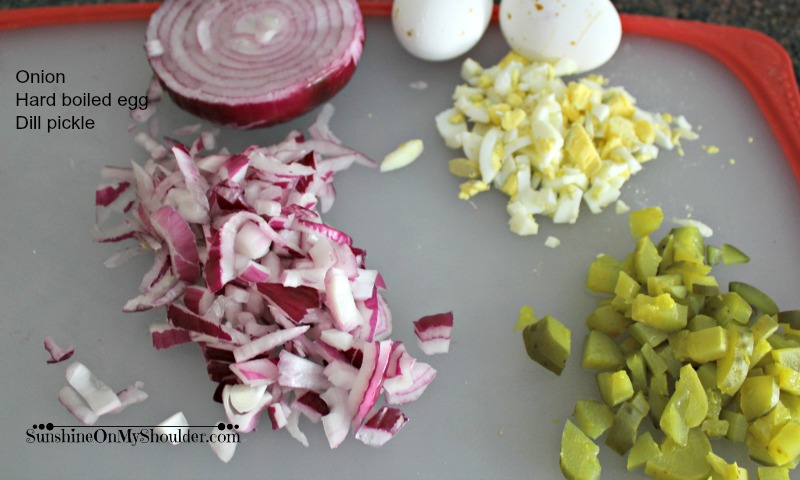 Homestyle Potato Salad
How to make Homestyle Potato Salad Recipe in a Solar Oven
Homestyle Potato Salad is an easy recipe. II can easily be adjusted up or down to feed the family or to feed a crowd. It is a classic side dish that is popular at potlucks everywhere. And it can be made just as easily in a solar oven as on the stovetop.
Ingredients
3 - 4 medium potatoes
2 - 3 hard boiled eggs, chopped
1 large onion, red or white
1 - 2 medium dill pickles
1 cup mayonnaise
½ cup yellow mustard
salt
pepper
Instructions
Put the solar oven out to heat while you prepare the ingredients.
Peel and dice the potatoes. Place into a dark pot. Add water to just barely cover the potatoes.
Cover the pot and place in the hot solar oven.
Cook until the potatoes are soft about 1½ - 2 hours depending on how hot the oven is.
If needed, place raw eggs in a dark covered pot and cook while the potatoes are cooking.
While the potatoes are cooking, dice the onions, pickles, and eggs.
When the potatoes are soft, remove from the solar oven. Drain off the water.
Allow to cool. Then add the chopped onions, eggs, and pickles.
Add salt and pepper as desired.
To make the dressing, combine the mayo and mustard in a small bowl. When mixed, pour over the potatoes. Stir well to blend the dressing evenly..
Place in the refrigerator to chill for ½ hour or more before serving.
Notes
Alternately, bake the potatoes in the solar oven, cool, and then dice.

For a tangier dressing, add more mustard and less mayo.

Remember to keep the potato salad chilled and do not let it sit in the heat for an extended period of time.
If you are new to solar cooking, check out my Beginner's Guide, free when you sign up for my newsletter to help you get solar cooking quickly.
Getting Started with Solar Cooking: Beginner's Guide