How Long Does It Take To Cook In A Solar Oven?
How long does it take to cook in a solar oven? This is one of the most frequent questions that people ask about solar cooking. The answer is not simple. Cooking time is not as easy as simply heating the oven to 350 degrees and baking for 15 minutes. Or setting the microwave on high for 3 minutes. Solar cooking is much more like a slow cooker that sits there and slowly cooks the food to perfection. To solar cook, one needs to plan ahead and have patience.
In reality, the answer to how long does it take to cook in a solar oven is dependent on many things. But the biggest factor is the temperature of the solar cooker. How hot is the inside of the box?  
TYPE OF OVEN
The temperature of the oven is dependent on the type of solar oven/cooker that you are using. Parabolic cookers reach temperature highs of 800+°.  They cook hot and fast. Box ovens such as the All-American Sun Oven and the Solavore Sport Solar Oven are well insulated and scientifically designed for optimum cooking. They heat quickly, hold the heat, and reach fairly high temperatures. The Sun Oven advertises temperatures from 360°  to 400° while the Sport supposedly maxes out at 300°. But even in the middle of a scorching hot Arizona summer, my Sun Oven has never hit that magical 400°.  It typically ranges between 325° – 350°, while my Sport usually tops out around 325° with the reflectors. The smaller, more portable ovens, such as the Sun Flair, will reach temperatures between 210° – 260°.  Panel cookers such as the Cook-It, which uses a cooking bag as the heat trap, will reach about 250° as well. There is a temperature trade off between a heavily insulated cooker and a light weight portable cooker and each has it's place in the solar cooking world. Handcrafted solar cookers, as well as the many new types of solar cookers, will vary in temperature according to the design and amount of insulation. Worried that the solar oven won't get hot enough to safely cook food? Read about Solar Oven Food Safety here.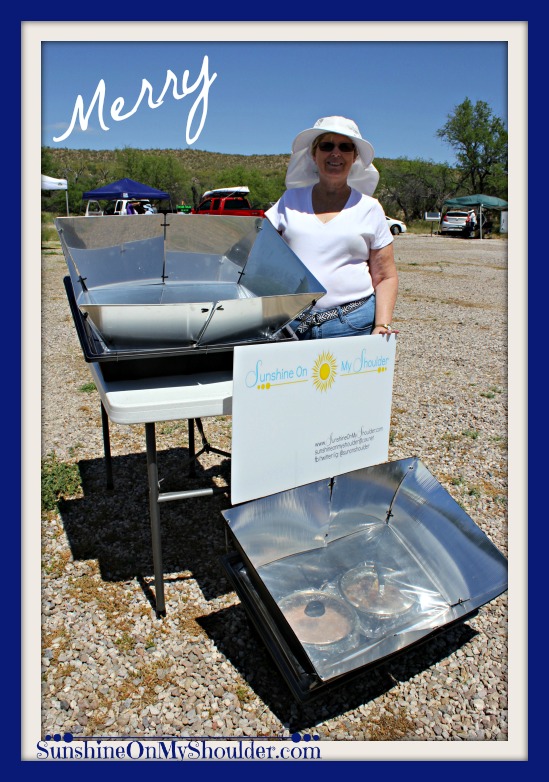 TYPE OF COOKWARE
The type of cookware used is also a factor in how fast the food cooks. For best results, a thin dark metal pot or pan is best. The pot doesn't necessarily need to be black, just a dark, non-shiny finish. A shiny finish reflects the sunrays instead of absorbing them.  A heavy cast iron pot also works. Although cast iron takes a long time to heat up, it holds the heat well. Glass pans and jars can be used. Because conventional solar cooking wisdom says that the glass should also be dark, glass jars are often painted black. But I have seen little difference in solar cooking results between painted and unpainted jars. A word of caution: All pots, pans, and jars will be extremely hot when they come out of the solar oven. Use a pot holder and be extra careful when handling hot glass jars. For more information, read Cookware Guide for Solar Oven Cooking.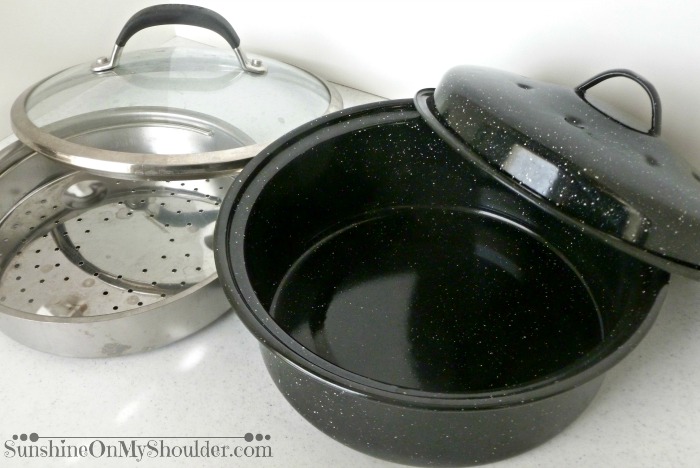 TYPE OF FOOD
Just like with any other method of cooking, different types of food take longer to cook than others. For instance, it takes longer to cook brisket than it does to bake biscuits. For solar cooking, smaller items cook better than larger items. Therefore, large roasts should be cut into  chunks for faster cooking. Cupcakes and muffins bake faster than larger cakes. Bundt type pans with a hole in the center also allow for quicker cooking.
TYPE OF WEATHER
Solar cooking is totally dependent on "solar". Without the sun, there is no "solar" cooking. But that doesn't mean you must have an absolutely cloudless sky. Those days are few and far between.  A few clouds in the sky are normal and to be expected. In fact, as long as there is a shadow, you can solar cook.  But the darker and deeper the shadow, the stronger the sunrays and therefore, the hotter your oven will get. With a light shadow, your oven will not get as hot and might take a very long time to cook. Although a well insulated oven will hold the heat while the clouds move about, only an eye on the sky and a first hand look at the oven temperature can determine if you should continue the cook.
Cold weather can be a factor, but cooking in cold weather is not impossible. Solar ovens have been used on the top of Mt Everest.  A well-insulated oven that holds the heat will get hot enough to cook if there is a strong sunlight. If needed, blankets can be wrapped around an oven for extra insulation to help hold in the heat.
OTHER FACTORS
Wind, location, climate, time of day, time of the year are other factors that can affect a solar oven and temperature. Wind can rob an oven of heat, so pick a spot that is protected from the wind if possible. Southern locations closer to the Equator will have more sunlight and longer daylight cooking hours than the Northern locations. Summer vs Winter will  determine the angle of the sunrays and the best cooking hours. It will have to be left to the cook to evaluate those conditions and make the best judgement for the situation.
And finally, dedication to keeping the oven turned and focused directly into the sun to keep the oven at it's hottest is a major factor in the temperature of the oven.
GENERAL RULE
Solar cooking is NOT fast cooking. Solar cooking takes longer than a regular kitchen oven because the temperature isn't as high or as constant. Lower and fluctuating temperatures mean longer cook times. And even the same food that cooked yesterday in two hours might take 2 1/2 hours today.  As a general rule, plan on a recipe taking 1 1/2 – 3 times longer than a normal recipe. But keep in mind that conditions might lengthen even that time.
Solar cooking is more like Crockpot cooking. Most foods do not burn. So even though a recipe may be done in 2 hours, it may be beneficial to continue to simmer the food for another hour or 2 or 3 to tenderize the meat.  Because it is sometimes difficult to determine if the meat is done, it is wise to use a food thermometer.  Foods with a high sugar content, such as cookies, will eventually burn, but there is also a long "grace period" between underdone and burnt. Plus, a word of wisdom, cookies, breads, cakes, brownies, and other pastries will look "done" long before they really are – so be sure to leave them in until done.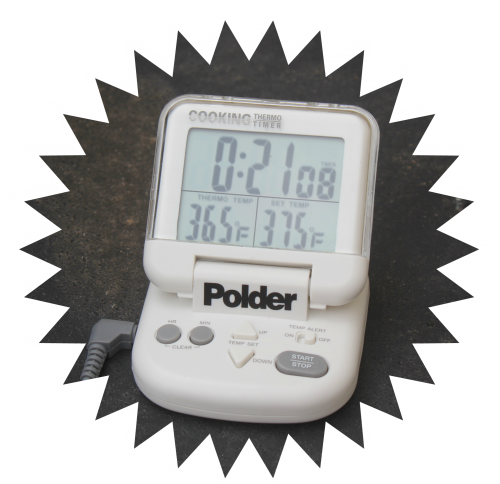 Most of my recipes include the following verbiage. "Actual Cooking time will vary depending on the type of solar cooker, the weather, and the amount of food being cooked. For best results, and the shortest cooking time, keep the oven pointed directly into the sun." As you gain more experience with your solar oven, you will be able to determine the approximate cooking times for your dish before you begin cooking.
Until then, here are a few basic guidelines to get you started:
For more solar cooking tips, read Solar Cooking: Tips & Techniques.