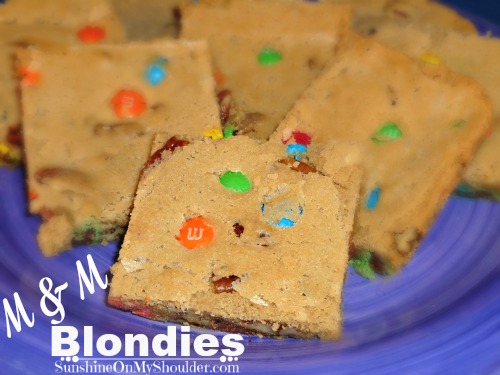 One of the easiest things to make in a solar oven is bar cookies.  This recipe is very rich, so cut the squares small — after all, you can always have another.
M & M Blondies
1/2 cup + 2 TBSP butter (total of 10 TBSP)

1 cup packed brown sugar

2 TBSP regular white sugar

1 egg, beaten

2 tsp vanilla

1/4 tsp salt

1 1/4 cup all-purpose flour

3/4 cup M&M's + a few more for the top
Pre-heat the solar oven while preparing the ingredients.
Heat the butter until melted – either stove top or solar — until it begins to brown, then let the butter cool slightly, until just barely warm.
In a large mixing bowl, combine the browned butter and sugars.  Stir in the egg, vanilla, and salt.  Stir in the flour.  When the batter is well blended, stir in the M&M's.
Pour the batter into an 8×8 inch prepared pan (I sprayed mine with Baking Pam) and smooth the top.  Sprinkle with the additional M&M's.  Bake in solar oven for about 2 -2 1/2 hours or until a toothpick comes out clean.  Let the blondies cool and cut into squares.