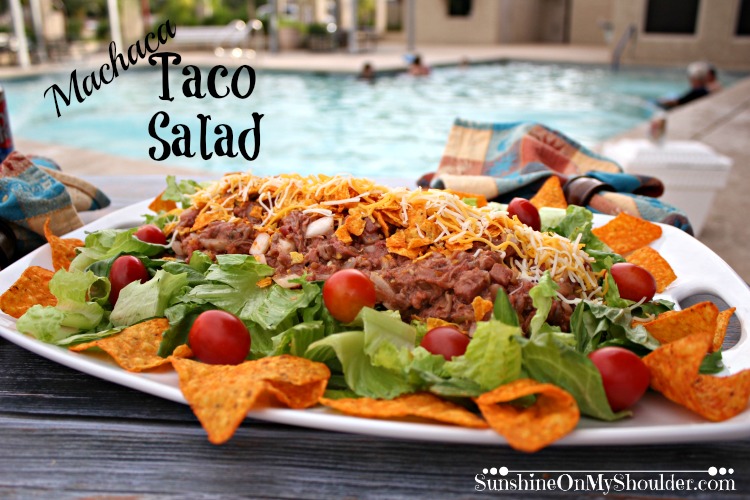 Machaca Taco Salad is a cool, easy supper on a long hot day. We live in an HOA (homeowner's association) that has three swimming pools for us to use. Consequently, we never felt the need to actually put in our own pool as many our friends and neighbors did. And the more of them that put in their own pools, the less crowded it became at our association pools. When our girls were small and in grade school, we loved going to the pool in the summer and we went almost every evening at supper time. Yes, you heard right. Supper time! The girls would be ready and anxious to go by the time Mr. B pulled into the drive from work. We would load the car up with a picnic supper and spend the next few hours lounging by the pool, in the cooler afternoon, and sometimes late into the evening. Just enjoying the breeze, the sunset, and watching our two beautiful mermaids splashing in the pool. Oh! Those were the days! And we thought they were gone. But now we have a couple of grandkids to watch at the pool – one a graceful mermaid like her mother, and the other is a rambunctious sea serpent – like his dad.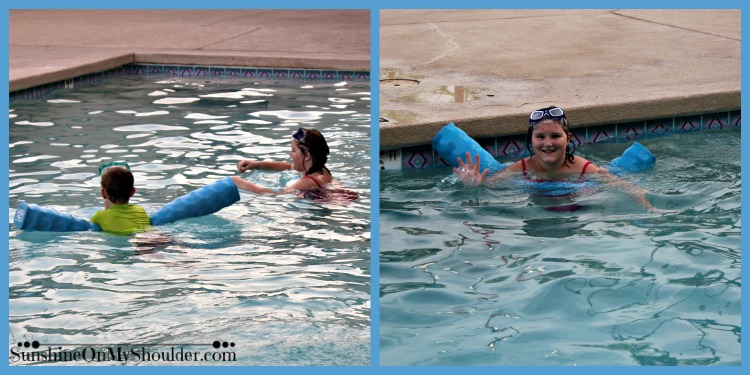 One of our favorite meals to take to the pool was a taco salad. Light and cool, I would make a big bowl full, but none was ever left to bring home. Now I have put a new twist on an old favorite. The meat can be fixed up ahead of time, and left to chill until ready to eat. Then load it on top of a green salad, add a few chips on the side – and presto!- a delicious meal that even the kids will eat. (Well, most of them at least. As it turns out, sea serpents mainly eat chips.)
Also great for potlucks and brunch, here is Machaca Taco Salad, our new favorite take-to-the-pool supper.
MACHACA TACO SALAD
Machaca Taco Salad
Machaca Taco Salad is a made with seasoned shredded beef and rests on top of a base of garden greens.
Ingredients
1 lb package Del Real Foods shredded beef
1 lb package of Del Real Foods Ranchero Beans, drained
1 pkg taco seasoning
½ lb shredded cheddar or Mexiblend cheese
½ bottle of Catalina dressing
chopped onion to taste
1 head of lettuce, chopped
pint of cherry tomatoes
1 sm bag of Doritos
Instructions
Drain the Del Real Foods Ranchero Beans. Rinse slightly, but don't rinse away all of the seasoning and peppers. Let drain.
Empty the Del Real Foods shredded beef into a large bowl. Stir to separate the shreds.
Stir in the package of dry taco seasoning. Stir well to evenly distribute the seasoning.
Add the drained beans and onion.
Add about ½ bottle of the Catalina dressing and stir well to blend.
Cover the bowl and place in the refrigerator to chill.
To serve, place the lettuce into a salad bowl. Add the seasoned beef on top. Add the tomatoes. Slightly crush several handfuls of Doritos and place on top. Finish off by sprinkling the cheese on top.
Notes
For easy serving, leave the meat, green salad, tomatoes, chips, and cheese in separate bowls. Let everyone fix their own salad to their liking. Use the remainder of the dressing on the salad if desired.
What's your favorite summer picnic meal?
Disclaimer: I was provided a party box of Mexican food by Del Real Foods.