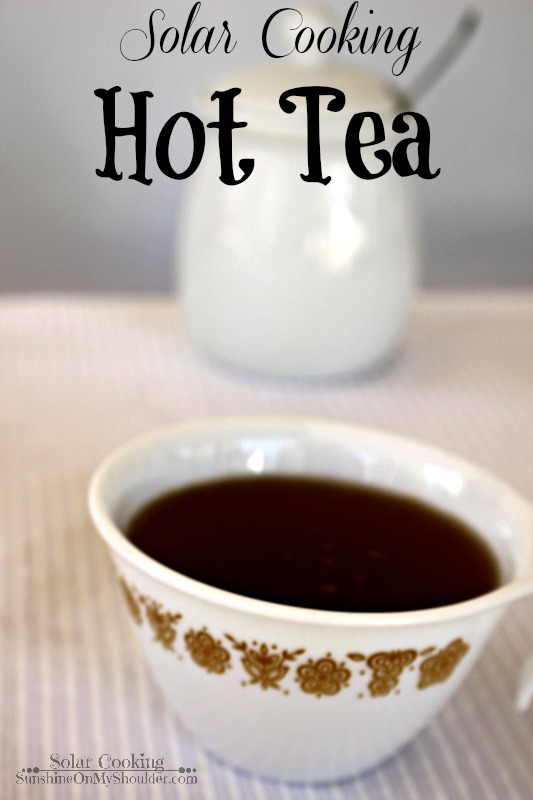 Hot Tea! Did you ever just simply want to know how to make a cup of hot tea in a solar oven? When planning our solar cooking menu, we generally focus on dinner or desserts. But sometimes all you really want is to just make a cup of hot tea in your solar oven. Then just kick back, relax, and enjoy the comfort of your tea.
Hot Tea in a Solar Oven
In reality, making a cup of hot tea in your solar oven is just as easy as heating water. In fact, it is just heating water – with that little extra something that makes it extra special to you.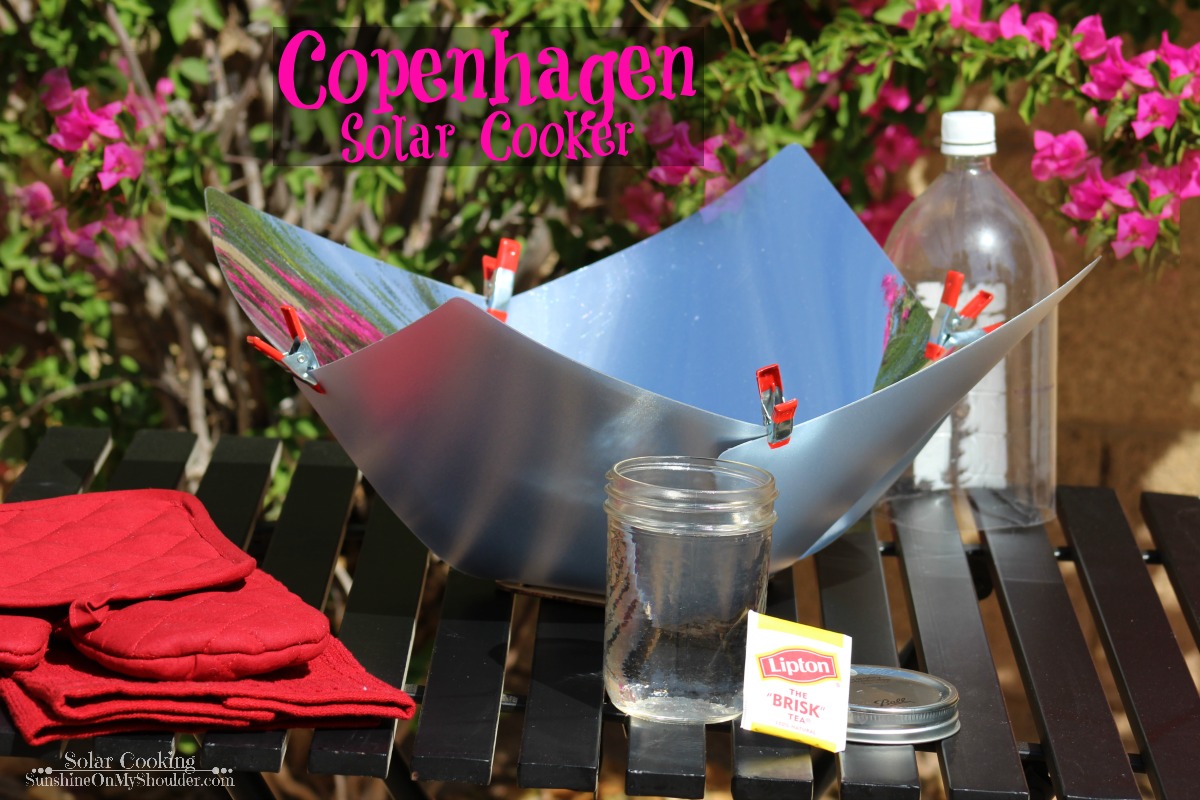 I decided that I would love to have a cup of hot tea. Because my larger ovens were happily solar cooking dinner in the yard, I pulled out my little mini Copenhagen Solar Cooker. The mini is just like it's larger counterpart, the Copenhagen Solar Cooker, only – you know – smaller. See my review of the Copenhagen here.
To make my cup of tea, I started with a small jar of cool water.  You can use a black painted jar if you have it, but I didn't so I just used the clear jar. You could also use a mug or small pot.
For my tea, I used one tea bag. There are many flavors of tea, so pick your favorite.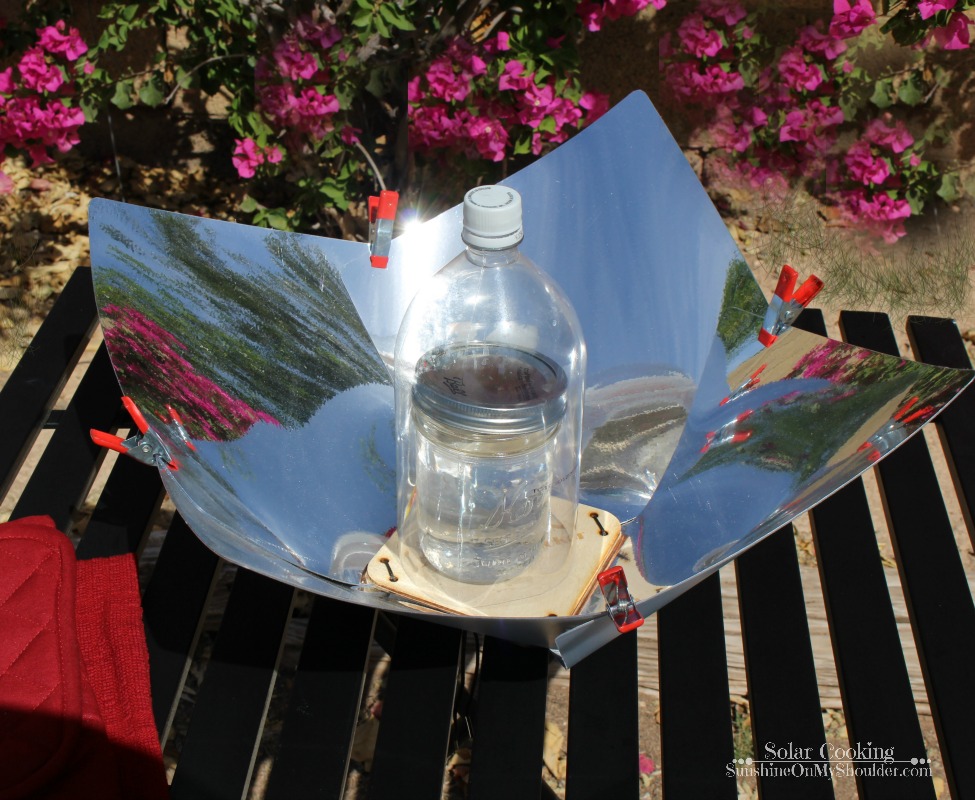 Remove the teabag from the wrapper and place it into the jar. Place the lid on the jar. When using a jar to cook, if it has a one piece lid, pierce a hole in the lid so that the jar doesn't seal and create pressure. If using a two piece canning lid be sure to leave the lid loose. Do not tighten it down. I used a two piece lid. The lid helps hold in the heat.
The Copenhagen is a panel cooker with a parabolic shape. The independent panels can be adjusted to a multitude of angles to catch the best sun. As with other panel cookers, you need to enclose your cooking container or jar in a cooking bag or other type of heat trap.  I used a clear plastic soda bottle with the end cut off to place over my jar. It worked perfectly.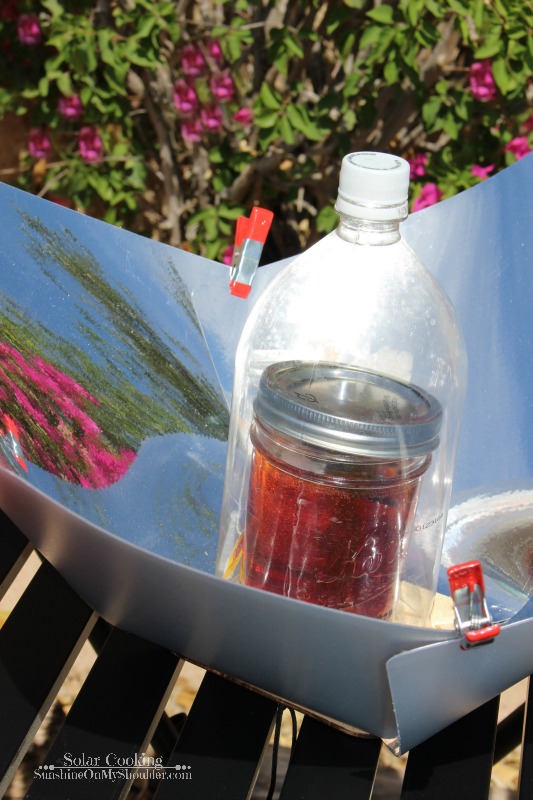 Over the course of 2 hours, the tea gently seeped into the tea. Leaving it longer would have made a stronger tea. Using more tea bags would also have made a stronger tea, or would have shortened the time.  This is just something that depends on your personal taste.
Thanks for solar cooking with me. I hope you enjoy your tea. How about making some cookies to go with your tea?