Solar Cooking Meatball Sub Casserole 
Meatball Sub Casserole is a solar cooking recipe. Because the recipe uses canned biscuits and precooked meatballs, this recipe cooks fairly quickly.  Food cooks quicker in a solar cooker or solar oven if the food is cut into small pieces. Therefore, I cut the biscuits into 6 pieces each and laid them in the bottom of a solar safe pot sprayed with cooking spray.  Even though the meatballs were precooked, I also cut them in half so that they would cover the pot more evenly.  And finally, I covered the biscuits and meatballs with the pasta sauce.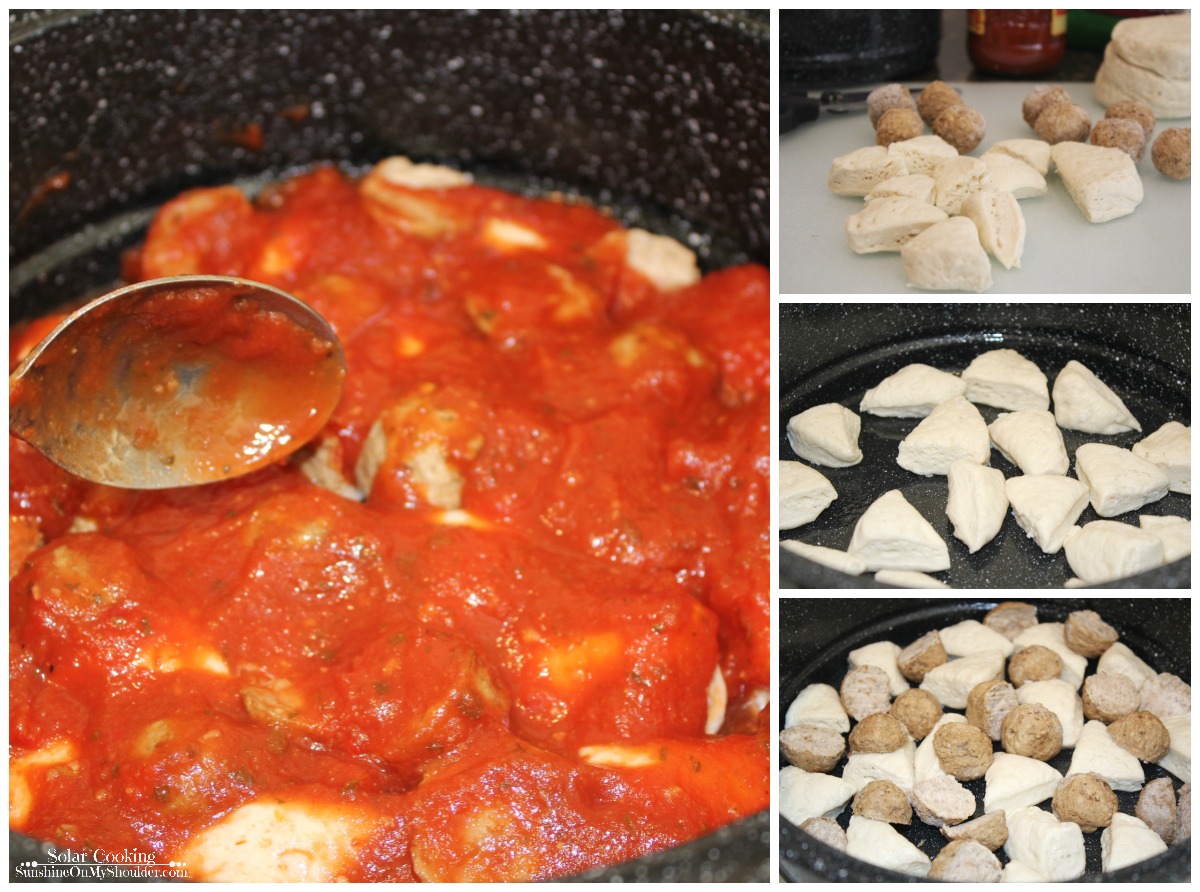 I baked the Meatball Sub Casserole in the new All Season Solar Cooker 2.0 (ASSC) .  For more information on the All Season Solar Cooker, click Here.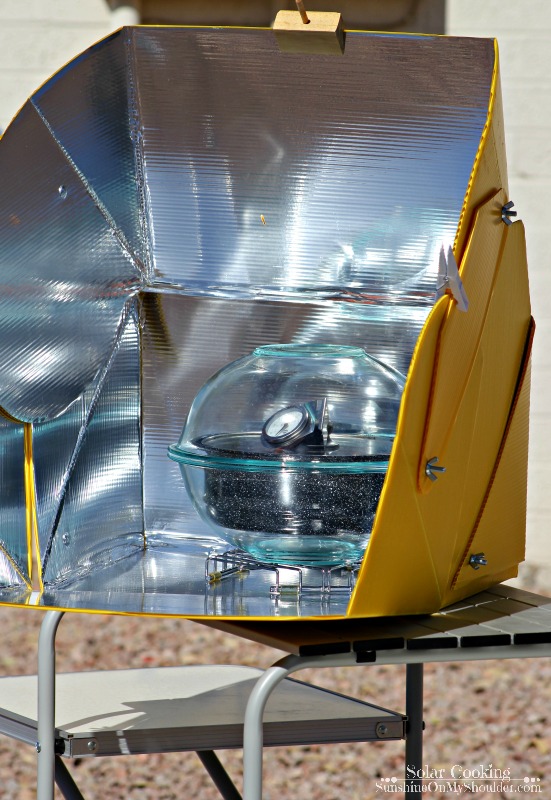 My casserole baked for about 2 hours at a temperature of  250°.  The time needed to cook in a solar cooker varies depending on how hot the solar oven gets. The temperature is dependent on the type of cooker being used, the amount of sunshine, and how focused into the sun the cooker is kept. For more information on How Long Does It Take To Cook In a Solar Oven, click Here.
Meatball Sub Casserole
Meatball Sub Casserole has all of the ingredients of a delicious sub, baked into a hot biscuit base.
Ingredients
½ tube of large refrigerated biscuits (about
12 - 14 pre-cooked mini meatballs, cut in half
12 oz jar of pasta sauce
2 cups shredded Italian cheese blend.
Instructions
Pre-heat the solar oven while preparing the ingredients.
Cut about 4-5 of the biscuits into sixths. Spray a solar safe pot with cooking spray. Place the pieces into the pan.
Cut the meatballs in halve and layer into the pan.
Spread the pasta sauce on top of the biscuits and meatballs. Cover the pot with a tight fitting lid.
Place the pot into the pre-heated solar cooker.
Allow to cook until the biscuits are done.
Then add then add the cheese to the top of the meatball sub. Cover and place back into the hot solar oven for a few minutes to melt the cheese.
Notes
The amount of time it will take to cook the meatball sub will vary depending on how hot the cooker gets, which is dependent on the type of cooker and the weather. My cooker reached a high temperature of 250 degrees and cooked for about 2 hours.

This recipe can easily be doubled to fit into a 9x13 pan. To cook in a regular oven, bake at 350 degrees for 45 - 55 minutes.
What kind of solar cooker do you use?  Have you tried the ASSC? I would love to hear about your experience with the ASSC so leave me a comment.  Thank you for solar cooking with me.  If you would like more great recipes like Meatball Sub Casserole, please join my
newsletter
or like me on
Facebook
,
Twitter
,
Instagram
, or
Pinterest
.