Monte Cristo Sandwich is always a crowd pleaser and it can be cooked outside on a parabolic solar grill.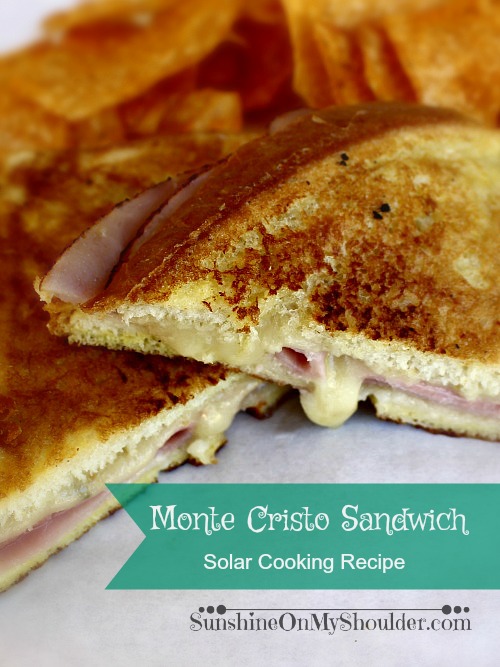 Monte Cristo Sandwich seems exotic and relegated to the realm of chefs and short order cooks. However, although it isn't as easy as just slapping some ham and cheese between two slices of bread, it really isn't difficult to prepare at all. And if you know how to make French Toast, the you already know how to make a Monte Cristo Sandwich.
So I decided one day that a Monte Cristo Sandwich would be perfect for lunch.  Furthermore, I decided to make it outside on the Solsource Solar Grill. It doesn't take long to heat up the griddle on a Solsource. And, once the griddle is hot, the sandwich cooks as quickly as it does on the stove top.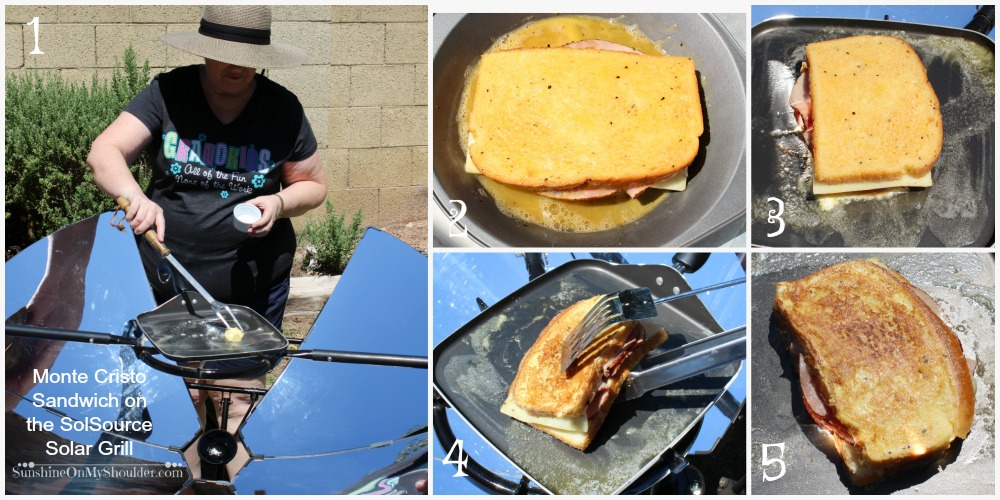 It really is as easy as 1-2-3. First,  heat up the griddle by focusing the Solsource into the sun to capture and intensify the energy coming from the sun. Grease the griddle with extra butter or with cooking spray. While the griddle is heating, soak the sandwich in an egg and milk mixture. When the griddle is hot, place the sandwich on the griddle. Let it cook 2-3 minutes on the first side to brown the bread. Then flip it over and cook for another 2-3 minutes until the bread is browned. By this time the cheese inside should be hot and ooey – gooey.
Monte Cristo Sandwich
Monte Cristo Sandwich Cooked on a Solar Grill
Monte Cristo Sandwich is a classic sandwich that can be cooked on a solar grill just as deliciously as on a stove top griddle.
Ingredients
2 eggs, beaten
½ cup of milk
pinch of salt & pepper
4 slices of thick white or wheat bread
2 TBSP mustard
2 TBSP Mayonnaise
½ pound thin sliced ham
2 slices cheese of your preference ( I used Monterrey Jack
2 TBSP butter or margarine or olive oil
Instructions
Beat the eggs and milk in a shallow pan large enough to hold the bread.
Add the salt and pepper.
Assemble the sandwiches with the ham, cheese, mustard, and mayonnaise.
Dip each sandwich in the egg & milk mixture. Turn to coat both sides.
Focus the solar grill and place a griddle or skillet on the grill ring to get hot.
Add a 1 - 2 tablespoons of butter on the griddle. Let melt.
Place the egg coated sandwich in the butter on the hot griddle.
Let the sandwich cook until browned on the first side.
Flip the sandwich over and cook until browned on the second side.
Notes
The length of time to cook on a solar grill will depend on how hot the griddle gets, which depends on how focused the grill is to the sun.
If you enjoyed this recipe, please let me know in the comments below. Thanks for solar cooking with Sunshine On My Shoulder.