Peach Crisp baked in a Dutch Oven is a favorite camping dessert. Easier than a pie, and easier than a cobbler, it still gives you that great peach flavor you are wanting in a dessert.

Peach Crisp is one of my mother's camping recipes. My family loved to camp. And we did a lot of it. We also loved to eat. My mother was the best camp cook. When we would come in off the lake from a day of water skiing, she (with the help of whichever one of us had pulled kitchen duty) would have a grand meal waiting – and it always included a dessert. Peach Crisp was a favorite. Sometimes, she would make it from apples or berries, but the recipe is the same.
Dutch Oven
For my Peach Crisp, I used a 10″ cast iron Dutch Oven with feet. The feet raise the Dutch Oven off the ground so that charcoal can be placed underneath. To achieve a cooking temperature of 400° F (204° C), you need 25 hot charcoal briquettes. Seventeen (17) go on the top, and 8 go underneath. Every 15 minutes, the Dutch Oven is turned (1/4) a quarter turn clockwise, and the lid is turned (1/4 ) a quarter turn counter-clockwise. Cooking in a Dutch oven is not hard or complicated. To learn the basics, please read How To Cook In A Dutch Oven.  I also lined my Dutch Oven this time with a paper liner. This isn't really necessary, but it did help with cleanup.
Like a Fruit Cobbler
This Peach Crisp recipe is basically the same recipe that I use for Peach Cobbler. The main difference is the type of crust on the top. Furthermore, it also works well with other types of fruit such as apples, pears, berries, and other fruits. Start by layering sliced fruit into the Dutch oven. Mix together the crumble top and spread evenly on the top. Finally, the crisp is ready for cooking.  Moreover, it can be made in a solar oven or your kitchen oven.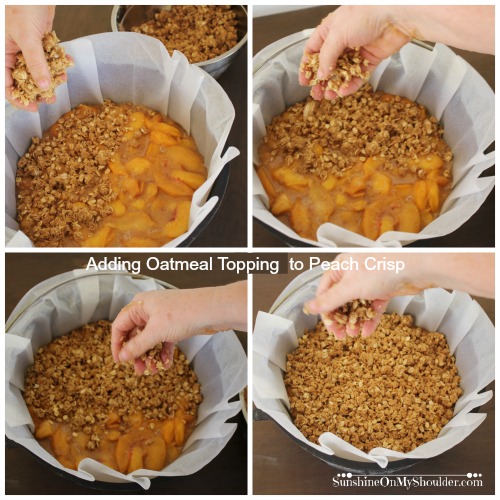 PEACH CRISP
Peach Crisp baked in a Dutch Oven
Peach Crisp can also be made with apples, pears, or berries. It can be baked in a Dutch oven, solar oven, or your kitchen oven. It is a versatile dessert that is perfect for camping.
Ingredients
FRUIT FILLING:
6 cups of fresh peaches, sliced
6 TBSP flour (1 per cup)
1½ - 2 cups sugar
½ tsp nutmeg
½ tsp cinnamon
TOPPING:
½ cups oats, quick cooking
1 cup brown sugar
¾ -1 cup butter (or shortening)
½ tsp nutmeg
½ tsp cinnamon
Instructions
Prepare a 10" Dutch Oven for cooking by spraying the inside with No-stick food spray or using a liner.
FRUIT FILLING:
Wash, peel, and slice the peaches or fruit.
Place in a large bowl.
Add the flour, sugar, nutmeg, and cinnamon. Use less sugar if the fruit is already sweet. Use a little more sugar if the fruit is not quite sweet enough.
Mix well to distribute the flour and sugar.
Pour the fruit mixture into the prepared Dutch Oven.
TOPPING:
In a medium mixing bowl, combine the topping ingredients and mix until crumbly.
Evenly spread the topping over the fruit filling.
Cover the Dutch Oven with the lid. To bake at 400°F(204°C), place 17 hot coals on top and 8 on bottom. Turn the Dutch Oven ¼ turn clockwise, and the lid ¼ turn counter clockwise, every 15 min. Bake for 45 minutes to 1 hours until the fruit is soft and the top is crispy golden brown.
Notes
Change it up by using apples, pears, berries or other fruits. Canned fruit can also be used.

To cook in a solar oven, place the prepared crisp into a hot solar oven and bake for about 1 to 1½ hours until the top is golden brown.

To cook in a kitchen oven, bake at 400°F (204°C) for 45 minutes until the top is golden brown.

If using fresh apples or pears, add ¼ water to the prepared fruit.