This easy Pecan Pie Muffins recipe tastes like a miniature pecan pie. With only 5 ingredients that you probably keep in the cupboard all of the time, you can whip up a batch of these tasty treats any time company drops in; or, should I say – "Any time the sun is shining"!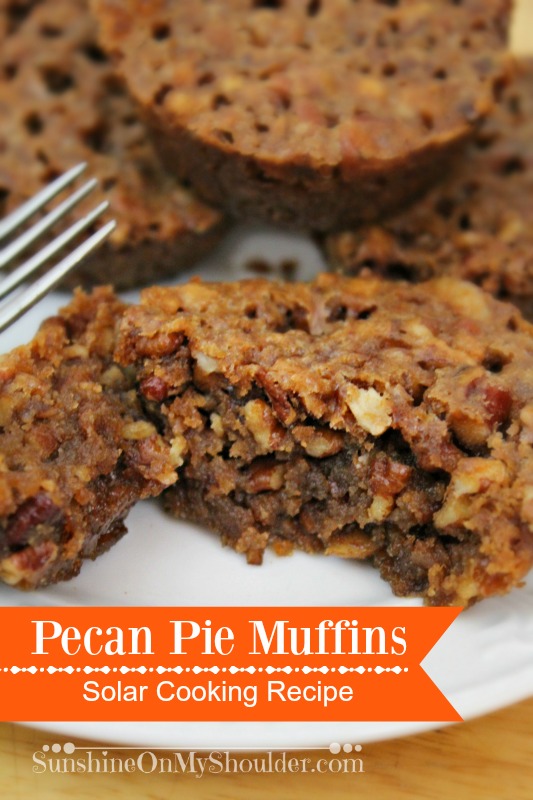 Do you love pecans as much as I do? I love pecans in everything. Give me a recipe that calls for walnuts, and I use pecans. Holiday time finds me baking pecan pies right along side of the pumpkin pies.
The pecan tree is native to the southern United States, in particular to Texas, Louisiana, and up through the Mississippi delta regions. In fact, it is the Texas State Tree. When I was a little girl, we would go visit my grandmother several times a year. She lived in the tiny town of Detroit, Texas, population approximately 500 people. Her house had a large front porch complete with rocking chairs, and a white wicker settee. On hot summer nights, we would toss out our bedding on that front porch to catch any breeze blowing by.
Directly across the little narrow street was a huge old pecan tree. It must have been 100 years old. Every fall, when the pecans started falling, we would take sacks and bags and pick up as many as we could before the squirrels took them. Back home, we would shell them so Mother could bake those delicious pies.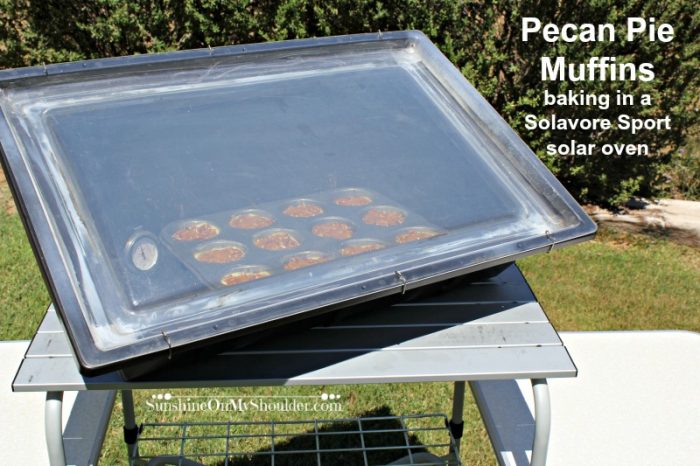 Read my review of the Solavore Sport Oven here.
We worked hard back then to get the pecans that we needed. Today, we can just pick them up in a bag at the supermarket. So there really is no excuse not to give Pecan Pie Muffins a try.
Pecan Pie Muffins
Easy Pecan Pie Muffins Recipe for Solar Oven Cooking
Pecan Pie Muffins taste just like a little pecan pie.
Ingredients
1 cup packed light brown sugar
½ cup all purpose flour
2 cups chopped pecans
⅔ cup butter or margarine, melted
2 eggs, beaten
Instructions
Put the solar oven out to heat while preparing the ingredients,
Generously grease muffins tins with cooking spray so that they don't stick.
In medium bowl, stir together the brown sugar and flour.
In a separate bowl, stir together the melted butter and the eggs. Stir well.
Add the dry ingredients into the butter and eggs. Add the pecans. Stir well.
Spoon the batter in to the muffin tins, about ⅔ full.
Place uncovered into the hot solar oven.
Bake for about 1.5 to 2 hours, until they are golden brown, and a toothpick comes out clean.
Remove from the oven and let cool slightly. Run a knife around the edge of each muffin to loosen so they will pop out of the pan.
Notes
Note: The actual time it takes to bake in a solar oven varies depending on the weather, the type of solar oven being used, and how focused the oven is with the sun. My muffins baked for 2 hours at 275°F (135°C).

Bake in the kitchen oven at 350°F(177°C) for about 15 - 17 minutes
If you love this recipe, I would love to hear about it in the comments below.