Here is my Pork Tenderloin recipe for solar cooking.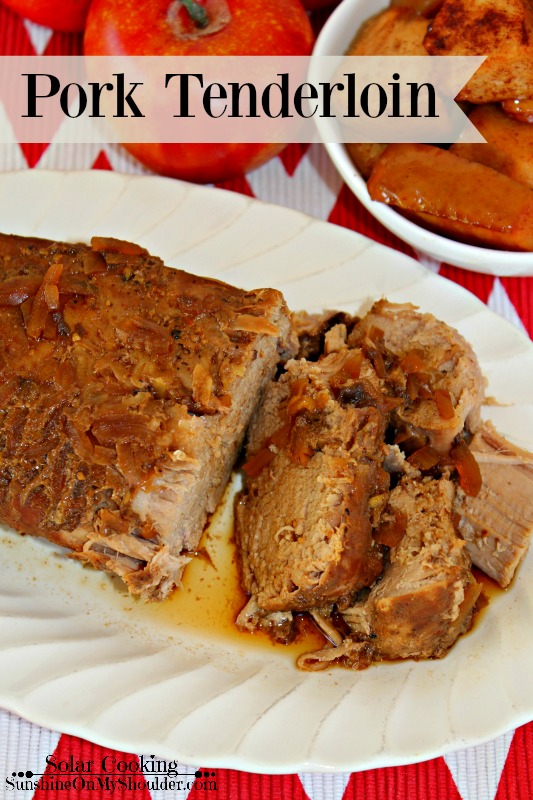 Yesterday was a typical hot, sunny summer day – perfect for solar cooking.  The day's menu included Pork Tenderloin, Cinnamon Apples, and corn on the cob.  This was such an easy meal that I just had to share it with you. My Pork Tenderloin recipe for Solar Cooking is an old family favorite. I used to make this in a slow cooker, but now I put it outside in one of my solar cookers.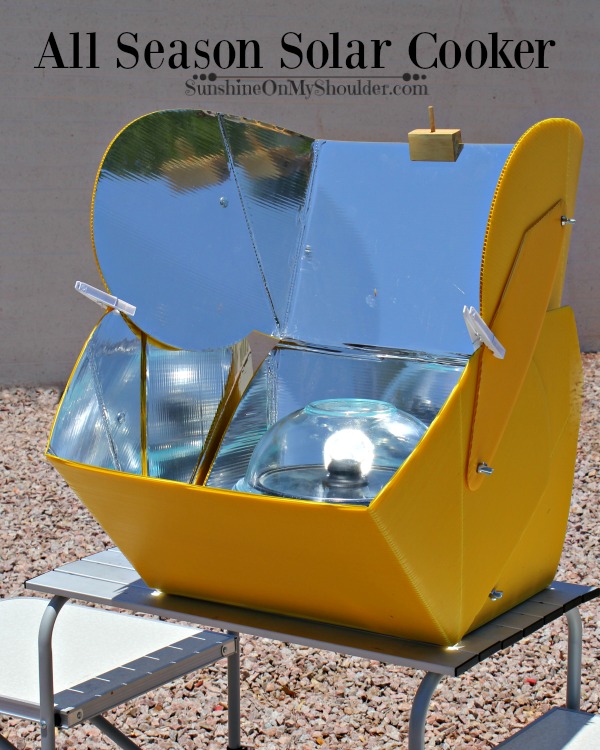 Today, I cooked a 1 1/2 pound pork tenderloin in the All Season Solar Cooker (ASSC). The time is takes to cook in a solar oven varies depending on the type of solar cooker, the weather, and how hot the solar cooker gets.  Read How Long Does It Take to Cook in a Solar Oven for more information.
The recommended internal temperature for cooked pork is between 145° F and 160°F. The ASSC reached a high temperature of 250°F fairly quickly, and stayed at that consistent temperature. My pork cooked for 3 1/2 hours until it reached an internal temperature of  160°F. When the pork was done and the oven opened up, the aroma was heavenly.
Pork Tenderloin
Pork Tenderloin & Cinnamon Apples
Pork Tenderloin is a perfect meal to cook in a solar cooker. The long cooking time leaves it tender and juicy.
Ingredients
1 (1.5 - 2 pound) pork tenderloin
1 (1 oz) envelope dry onion soup mix
1 cup cranberry juice
¾ cup water
3 TBSP minced garlic (about 3 gloves)
3 TBSP soy sauce
freshly ground black pepper to taste
Instructions
Pre-heat the solar oven while preparing the ingredients.
Rinse off the pork and place it in a dark colored, solar safe pot.
Add the onion soup mix, garlic, and black pepper.
Add the cranberry juice, water, and soy sauce.
Cover the pot and place into the hot solar oven.
Let cook for about 3 hours until the internal temperature reaches 145 - 160 F
Notes
The length of time needed to cook in the solar cooker will vary depending on how hot the cooker gets, which will depend on the type of cooker, the weather, and how focused the cooker is to the sun. My roast cooked for 3 hours on a bright, sunny day at a temperature of 250F in the All Season Solar Cooker. If using a more insulated solar cooker, then it will probably take less time.
Apples are always a favorite side dish to go with pork. So I put together a very simple Cinnamon Apple recipe.
For the apples, I cut 4 large cooking apples into large chunks, added some sugar, a little bit of cinnamon, and a tablespoon of flour (to help thicken the sauce).   I baked the apples in the Sunflair Mini Solar Oven for 2 hours.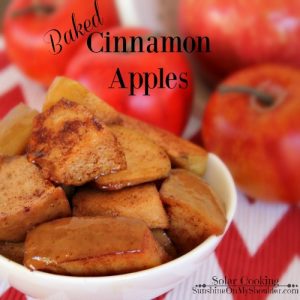 I rounded out the meal with corn on the cob. Here is my favorite way to cook Corn on the Cob.  What a great meal!!  All cooked by using free energy from the sun.
Solar Cooking!
So Easy!
So Good!
So Solar!
Thanks for cooking with Sunshine On My Shoulder.