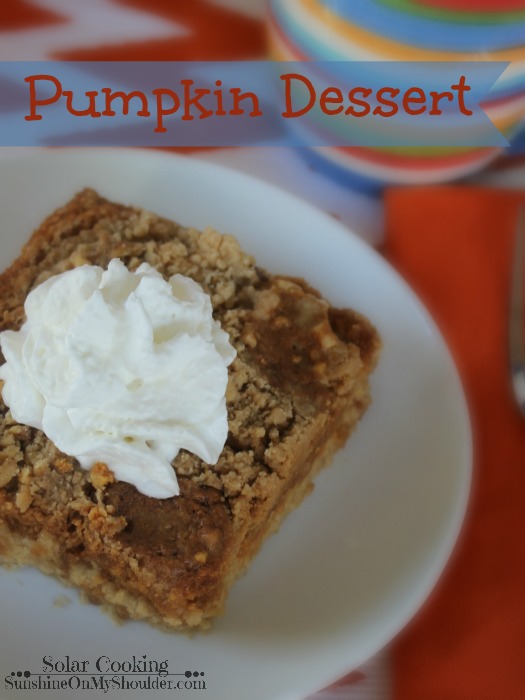 In the fall, I usually bake a pumpkin  and mash it up into a pumpkin puree to use in pumpkin pies, and pumpkin bread. But I also like to make this quick Pumpkin Dessert. It is very much like the dump cakes that I make. So it is really easy to make and tastes like a pumpkin pie. So let's make dessert!!  This is a solar cooking recipe but it can easily be made in your kitchen oven.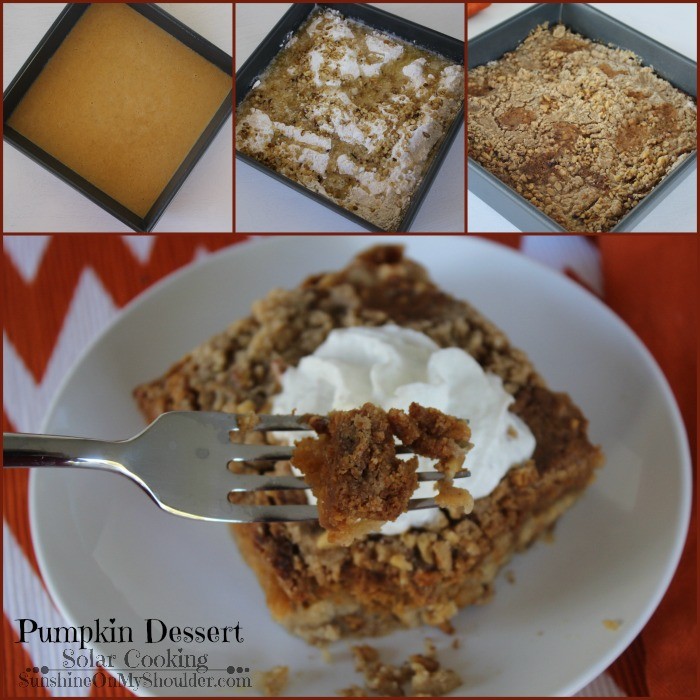 PUMPKIN DESSERT
Pumpkin Dessert
Pumpkin Dessert tastes like pumpkin pie.
Ingredients
1 can of Pumpkin (15 oz) or 2 cups soft, mashed cooked pumpkin
2 eggs
2 tsp pumpkin pie spice (or more depending on taste)
½ cup evaporated milk
⅓ cup sugar
¼ tsp salt
½ - 1 box butter pecan cake mix ( or yellow or white)
¾ - 1 stick butter or margarine, melted
½ cup diced walnuts or pecans (opt)
Instructions
Pre-heat solar oven while preparing the recipe.
In a mixing bowl, mix together the mashed pumpkin, eggs, pumpkin pie spice, evaporated milk, sugar, and salt.
Pour into a greased solar safe bakeware pan. Sprinkle cake mix evenly over the top. I like to use the entire cake mix to make the crust thick.
Pour the melted butter over the top.
Sprinkle with nuts if desired.
Place into the hot solar oven uncovered. Bake for 2-3 hours. The dry mix will cook into the moist pumpkin batter and will brown on the top, depending on the solar oven and length of cook time.
Notes
The amount of time needed to fully cook this recipe will depend on how hot your oven gets. The temperature of a solar oven is affected by many variables including the type of oven being used; the type of cookware being used - dark pot vs shiny pot; the weather - bright & sunny or partly cloudy; and how focused the oven is to the sun.

My Pumpkin Dessert baked for almost 3 hours at a temperature of 300° with an ambient air temperature of 60°.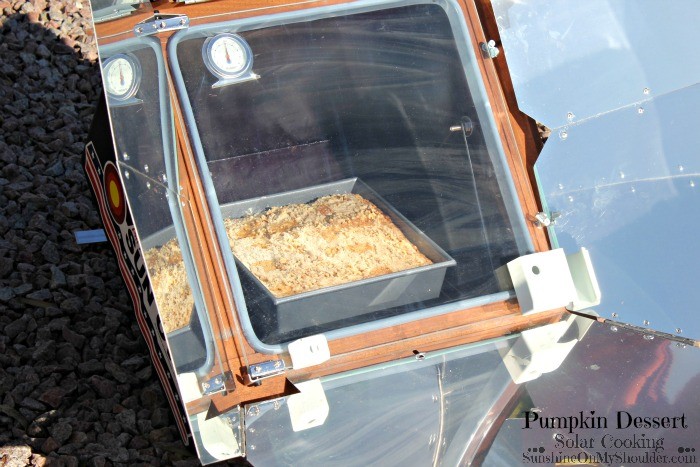 Want more fall desserts? Try my Caramel Apple Dump Cake or my Apple Pie Parfait.
Keep in touch by subscribing to my newsletter or by following me on FaceBook, Twitter, Instagram, or Pinterest.