Quick Pineapple Cherry Dessert
a solar oven recipe
Many years ago, when I was a girl, my family loved camping. My Dad especially loved camping. He loved taking the boat to the lake for the weekend, setting up the campsite, visiting with friends, and enjoying being with us kids. But I think what he loved the best was my mother's cooking.  During the hot Texas summer days, under a tarp lean-to tied between several trees for shade and rain protection, she set up her camp kitchen. At breakfast, she might have eggs, and biscuits and gravy, or maybe there would be pancakes. Lunch was usually sandwiches. Dinner might be a pot of beans and fried chicken, or fried potatoes and grilled pork chops. And always a dessert. I often think about how camp dinners would have been easier with a solar oven. Quick Pineapple Cherry Dessert is a family favorite from our old camping days. It can be made in a Dutch Oven or over a fire. And now I make it in my solar oven.  Quick Pineapple Cherry Dessert can be made with stale leftover cake donuts — if you have them! This is an easy recipe for a fun dessert.

Quick Pineapple Cherry Dessert
Quick Pineapple Cherry Dessert can be made in a dutch oven, over an open fire, in the oven, and now in the solar oven too.
Ingredients
5 - 6 cake donuts, stale is fine
1 can crushed pineapple, drained
1 sm jar Maraschino cherries, halved, and stemless
½ cup brown sugar
½ cup maple syrup
Instructions
Place the solar oven out in the sun to pre-heat while you prepare the recipe.
Cut the donuts into bite size pieces and place into a baking pan. I line my pan with aluminum foil for easy cleanup.
Evenly spread the drained, crushed pineapple over the donuts. Evenly spread the cherries, then the brown sugar, and finally the maple syrup.
Place into the hot solar oven for about an hour until thoroughly heated.
My dessert baked for an hour. The exact time to bake will depend on the type of oven you are using, how hot the oven gets, and how much food is being cooked.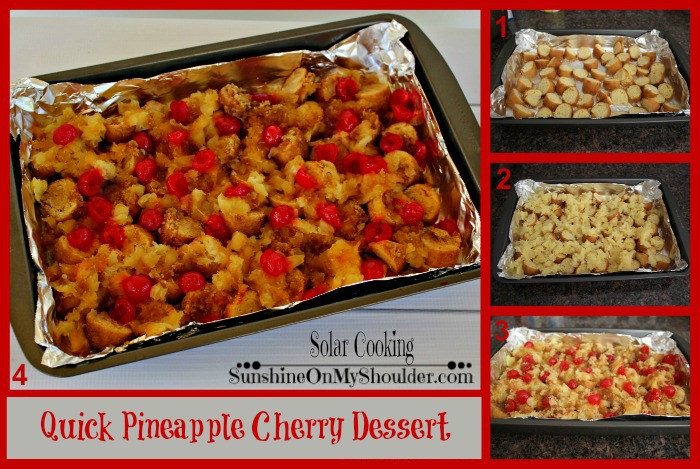 Do you have a simple recipe to make dessert? Please share it with me.