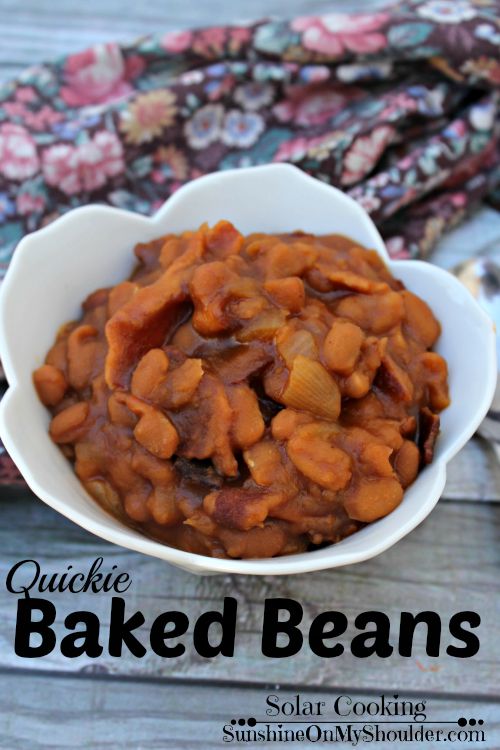 Quickie Baked Beans is a solar cooking recipe.
I grew up thinking these were really baked beans.  My mother would throw this recipe together and bake it in the oven with a ham.  I, being the modern woman that I am, adapted this recipe to the  crock-pot and then to the microwave.  And it served me quite well for 30+ years.  And now I "bake" these beans in my solar oven.  Okay, this is really just one of those "heat 'n eat" kind of recipes.  But what's wrong with that?
I baked these beans in the All American Sun Oven. Give them a try and tell me about it.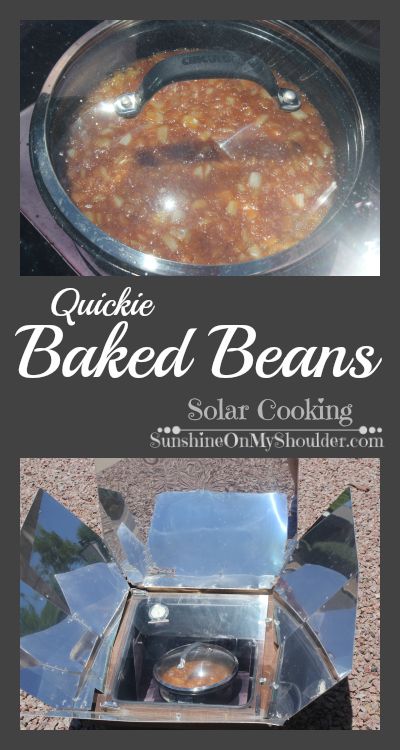 Quickie Baked Beans
Quickie Baked Beans is a solar cooking recipe that is just as easy in the kitchen oven, the Crockpot, or the microwave.
Ingredients
1 can (16 oz) pork 'n beans
¼ cup chopped onions
1 TBSP ketchup (or more to taste)
1 tsp mustard (or more to taste)
1 TBSP brown sugar (use less to make it less sweet)
4 slices bacon, pre-cooked until crispy, and crumbled
Instructions
Pre-heat the solar oven while preparing the recipe.
Combine all of the ingredients, except the bacon, in a dark solar safe pot. Cover and place into the hot solar oven. Let heat in the solar oven until hot (1 - 2 hours). Top with crumbled bacon bits.
Notes
Actual Cooking time will vary depending on the type of solar cooker, the weather, and the amount of food being cooked. For best results, and the shortest cooking time, keep the oven pointed directly into the sun.