Sauteed Mushrooms are just as easy to cook on a solar grill as on your stove top in the kitchen and just as delicious.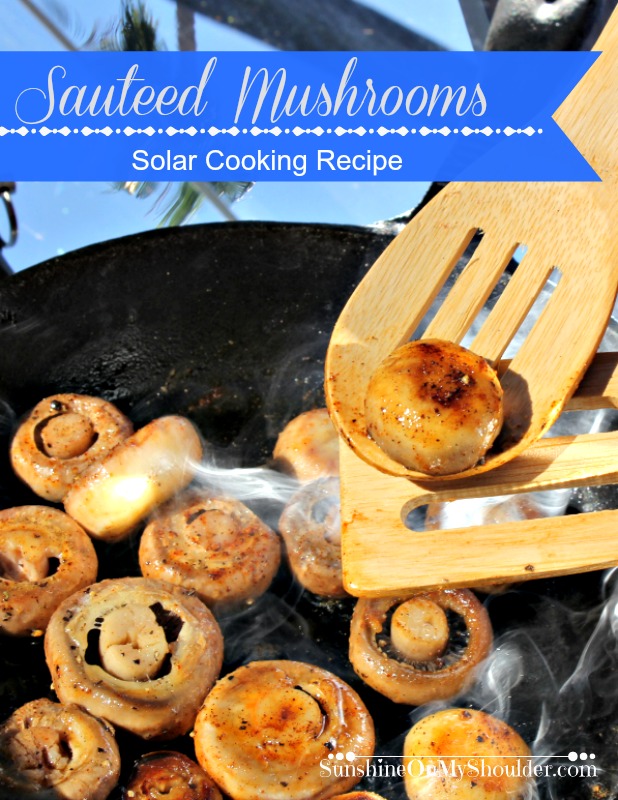 In a different post, I showed you how to bake mushrooms in a solar oven.  And those mushrooms are really delicious. However, I also cook them on a solar grill. I have a Solsource Solar Grill.  It should go without saying that it doesn't take nearly as long to make Sauteed Mushrooms as baked mushrooms, but there is plenty of room in my solar cooking world for both.

To make Sauteed Mushrooms, begin by rinsing the mushrooms and then cutting off the stems of the mushrooms so that they will sit flat on the pan.  I use almost the same recipe for both cooking methods and indeed you could use the same recipe both. It is really only the cooking method that is different. It only took about 10 minutes to saute the mushrooms – approximately 5 minutes on a side. Also, I covered the pan to hold in the heat so that the mushrooms would cook faster.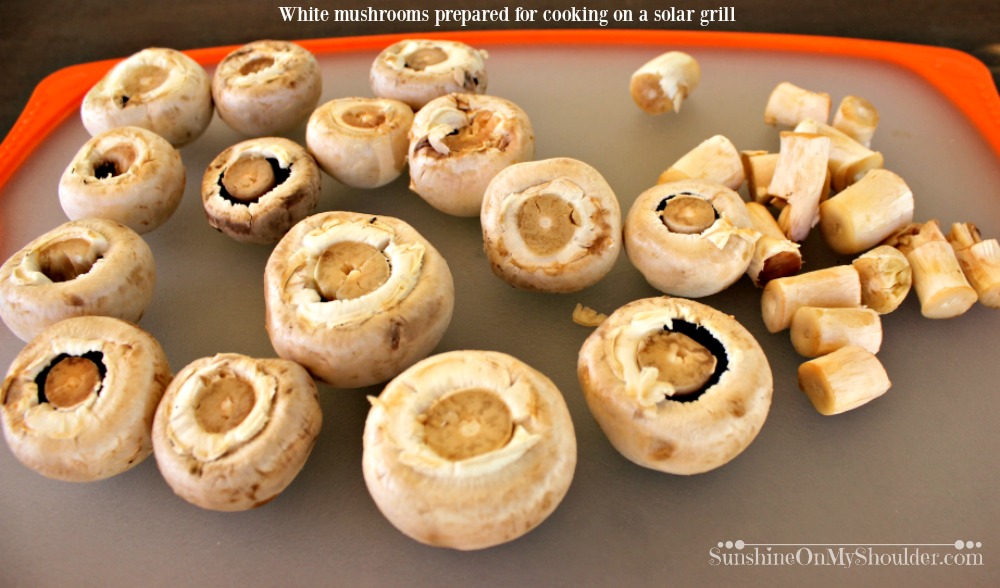 Sauteed Mushrooms
Sauteed Mushrooms Solar Grill Recipe
Sauteed Mushrooms are just as easy to make on a solar grill as on the stove top in your kitchen and just as delicious.
Recipe type:
Sauteed Mushrooms
Ingredients
½ pound (8 oz) small white mushrooms
2 TBSP butter
2 TBSP olive oil
garlic salt to taste
black pepper to taste
¼ - ½ tsp of ground chipolte pepper (or ground red pepper) to taste (opt)
1 TBSP fresh lemon juice or 1 small lemon, cut in half
1 TBSP fresh parsley, chopped
Instructions
Rinse the mushrooms and pat dry.
Slice the stems off even to the mushroom.
Place a heavy duty pan on a solar grill and focus toward the sun to heat the pan.
Add half of the butter and half of the olive oil to the pan.
When the oil is hot and the butter is melted, add the mushrooms, stem side down.
Sprinkle withgarlic salt, pepper, and chipolte to taste.
Cover with a lid to hot in the heat.
Cook the mushrooms for about 5 minutes or until the bottoms are brown.
Flip the mushrooms over. Add the remaining butter and olive oil if needed.
Sprinkle flip side with garlic salt, pepper, and chipolte.
Cover again and let the mushrooms brown for about 4 min.
When the mushrooms are brown, squeeze lemon juice over the top.
Sprinkle with the fresh chopped parsley.
Cook for another 1 - 2 minutes.
Remove pan from the heat and serve hot.
Notes
If preferred, skip the butter and use additional olive oil.

The butter and olive oil seems to cook off quickly on the solar grill. Add extra if you need too.
Thank you for solar cooking with Sunshine On My Shoulder. If you like this recipe, leave a comment. Please subscribe to my newsletter.