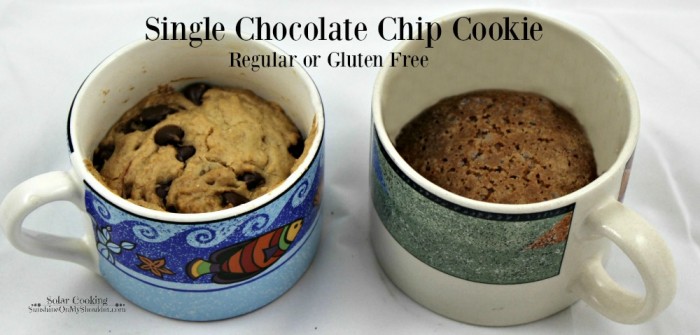 When I saw this recipe for a Single Chocolate Chip Cookie on Facebook, I knew that it would be a perfect addition to Kids in the (Solar) Kitchen.  Every child, big or little (ok that means adults), can each sir up their own cookie. And since it bakes in only an hour, it is perfect for school or scout projects.

Single Chocolate Chip Cookie
1 TBSP butter, melted

1TBSP white sugar

1 TBSP brown sugar

1/8 tsp vanilla

pinch of salt

1 egg yolk

1/4 c flour

1-2 TBSP chocolate chips
Preheat the solar oven while preparing the recipe.
In an individual bowl or cup, melt the butter. This can be done in the solar oven, or in the microwave.  Add the rest of the ingredients, except chocolate chips and stir to mix well. Add the chocolate chips and stir.  Place into the hot solar oven. Bake uncovered for about an hour. Mine cooked for 1 hour, at an oven temperature of 250 º on a bright sunny day of 75º.  The actual time to bake will depend on several factors including the type of oven being used and how hot the oven gets. For more information, see How Long Does it Take to Cook in a Solar Oven?
For my husband, I made a gluten free version of the cookie by substituting an equal amount of almond flour for the wheat flour.
Both cookies were delicious.
MMMM!  So easy, so good, so solar!
This is so perfect for kids that I included it in my Kids in the (Solar) Kitchen series.