Smores Brownie is a solar cooking recipe that can easily be baked in your oven.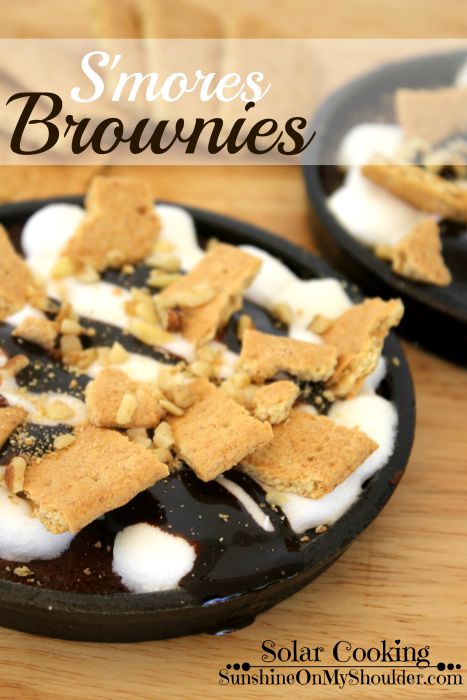 Smores Brownie
When my grandchildren returned from a trip to Walt Disney World in Florida last spring, they were raving about one particular dessert they had enjoyed. My grandson said "It is the best thing I have ever eaten". Intrigued, I pressed them for details about the "greatest dessert in the whole world". In great detail, they described this marvel of a dessert called Smores Brownie – brownie on the bottom, melted gooey marshmallows on top, with chocolate and graham crackers on top. I agree that Smores Brownie is an awesome creation and here is my version, adapted as a solar cooking recipe. It was baked in a Solavore Sport Solar Oven
.  And YES!! my grandkids were delighted with my version.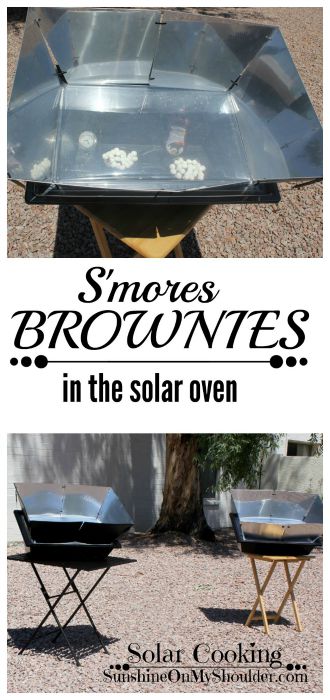 Smores Brownies
Smores Brownies starts with a bottom layer of brownies, a layer of gooey marshmallows, and topped with graham crackers and chocolate.
Ingredients
Brownie mix (plus ingredients as listed on the box to make them)
mini marshmallows
graham crackers
chocolate syrup or hot fudge
Instructions
Put the solar oven out to pre-heat while you mix up the ingredients.
Mix the brownie mix according to directions.
Spray an individual size cookie skillet ( or larger pan if desired) with PAM. For the cookie skillet, add one large Tablespoon of batter and spread it in the pan.
Place in the hot solar oven uncovered to bake. Time to cook will be about ¾ - 1 hour.
When the cookie is done, top with about ½ cup of mini marshmallows.( Place the bottle of chocolate syrup in the oven to heat at this time.)
Melt the marshmallows for 10 -15 minutes.
Remove from oven. Top with chocolate syrup.
Top with broken graham crackers. Reserve a few graham crackers and crush fine to add to the top with the broken crackers.
Add additional chocolate on the top if desired.
Notes
To make a family size Smores Brownie, use a regular size 8x8 pan, but only use about half of the Brownie batter because you want a thinner brownie than usual. Proceed with the same directions. It will take about 1 -1/2 hours to bake.

The actual time needed to bake depends on the weather, the type of oven, and how hot the oven temperature gets.
Have a lot of people to feed, make a giant Smores Brownie. One brownie mix will make several pans. This family size cookie is baking in the All American Sun Oven.
For more ways to bake Smore's go here.  For more gourmet brownies, go here.
To learn more about solar cooking, click here.