Baked peaches is a light, refreshing summer dessert or side dish.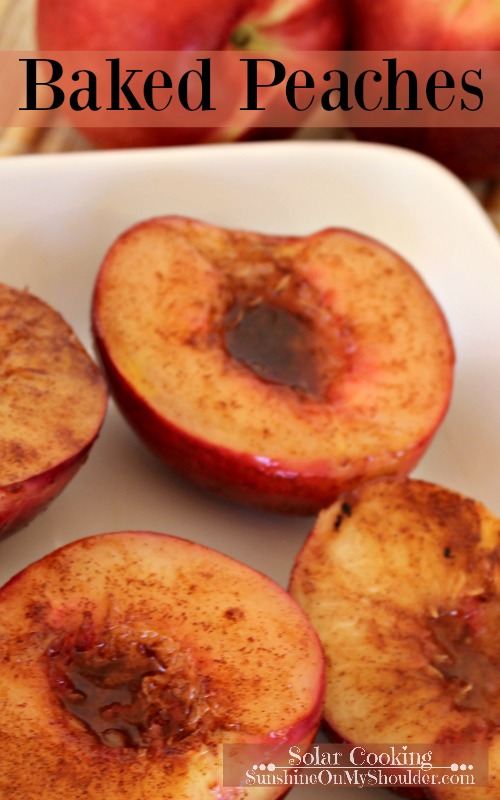 A few days ago, my husband came in with a huge box of peaches and a huge box of apples that he bought from a friend's church fundraiser.  We have been very busy putting up that fruit.  We have frozen, dehydrated, cooked, and eaten most of it.  But today, there were a few peaches left over; and I wanted to make a quick easy dessert that wouldn't completely send my diet out the window and my husband's blood sugar out the roof.  This easy recipe for baked peaches that fit the bill perfectly.
I baked the peaches for about an hour. The length of time needed to cook in a solar oven varies depending on the type of oven, the weather, and how focused the oven is to the sun. For more information see How Long Does It Take to Cook in a Solar Oven.
Baked Peaches
Solar Baked Peaches
Baked peaches, sweet and juicy, makes a light and refreshing dessert. Add a scoop of ice cream to make it even better.
Ingredients
4 fresh firm peaches, halved and pitted
5 TBSP butter, room temperature
4 tsp brown sugar
sprinkle of cinnamon
Instructions
Pre-heat the solar oven while preparing the ingredients.
Rinse the peaches to wash. halve the peaches and remove the pits.
Place the peaches, peel side down, cut side up, in a baking dish.
Put ½ TBSP butter into the hollow of each half. Place the remainder of the butter into the pan for flavor.
Sprinkle the top with the brown sugar and cinnamon.
Bake peaches covered in the heated solar oven for about 1 hour or until the peaches are tender and warm.
Serve with whipped cream or a scoop of vanilla or peach ice cream.
Notes
The amount of time it takes to cook in a solar oven depends on how hot the oven get which varies depending on the type of oven, the weather and how focused the oven is to the sun.

The peaches cook quickly so keep a close watch so they overcook and become mushy.
This is a quick cooking dish.  Be careful not to overcook the peaches.
Serve warm with a dollop of whipped cream, yogurt, or whipped dessert topping (optional).  I served mine warm with vanilla& peach ice cream.  OHHHHH! SO GOOD!