Turkey breast is easy to cook in a solar oven. In fact, it is very much like cooking it in the kitchen oven. Who says turkey is only for the holidays?  We love it year around and we cook it in the solar oven.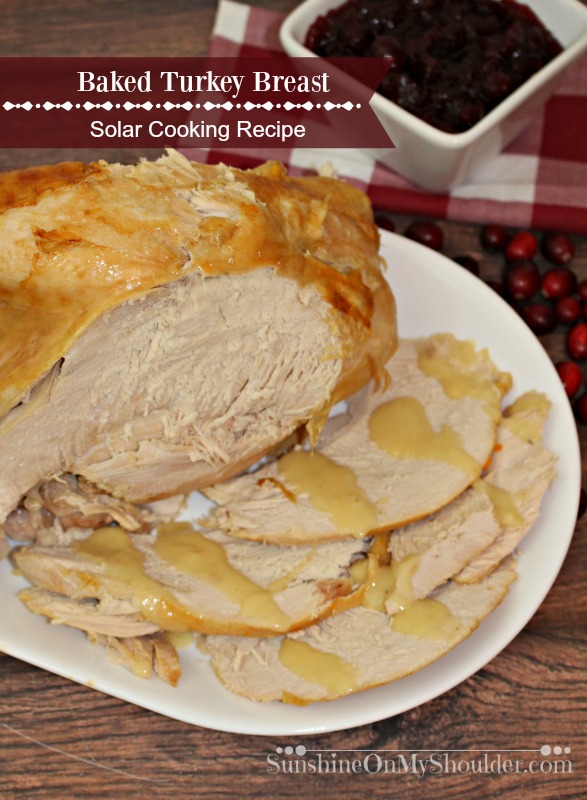 Baking a turkey breast is really the same as baking it in your oven. Except, it will be moister. It won't dry out like it does when cooked in the oven.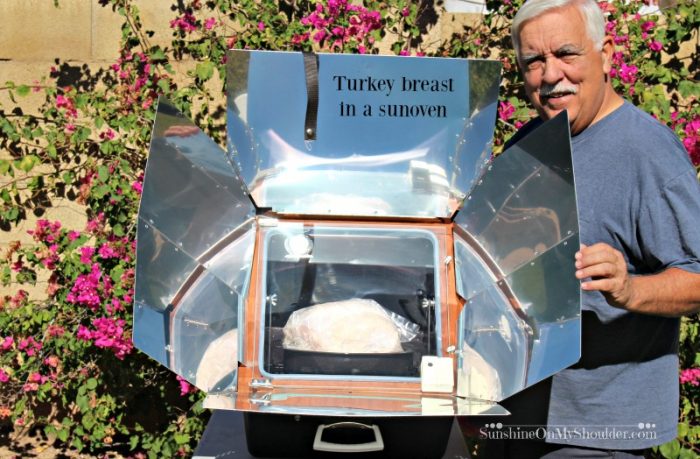 We cooked the turkey breast in the All American Sun Oven on a slightly hazy day of 78°F (25°C). The time it takes to cook in a solar oven will depend on many things, including the type of solar oven being used, the type of food, the weather, and how hot the oven temperature gets.
How Long Does It Take to Cook in a Solar Oven
Solar Baked Turkey Breast
4 – 6 lb turkey breast

poultry rub or seasoning of choice

small turkey cooking bag
Pre-heat the solar oven while preparing the turkey breast.   Season the turkey with any rub or seasoning of your choice.  Place the turkey breast in the small cooking bag, close it up, and remember to puncture a few holes in the top of the bag.  The bag help hold in the heat, but it also helps to contain the turkey drippings.  Place the turkey breast into a solar safe pan and place into the hot oven. Bake for about 3 – 4 hours, depending on how hot the oven gets. 
I used the All American Sun Oven to bake this turkey breast. It baked at 320°F (160°C) for 4 hours. It was done after 3 hours, but I let it cook for another hour to brown the top. I also turned the turkey half way through the cooking time so that the back side would also be kissed by the sun.  It was still very moist and delicious. 
You can also cook all of your side dishes in a solar oven too.  Homemade Cranberry Sauce, Green Bean Casserole,  Baked Sweet Potatoes, Pumpkin Pie and  are just a few of the delicious side dishes you can make.