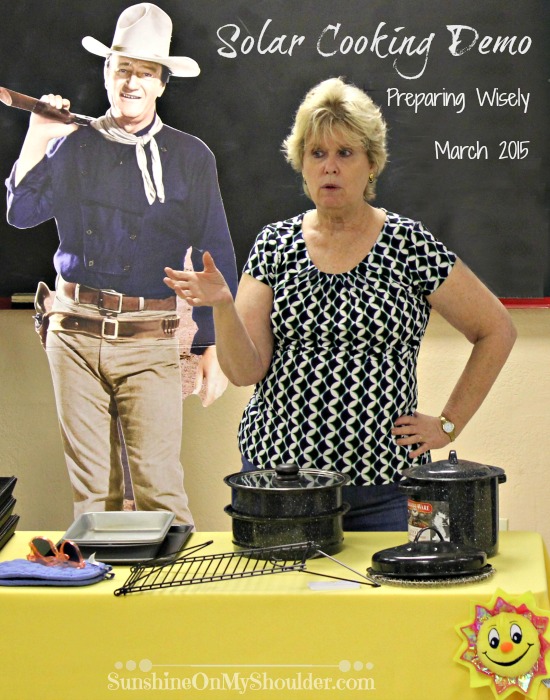 It is always fun to give a live demonstration on solar cooking and Preparing Wisely in Mesa AZ is one of my favorite places.  The owners, Jane & Enildo, have become friends and it is such a pleasure to see them.
For this particular demonstration, we decided to try something a little bit different.They have a series of classes on Tuesday nights and always have a nice turnout.  We thought that a Tuesday night event might draw in people who are too busy to attend a Saturday morning class.  I didn't have to prepare anything to cook.  Jane baked a pan of solar brownies earlier in the day. That left me free to just talk about the ovens.
And we had a small but wonderful group of solar cooking enthusiasts.  One lady was an experienced solar cooker. One lady had a parabolic cooker at home. (I gotta get one of those!) One lady had one, but it was still in the box, packed away in the back of storage. I strongly encouraged her – and anyone else with a solar oven still sitting in the box unwrapped – to get it out of the box. Learn to use it. Now is the time to practice. Now is the time to find recipes that you love. Now is the time to adjust to the longer cooking time needed and to become comfortable with it. Now is the time to impress your family and friends with your new toy.  Except it isn't a toy. A solar oven cooks real food. It can feed your family in an emergency. It can save your life.
For more information or to buy a solar oven, read here about the All American Sun Oven and read here about the Solavore Sport.