Solar Cooking In an Emergency
Solar cooking is becoming more mainstream.  A few years ago, I had never heard of solar ovens and solar cooking.  And I really had to search for solar ovens.  Today. there are numerous websites devoted to the issue.  You can now find many different types of cookers – either to buy or to make yourself.  When the benefits of solar cooking are discussed, generally it is promoted as great for camping and other outdoor adventures; or the personal savings on utility bills due to lower energy costs from not heating up the kitchen oven or the house;  or the benefits being reaped from solar cooking in underdeveloped countries.  And finally, mentioned at the end, will come a little verbiage about emergency preparedness.
Emergency Preparedness
While all of these reasons are great, I believe the number one reason to solar cook is to be self-sufficient in an emergency. When we think about being prepared for emergencies, generally the largest of largest disasters fill our thoughts – 9/11, Hurricane Katrina, etc.  But there are other emergencies and other disasters.   One year, the East Coast saw several large scale power outages.  My daughter and her family live in Virgina, close to D.C.  One night,  a very large, very destructive storm hit the East Coast.  Hundreds of thousands of people were without electrical power.  Not just homes – but restaurants, stores, gas stations – every one. Best  estimate on getting the power restored was 3-4 days Whether the power is out because of a winter storm – think freezing cold – or because of a summer storm – think sweltering heat – it is not an easy situation, and somehow you still have to feed a hungry family.  You can cook on a grill until you run out of charcoal or gas.  You can cook over a fire until you run out of firewood. But you can cook in a solar every day that the sun is shining.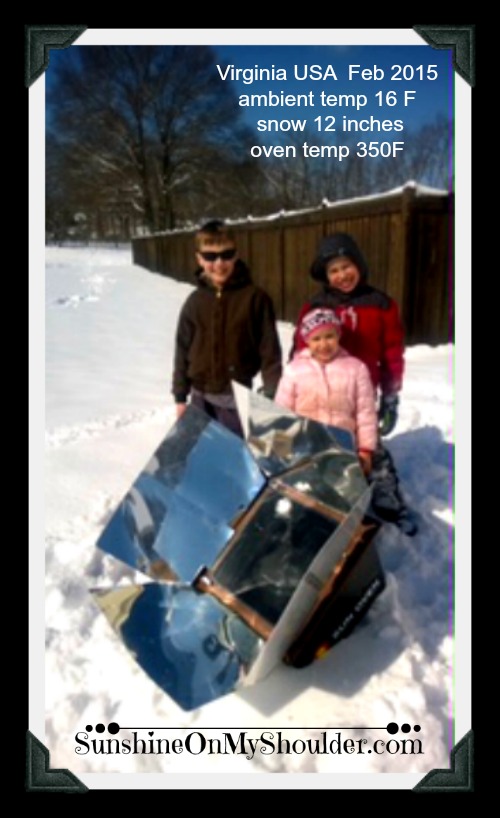 Power Outages
But it doesn't take a storm to compromise the electrical grid.  Here in the middle of the Arizona desert, our power has been knocked out from extreme high demand on the system during the summer.  Also, one year a large transformer exploded.  It was weeks before another could be trucked in and hooked up to replace it. Parts of the Phoenix area were without power that entire time.
Purify Water
Even if there is power, solar ovens are useful in other emergency situations as well.  A solar oven can be used to heat and purify water.  Although a solar oven will not remove contaminates, a solar oven can heat water hot enough to kill bacteria and parasites.  Starting with clean, clear water, bring the water temperature to 165 degrees.  Every solar oven that I have experience with gets hotter than that.  Or bringing the water temperature to 145 degrees and maintaining it for  20 minutes will accomplish the same thing.
Solar ovens are a very necessary part of emergency preparedness. When the power goes out, what will you do?  Whether you make one or buy one, get one and learn to use it. Because one never knows when the power will go out.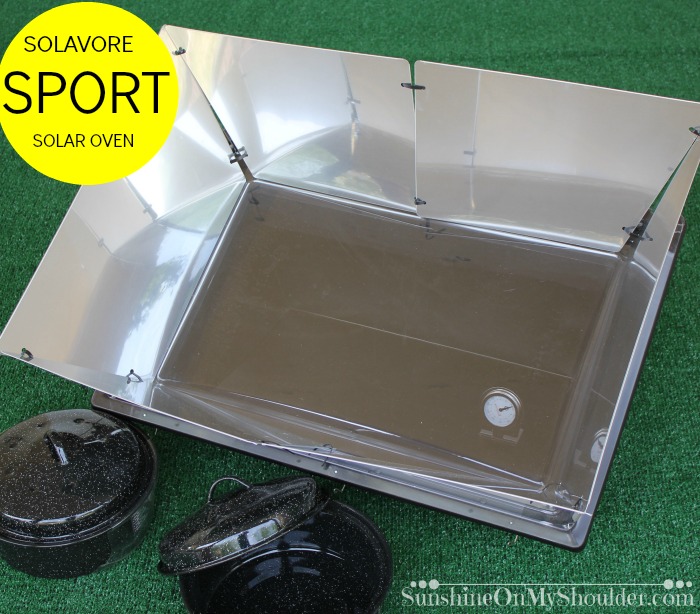 By the way, want to know what was in that sun oven in the snow?  Chicken and rice casserole with a dump cake for dessert.
In conclusion, solar cooking in an emergency can feed your family, and provide safe water to drink.