On Saturday March 15, 2014, I had the pleasure of demonstrating solar cooking to a small crowd of people at the Mesa Urban Garden in Mesa, AZ.  The City of Mesa sponsored the event as part of their Living Green program and also as part of the AZ SciTech Festival.  It was a perfect day — blue sky, moderate temperature, and plenty of bright sunshine.  I took seven different ovens and cooked in all of them.  Living Green: Cooking With The Sun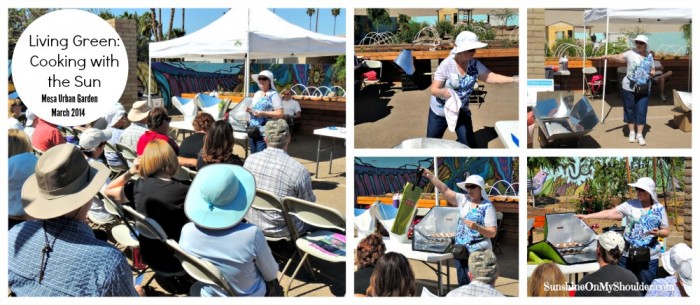 In the GSO,  I roasted a chicken.  A roasting chicken makes an incredible visual statement that a solar oven is a valid cooking option.
In the Sport, I baked 2 loaves of bread, followed by brownies.  Brownies are always a crowd pleaser.
Cookies baked in the SunFlair Solar Oven

.
Cookies baking in the Sun Flair.
I took two

Solar Flares

. One contained cinnamon apples, while the other contained BBQ hotdogs.
The CookIt is a great traveling cooker.  It doesn't take up much space.  It isn't heavy. And it really does cook.  For this demonstration, I baked cinnamon rolls under a glass bowl.  (Ok, the only big glass bowl I have is my trifle bowl, but that worked just fine.)
And finally, I set up the windshield screen with a pot of augratin potatoes .  This is the cooker that generates the most comments, because people are so amazed that it does really will cook.
Two other solar cooking enthusiasts brought out their ovens and cooked too. Joan baked a cake in her Sport.  And Dave brought his parabolic cooker and made cheese quesadillas.
Everyone enjoyed sampling all of the tasty treats. It was such a wonderful day.  Did you come to the presentation that day?  If so, thanks for coming. Please leave me a message.  If not, I hope you can join us next time.