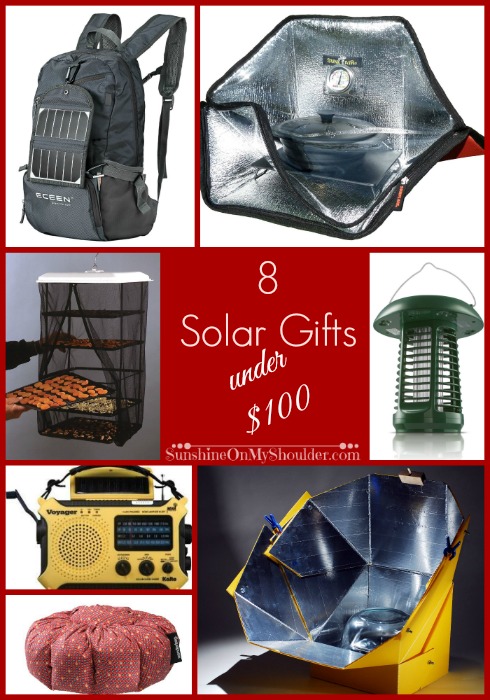 Are you holiday shopping for that perfect gift for the solar chef in your family?  I have been browsing around the internet and have made a wish list to share with my family.  Here are the 8 solar gifts that top my list. (Hint Hint)
8 Solar Gifts for the Holidays
#1Sunflair Mini Solar Oven
The SunFlair Mini solar oven is a lightweight solar oven that folds up into a tote bag, which is included.  Also included is a rack, a thermometer, and a collapsible pot, which all fit in the tote bag. It is perfect for traveling, camping,  and bugging out.  The Sunflair Solar Oven is also a good choice at just slightly more than $100

#2 Wonderbag Non-Electric Portable Slow Cooker

While the Wonderbag is not "solar", it is "non-electric".  It is really a very heavily insulated bag that will keep your solar cooked meal hot until dinner time and even continue the cooking process. Just place a hot pot into the bag and you are done. It also will keep your cold food cold.

#3 Solar Powered Emergency Radios
A solar powered radio is  essential in order to keep track of emergency situations. There are many good brands and price ranges to choose from.

#4 Hanging Food Pantry Dehydration System
Dehydrate your fruits and veggies outdoors, protected from the birds and bugs, in this hanging mesh basket.
#5 Solar Powered UV Bug Zapper
Got bugs? Just hang up this solar powered bug zapper to get rid of flies, mosquitoes and other flying insects.

#6 Solar powered Motion Sensor Lights
A solar powered motion sensor light will add additional security and safety to dark areas without the need to hook into the electricity. The sun will keep it charged.

#7 ECEEN Solar Powered Hiking Daypack
The ECEEN Solar Powered Hiking Daypack is small and lightweight and has a 3.25 Watt Solar charger built in to charge cell phones and other devices. Perfect for hiking, biking, camping, and travel.

#8 All Season Solar Cooker and Trivet

Light weight, compact, and portable, the All Season Solar cooker allows you to adjust the angles to take advantage of the best sunlight all day, increasing the total daily cooking hours.
Need something a little less expensive?  Check out my suggestions for solar gifts under $25.
These are my favorite gift ideas for solar enthusiasts. What will be under your tree? Leave me a note.
What more information about solar cooking? Join my newsletter or follow me on Facebook, Twitter, Instagram, or Pinterest.